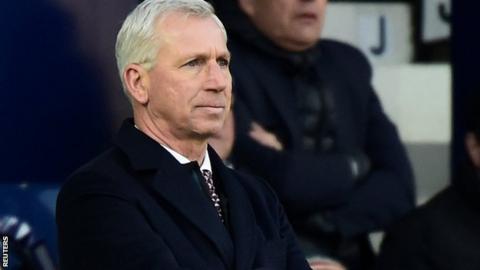 West Brom's only league win under Pardew was a 2-0 home victory over Brighton on 13 January
West Brom manager Alan Pardew says he hopes he will be given time to keep the club in the Premier League following their 2-1 defeat[1] by Huddersfield.
The Baggies are bottom of the table, seven points from safety with 10 games of the season remaining.
Pardew's side have won just one league match in 14 attempts since he replaced Tony Pulis,[2] who was sacked in November.
"I hope so, but obviously that decision is not with me," Pardew said when asked if he expected to keep his job.
West Brom owner Guochuan Lai dismissed chairman John Williams and chief executive Martin Goodman[3] on 13 February.
Later that week, Pardew had to contend with four players - captain Jonny Evans, Gareth Barry, Boaz Myhill and Jake Livermore - being interviewed by Spanish police after allegedly stealing a taxi[4] during a training break in Barcelona.
"We have to find some performances and stand up," added Pardew, whose side play Watford away next Saturday.
"There's no point me defending myself or defending players.
"I have to stand up and manage the team and they have to stand up and give us performances where we get seven, eight, nine out of 10 performances.
"We are not getting those at the moment.We have to find a way to win a game.My job is to try to get ourselves up as best we can for next week."
'The club's in a mess'
Former England striker Alan Shearer on BBC Match of the Day
"What surprised me is that before the match Alan Pardew said he knew how Huddersfield would play.They put them under pressure and West Brom could not handle it, they were not good enough and did not show the same desire and hunger as Huddersfield did.
A dejected Salomon Rondon walks away while Huddersfield's players celebrate at The Hawthorns
"The club's in a mess.They decided they wanted to change their manager and change their style back in November.I was very surprised at the time by that sacking, and of the chairman and chief executive, then there was an ill-timed trip which we all read about.
"Seven points adrift, they need to win three just get out of the bottom three and they have only won three of the last 37 so I don't think they have any chance whatsoever."...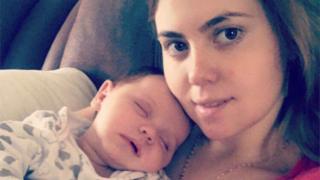 Image copyright
Alexandra Loredana
Image caption

The NHS is investigating claims by a new mother who says she found bandages in her body seven weeks after giving birth at Wexham Park Hospital, Slough.
"I took out a large piece of decomposing material from inside me that was soaked in blood," Alexandra Loredana told BBC News.
Ms Loredana added that she had suffered from thrush and 'light vaginal wounds'.
A hospital trust spokesman told the BBC:"We are aware.We have started an investigation."
Image copyright
Alexandra Loredana
Image caption
The new mother, from Slough, Berkshire, gave birth to baby Dominic in January.
Ms Loredana said she initially explained to her midwife how she felt uncomfortable going to the toilet and that something smelled terrible - her midwife checked her stitches and said 'everything was fine'.
The new mother said she was unable to get an appointment with her local walk-in centre until 7 March, 2018.
She said:"For seven weeks I changed my pads more than 10 times a day.Whether I had bleeding or not I just wanted my pads to absorb the horrible smell.
"Last night I had a bath for the first time and I felt courageous enough to wash with my fingers inside my vagina to clean it.
"I was breathless when I took out a large piece of decomposing material from inside me that smelled horrible and was soaked in blood.
"How did this happen?"
Ms Loredana then went to the accident and emergency department at the same Slough hospital and saw a doctor.
James Taylor, head of communications at Frimley Health NHS Foundation Trust, said:"I don't know how frequently these things happen".
He said the Trust would make a further statement once it had spoken to Ms Loredana and completed an investigation into the case....