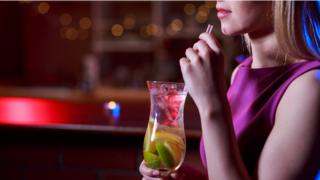 Image copyright
Getty Images
Image caption
You are happily alone in a bar, but someone will not leave you alone.Your polite rejections do not work.The pestering goes on until you leave or someone intervenes.
It is not an unusual scene - many women will tell you this has happened to them.
So when British journalist Amna Saleem tweeted[1] about a stranger posing as her friend to help her escape unwanted male attention in a London bar on Saturday, it sparked an international conversation, much of which focussed on how other men can step in.
More than 430,000 people liked the tweet and almost a thousand people commented with their experiences.
The conversation reflects ongoing concerns about women being pestered while on a night out, highlighted in the 'Ask for Angela' campaign in 2016[2] advising women to ask venue staff for help using the codeword 'Angela' if they feel unsafe on a date.
Last week it was announced an inquiry will take place into sexual harassment[3] of women and girls in public spaces in the UK.
In reply to Saleem's tweet, @TheOmegaGeek shared a story of pretending to know a woman[4] whose boyfriend was "screaming at her," and giving her money for a taxi home.
Another user, Jamiel Pridgen in New York[5], US wrote, "Some dude was bothering this lady once on the train and she was alone so my brother pretended to be her husband and the guy left.10 years later he is her husband".
You might also like:
When separated from friends in a club in Florence, Italy, a man grabbed tweeter @marissad415 to dance."All I had to do was look at a random girl to save me, and she came over and excitedly screamed like we were long lost besties, and got me out of a bad situation," she commented[6]."Women know."
One man, from Dublin, Ireland, wrote that he sometimes intervenes directly[7], but suggested it can cause a backlash.
"My go-to is a 'dude, back off - you have been told she's not interested,' but it can cause people to get aggro, which could be a problem later in the night," he tweeted.
French student @SariaSayan advised people to divert[8] conversations away from the woman being harassed.
"You can distract the guy with a very genuine question.Like 'scuse me, could you tell me what time it is?'" she suggested.
But some women shared experiences of being followed after rejecting male attention, or being hassled on public transport, or of having to seek protection from other couples.
Nathan Moore, in the US, lays the blame at society teaching men to be "persistent"[9].
@KittenRescuer replied[10]:"A lot of our pop culture rewards this.For once I'd like to see a show depict a romantic relationship in a non-creepy-way".
However, not everyone welcomed the idea of a stranger trying to help them with close personal contact.
"That's really nice, but if a random woman hugged me at the same time as a pushy bloke was hitting on me I think I'd go into 'weird overkill' mode," wrote soyaburger[11]....