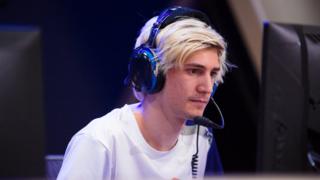 Image copyright
Robert Paul / Blizzard
Image caption
Professional Overwatch player Felix "xQc" Lengyel has been suspended and fined for using a homophobic slur on a personal live stream.
Mr Lengyel was suspended by the Overwatch League for four matches and fined $2,000 (£1,433).
Overwatch League is the first major professional e-sports league featuring competitions in 12 cities worldwide.
E-sports team Dallas Fuel has also suspended him for the rest of the first stage of the competition.
Stage one runs from 11 January to 10 February.
During his suspension, Mr Lengyel will receive "focus training, physical training and support" from the team.
The incident occurred on 18 January during a live stream.
Image copyright
Robert Paul / Blizzard
Image caption
According to technology blog Engadget[1], Mr Lengyel directed a homophobic insult at rival team Houston Outlaws player Austin "Muma" Wilmot, in response to being taunted over a victory.
The Overwatch League said that his comment violated the League's code of conduct.
"The Overwatch League takes standards of player behaviour seriously, whether during league play or otherwise, and is committed to responding swiftly when violations occur," the League said in a statement.
Dallas Fuel also issued a statement, saying that it hoped that Mr Lengyel would be able to "improve as a professional player who is reflective of the principles of the Dallas Fuel organisation, his team-mates, and of the Overwatch League".
The e-sports team added:"No one wants to see Felix succeed more than we do."
'Toxic environment'
The Overwatch League launched on 10 January, and according to Robert Purchese, a senior staff writer at video game website Eurogamer[2], is a big push by league developers Blizzard to "cement" Overwatch as a professional e-sport.
Image copyright
Blizzard
Image caption
"Increasingly over the last year or so, Overwatch has been linked with and talked about having more and more of a toxic environment in its online community - not just insults only from rival teams, but also from teams insulting their own members," he told the BBC.
"Because Blizzard wants the league to launch perfectly, they've come down hard on players, but also trying to show people looking in from the outside that this isn't a toxic game."
Trading insults is a problem affecting almost all online gaming communities, but Mr Purchese said younger people and women have experienced "the brunt" of toxic comments while playing Overwatch.
"Blizzard is desperate to get this stuff away from its game.It's an impossible battle, but it should do what it can," he said.
Although it wasn't related to gaming, the incident of YouTube star Logan Paul posting a video showing the body of an apparent suicide victim[3] is likely to be in the minds of operators of online content streaming services, and making Blizzard and Dallas Fuel wary, he added.
However, since e-sports teams are "big-money ventures", professional players should be cautioned about what they can say publicly, the same way football players are, said Mr Purchese.
"Football players tend to toe the line a little - they don't speak out the way they do on the pitch," he said.
"The fine doesn't mean anything, but the four-match ban might hamper a team's chances, so it might send the right message." ...
E-vone has developed a smart connected shoe for elderly or frail people.

...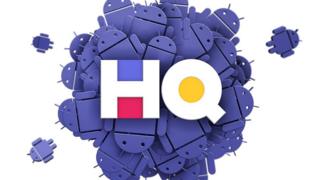 Image copyright
HQ Trivia
Image caption
Popular app-based quiz show HQ Trivia has launched in the UK.
Until now, anyone wanting to compete in the real-time quiz had to sign up to play the US version.
But on Sunday, the UK version of the app was unveiled.It will feature questions specifically aimed at UK audiences.
One expert said its popularity was down to the cash prizes on offer as well as its real presenters and live-streaming format.
Cash call
HQ Trivia mimics the format of a TV quiz show and each round has a host that asks questions and engages with players.Quizzes are run twice a day.
Each game typically has a prize pot in excess of $10,000 (£7,192) but this is usually split between hundreds of winners who answer all 12 multiple-choice questions correctly.Prizes vary, but typical rewards on the US version have been $10-$20 (£7-£15).
The game has become very popular and often hundreds of thousands of people join in the hosted games.
Jack Kent, a mobile media analyst at IHS Markit, said the real money prizes were responsible for HQ's initial draw but other elements of its format also helped.
"The live streaming video, real presenters and interactive social and chat functions have all helped drive engagement," he said.The massive live audience had also helped boost its popularity, he added.
But, Mr Kent said, despite the game's popularity there were still questions about its longevity.
"Supporting a live massive multiplayer video experience is more difficult and more costly than other text and image-based titles," he said.
Currently, he said, HQ Trivia was being bankrolled by early investors and venture capitalists who had put up the initial cash for each quiz.
He said HQ Trivia would have to find other revenue streams, perhaps based around adverts or top brands, as it grew.
The game is available only for Apple iPhones but it is expected that a finished version of the app for Android will be released soon.
The two men behind HQ Trivia were also founders of video sharing app Vine, which they, and the company's other founder, sold to Twitter for $30m in 2012....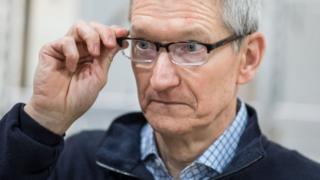 Image copyright
Getty Images
Image caption
Apple chief executive Tim Cook has said he does not want his nephew to be on a social network.
His comments come as a survey suggests the wider British public is becoming increasingly distrustful[1] of Facebook, Twitter and YouTube.
The platforms have all acknowledged problems in recent days.
One expert suggested technology companies should face tougher regulations despite their efforts to resist the prospect.
Age limits
At a coding-related event at Harlow college, in Essex, Mr Cook told a Guardian reporter[2]:"I don't have a kid, but I have a nephew that I put some boundaries on.
"There are some things that I won't allow.I don't want them on a social network."
Mr Cook did not disclose the age of his nephew, but in an interview in March 2015 he mentioned he was 10 years old at the time[3].
The US's Children's Online Privacy Protection Act (Coppa) places restrictions on the information technology companies can collect about under-13s, and many social media companies officially bar younger users from their services as a consequence.
Image copyright
Facebook
Image caption
But last November, the UK communications regulator, Ofcom, reported under-age use of social media was on the rise[4], prompting the charity the NSPCC charity to accuse Facebook, Instagram and Snapchat of "turning a blind eye" to the problem.
Propaganda campaigns
Social networks have faced a barrage of other criticism in the ensuing months.
One issue has been the degree to which they have allowed their platforms to be manipulated by "fake news" and propaganda.
On Friday, Twitter acknowledged that more Russia-linked accounts had been engaged in efforts to spread discontent on its platform during 2016's US presidential election than it had previously acknowledged.
As a result, it said it was emailing 677,775 US-based users to alert them to the fact they had followed[5] at least one of the suspect accounts or "liked" or retweeted their posts during the election period.
Elsewhere, two Facebook executives have acknowledged issues with their service.
"We have over-invested in building new experiences and under-invested in preventing abuses," public policy chief Elliot Schrage told the DLD Munich conference[6] on Sunday, echoing a mea culpa by the company's chief executive, Mark Zuckerberg, at the start of the year[7].
Facebook's civic engagement product manager, Samidh Chakrabarti, has also blogged that social media companies in general need to be more aware about the influence they wield.
"If there's one fundamental truth about social media's impact on democracy, it's that it amplifies human intent - both good and bad," he wrote[8].
"At its best, it allows us to express ourselves and take action.At its worst, it allows people to spread misinformation and corrode democracy.
"I wish I could guarantee that the positives are destined to outweigh the negatives, but I can't.That's why we have a moral duty to understand how these technologies are being used."
Image copyright
Getty Images
Image caption
Meanwhile, YouTube has been more concerned with mopping up the fallout from a vlogger who posted footage of an apparent suicide victim in Japan.
Logan Paul's video led the creator to be thrown off the platform's premium advertising service and prompted last week's decision to carry out human reviews of other featured clips[9].
But YouTube's chief business officer, Robert Kyncl, has now told BBC Newsbeat that he does not believe[10] that the service should be regulated by third parties.
"We're not content creators;we're a platform that distributes the content," he said.
New rules
Social media companies - and Apple itself[11] - also face growing criticism that their products are addictive in nature.
The recently created Time Well Spent campaign group says:"What's best for capturing our attention isn't best for our wellbeing," adding the platforms would not change[12] unless made to do so.
Several technology leaders - including Facebook's chief operating officer, Sheryl Sandberg, and Google's chief executive, Sundar Pichai, - are expected to resist calls for further regulation at behind-the-scenes meetings at the World Economic Forum in Davos this week.
Image copyright
Getty Images
Image caption
But one industry watcher thought it likely that legislators and their watchdogs would soon intervene in the way technology companies operated.
"They are having huge effect on the ways we get information and how we live our lives," said Dr Joss Wright, from the Oxford Internet Institute.
"And the idea that because they are 'technology' means they should be exempt from regulation or should be allowed to fix all the problems themselves doesn't stand up.
"We need to have a say as society in what their problems are and what effects they are having, and that's the role of regulation."...