Too many people are still being left out of the global recovery, says IMF's Christine Lagarde.

...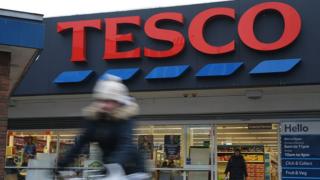 Image copyright
Getty Images
Tesco is to cut 1,700 jobs from its branches and warehouses as part of its turnaround strategy for the company.
The UK's biggest supermarket chain also plans to create 900 jobs and says it will try to move staff affected by the cuts into the new roles.
UK chief executive Matt Davies said the changes were "necessary to ensure our business remains competitive and set up for the future".
Tesco is aiming to make £1.5bn in cost savings over the three years to 2020.
Last year, it announced that 2,300 head office and call centre jobs would go.
Group chief executive Dave Lewis took over in 2014, since when he has ordered more than 10,000 job cuts.
The company is facing competitive pressures from discount rivals, top-end retailers and online sales.
"These changes remove complexity and will deliver a simpler, more helpful experience for colleagues and customers", said Mr Davies.
He added:"We recognise these are difficult changes to make, but they are necessary to ensure our business remains competitive and set up for the future."
The roles being cut include personnel managers in 757 large stores and seven warehouses in the UK, and compliance managers in 667 large stores and seven warehouses.
In addition, the job of customer experience manager will be scrapped in 266 Tesco Extra stores.
The newly created posts will have broader remits in recruitment, training and staff relations, and will work across several sites in distribution, stores and warehouses.
Mr Davies said the company hoped to "retain as many colleagues as possible in the new roles we have created and in the vacancies we currently have available"....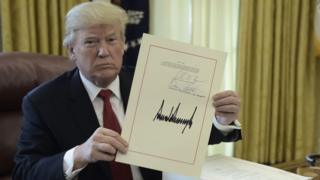 Image copyright
Getty Images
Image caption
Prospects for the global economy are looking brighter, according to the International Monetary Fund (IMF).
It reckons the recent pick-up has been pretty broad-based, particularly in Europe and Asia.
Tax reforms in the United States are expected to stimulate economic activity, especially business investment.
But the IMF has substantially downgraded its forecast for South Africa for this year and next.
The new global forecast has growth of 3.9% this year and next.That represents an upgrade of 0.2% for each year.It also constitutes faster expansion than previous years (3.7% in 2017;3.2% in 2016).
The improvement is widespread.The report says 120 economies accounting for three-quarters of global economic activity saw a pick-up last year.Both developed and emerging economies were affected.
That, the IMF says, is the broadest synchronised global growth upsurge since 2010.
Indicators from business surveys suggest manufacturing activity will remain strong.
Although the improved performance towards the end of last year was widespread, the report mentions Asia and Europe as having had "notable" positive surprises in growth.
Image copyright
Getty Images
Image caption
Looking ahead, the IMF expects the tax reforms agreed in the US last year to stimulate the country's economy.The main impact that the report envisages is on business investment, as a result of lower corporate taxes.
The total cumulative effect up to 2020 is predicted to be 1.2%.
The impact of the reforms on the US and its trading partners accounts for about half of the global growth revision for this year and next.
But because some of the provisions in the tax reform are temporary, the IMF expects slower growth for a few years from 2022.
There are a small number of forecasts that have been lowered for individual countries.
US Senate struggles to end budget deadlock[1]
UK growth upgrade could 'dwarf' Brexit hit[2]
The largest negative change is for South Africa, particularly 2019 where the downgrade is 0.7%.There's a smaller reduction for his year.The changes reflect what the IMF calls increased political uncertainty weighing on confidence and investment.
There is also a small (0.1%) downgrade for the UK in 2019.The report, which is an update between the IMF's full scale forecasting exercises, does not give a reason.
It predicts UK growth of 1.5% this year and next.Within the G7 leading developed countries, that is better than Italy and Japan, but behind the other members of the group.
The report notes the Brexit negotiations as one of a number of potential risks to the outlook.It is one example where long-standing international commercial agreements are under renegotiation.
The IMF says an increase in trade barriers and regulatory realignments, if that were the result of these renegotiations, could weigh on global investment and reduce efficiency.
The report warns that a failure to make growth more inclusive could increase pressures for what it calls "inward-looking policies" - by which the IMF means new trade barriers, which it regards as bad for economic growth....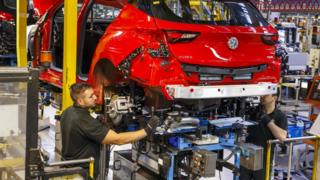 Image copyright
Vauxhall
Image caption
Talks between Britain's biggest union and Vauxhall's French owner PSA Group were "frank" but useful, the sides say.
Unite head Len McCluskey was in Paris for a meeting with PSA chief executive Carlos Tavares about the future of Vauxhall's Ellesmere Port factory.
Mr McCluskey wants more investment in Ellesmere to protect jobs.It follows more jobs cuts at Ellesmere this month.
In separate statements, the two sides agreed to further talks to establish a "roadmap" for Ellesmere's future.
PSA, which also owns Peugeot and Citroen, said last year that it wants to build the new Astra model at Ellesmere.But that has not eased worries about the plant's future.
The company said this month that another 250 jobs could go at Vauxhall.[1] Those cuts were on top of 400 redundancies announced last year, and come amid warnings that Ellesmere Port must cut costs to improve efficiency.
After the meeting on Monday morning, Mr McCluskey said the meeting was "helpful", adding:"We had a frank exchange and are now clear on our respective positions.
"Carlos Tavares repeated his desire not to close UK plants, which is reassuring.He also talked of working with Unite to construct a roadmap for future operations in the UK, again encouraging.
"On behalf of Unite, I repeated our determination to safeguard the UK plants and if needs be our willingness to disrupt PSA's UK market share if the company fails to support this loyal workforce."
Mr McCluskey said he remained "optimistic" that the two sides could "work constructively".But he acknowledged that Brexit had caused "uncertainty and confusion" at PSA.
Meanwhile, PSA said the meeting was a chance "to establish a frank and constructive dialogue in order to study how to regain the competitiveness of the Vauxhall manufacturing sites in the UK".
He said Unite's support "for this process is essential to rebuild the Vauxhall industrial footprint".
Further meetings would be held, the two sides said.
Analysis:Theo Leggett, business correspondent
Ellesmere Port is expected to continue building the current Vauxhall Astra until 2021.What happens after that is still unclear.
Unite says Mr McCluskey argued hard at Monday's meeting for a new model to be built at the site.The union insists the "flexibility" of the UK workforce is a major asset.
Carlos Tavares, PSA's chief, told me last year that the company's European factories will be judged on their profitability and their ability to 'do more with less".
Production changes at Ellesmere mean it is becoming a lot more competitive.
But other factors are also likely to come into play.Mr Tavares has frequently called on the government to give clarity on its future relationship with the EU.
The nature of that future relationship, and any transitional arrangements, may well affect the company's investment plans.
Earlier on Monday, in a comment piece for the Liverpool Echo[2] ahead of the meeting, Mr McCluskey said the union needed "to be ready for the fight of our lives to keep world-class car making on Merseyside."
Last week, at the Detroit Motor Show, Mr Tavares told reporters of the need to improve the efficiency of its UK plants.
"What counts is to bring [UK] plants to the level of cost and quality that is the same as continental Europe," he said.
Vauxhall employs about 4,500 people in the UK, with about 1,800 at Ellesmere Port.The company also has a factory at Luton, which makes vans.
In August last year, PSA became Europe's second-biggest carmaker, after Volkswagen, when it completed the purchase of Vauxhall and German brand Opel from General Motors....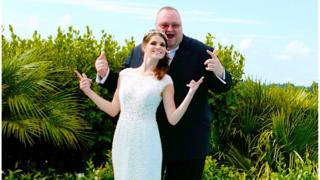 Image copyright
Kim Dotcom
Image caption
Kim Dotcom, the founder of file-sharing site Megaupload, is suing the New Zealand government for billions of dollars in damages over his arrest in 2012.
The internet entrepreneur is fighting extradition to the US[1] to stand trial for copyright infringement and fraud.
Mr Dotcom says an invalid arrest warrant negated all charges against him.
He is seeking damages for destruction to his business and loss of reputation.
Accountants calculate that the Megaupload group of companies would be worth $10bn (£7.2bn) today, had it not been shut down during the raid.
As he was a 68% shareholder in the business, Mr Dotcom has asked for damages going up to $6.8bn.He is also considering taking similar action against the Hong Kong government.
As stated in documents filed with the High Court[2], Mr Dotcom is also seeking damages for:
all lost business opportunities since 2012
his legal costs
loss of investments he made to the mansion he was renting
his lost opportunity to purchase the mansion
loss of reputation
"I cannot be expected to accept all the losses to myself and my family as a result of the action of the New Zealand government," he told the BBC.
"This should never have happened and they should have known better.And because they made a malicious mistake, there is now a damages case to be answered."
Key argument
Mr Dotcom's key argument over his extradition is the warrants used for the raid on his mansion and arrest in January 2012 were based on Section 131 of the 1994 Copyright Act of New Zealand[3].
"Under the NZ copyright act, online copyright infringement is not a crime," said Mr Dotcom.
"92B of Section 131[4] - an amendment created by parliament in 2012 - prohibits any criminal sanction against an internet service provider in New Zealand.
"In order for the US to be successful with an extradition, the allegation of the crimes that they are charging someone with also have to be a crime in the country from which they request the extradition."
Image copyright
Kim Dotcom
Image caption
On 16 January, Mr Dotcom announced that he had received two containers worth of his assets that had been released by the Hong Kong government.
"It's about $2m worth of designer furniture and high-tech stuff," he said.
"But most frustrating is the loss of our family archive of 800 hours of video, the birth of my children, birthdays, holidays - it's really sad."
Fighting extradition
Mr Dotcom is still fighting extradition, and the next hearing for the case will be in the Appeals Court on 20 February.
In December, Mr Dotcom requested a judicial review into his case.The US applied to have the arguments he made for his case to be reviewed struck out.
High Court judge Timothy Brewer rejected seven of the eight arguments because he said the High Court was not the place to bring up a judicial review, however he felt that Mr Dotcom did have a case.
"Given the context of the application, and acknowledging Mr Dotcom's submissions outlined above, I accept there is a reasonably arguable case that the district court judge did not have reasonable grounds to believe that the offence for which Mr Dotcom is sought is an extradition offence," he wrote in the judgement[5].
Mr Dotcom intends to raise the judicial review at the Appeals Court hearing in February.
Marriage and ICO
Image copyright
Kim Dotcom
Image caption
On Saturday 20 January - the sixth anniversary of the raid - Mr Dotcom married Elizabeth Donnelly in a private wedding ceremony in Auckland.
"Liz and I got married on the sixth anniversary of the raid so that this special day will always be a happy anniversary in the future," he said.
His new micro-payments business, Bitcache[6], is also preparing to launch an initial coin offering (ICO) in the next three months, underwritten by crowdfunding investment platform Bank To The Future.
Due to the ongoing legal case against him, the ICO will not be open to residents of the US.
Mr Dotcom says that he is separate from Bitcache to ensure that it cannot be shut down in the event that he is extradited and tried in the US.
Nevertheless, he says the damages case is essential to removing the loss of reputation that has made it difficult for him to do business in many countries.
"That's why it's all so important that I clear my name and all the charges are dropped and this damages claim goes ahead," he said.
"I don't want to be seen as what the US government charges me as."
The charges against Kim Dotcom
Image copyright
Kim Dotcom
Image caption
The US Department of Justice has said Mr Dotcom and his associates enabled copyright infringement by letting users store pirated files in free cloud lockers.
Users posted links to the pirated content for others to download free, but Megaupload would not close down lockers containing infringing content.
Mr Dotcom has long argued that he did not aid piracy because he had a takedown system that enabled copyright holders to delete links to pirated files, and without the link, a user could not reach the file.
US authorities say Mr Dotcom and others cost film studios and record companies more than $500m (£322m) in lost earnings, while making at least $175m for themselves....