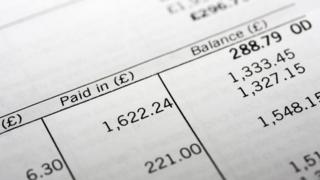 Household bills are rising more slowly than the rate of inflation, new research has found.
The figures suggested that the "cost of living squeeze" may be less severe than previously thought.
Research by MoneySavingExpert, based on official data, revealed the rise in the total cost of household bills was less than the inflation rate.
It found costs including rent, energy bills, council tax and insurance have risen by 2.1% in the past year.
That rise is in line with average earnings growth and lower than the 2.6% rise in the Consumer Prices Index (CPI) in July[1].
CPIH, a measure of inflation that includes housing costs and council tax, also rose by 2.6% over the period.
Although the numbers show only a small increase across household running costs as whole, they also revealed large price hikes for electricity and insurance in particular.
The cost of insurance rose by 7.6% over the year, including a 12% jump in car insurance premiums.Energy bills went up 5.1%, including a 9% increase for electricity.The data was compiled before British Gas announced a 12.5% price hike[2] on 1 August.
Image copyright
PA
Council tax rose by an average of 3.8%, the data showed, while rents went up by 1%.
However, some other bills may have fallen over the last year, with a modest 1.2% fall for mobile phone bills and a 1% decline for other financial services.
MoneySavingExpert managing director Guy Anker said consumers could save considerable amounts by switching providers.
Household bills inflation over the last 12 months peaked in February at 3.2%, but has been falling since then.
CPI inflation hit a 12-month peak of 2.9% in May before falling back, but remains above the Bank of England's 2% target.
In its quarterly Inflation Report earlier this month, the Bank said higher import prices caused by the weaker pound have contributed to higher inflation, but that it expected inflation to ease back towards the target next year.
Image copyright
MSE
Meanwhile, wage growth is not quite keeping pace with consumer prices, as average weekly earnings rose 2.1% in the three months to June, according to the Office for National Statistics.This means wages are falling in real terms.
But this data, compiled for BBC Radio 5 Live's Wake up to Money, shows that the widely reported pressure on household budgets may in fact be overblown.
Following the EU referendum last June, Bank of England Governor, Mark Carney, said the financial crisis had had a psychological impact on consumers, meaning the perception of hardship continues "long after the original trigger becomes remote"....