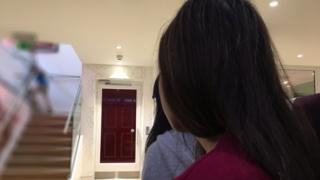 Image caption
One woman clutches a tissue.Then, a simple question:"What happened to you?"
That's when the tears come."My employer is not good for me…"
Maria has barely got her first words out when the emotion overwhelms her.
She continues her tale, weeping, sniffing.You can barely make out what she is saying.But you do not need words to understand.
She was born in the Philippines and left the country to take up a job as a domestic worker for a woman in the Gulf.
Raw fear
In April this year, she moved to Britain.Maria got a visa and came in legally.Since arriving, she has been exploited - sometimes, barely fed.She is expected to work round the clock.She has not been paid for five months.
Maria escaped from her employer just the week before she gave this interview.Her fear is raw.
Kim escaped a similar situation some time ago.Yet even for her, the memory of the way she was treated by the people who employed her as a maid is still painful.
Image copyright
Home Office
Image caption
"This family, they think you are rubbish.One time they tell me, 'All you Filipina are slaves.'"
Like Maria, Kim is not her real name - we are protecting both women as they have recently managed to escape.
They are being helped by a charity - Justice for Domestic Workers.
The people Kim worked for flew here in a private jet to live in a mansion.She has not been paid a penny.
Toy clue
It is estimated there are 40 million people living and working in slave-like conditions globally.
Even in the UK - which the country's anti-slavery commissioner, Kevin Hyland, says is "streets ahead" of other countries - it is thought there are tens of thousands.
The British government has made tackling slavery a priority.
At Britain's borders there are more officers trained to spot people-trafficking.
From the control centre behind the one-way glass at Heathrow airport, they are keeping a close eye on who is coming in, their documents, any signs of distress.
Image caption
But how do you spot modern-day slaves - when often even they will not know the kind of treatment they are about to receive once they arrive?Training helps - so does a bit of luck.
Amanda Reid, the national operational lead for safeguarding and modern slavery in the Border Force, remembers one such moment.
"The roving officer at the gates spotted a young lady carrying a really rather large Disney toy and happened to say, 'What's that for?' and she didn't have an immediate answer.
"Very soon after that we then saw another [young lady carrying a really rather large Disney toy].
"And this was really an indication something wasn't right.
"Her story unravelled, and it was clear she was heading for exploitation."
Immigration officials say the toy was being used by criminal gangs as a "marker".The toys were meant to identify the victims of trafficking to the people meeting them in arrival halls
Duped or coerced
In the first three months of this year, more then 200 potential victims have been identified at the British border.
But the efforts go far beyond one national boundary.
This is a $150bn (£110bn) a year industry.And in source countries around the world Britain has officers working with local officials to help victims, and to educate people about the dangers of falling into the traffickers' trap.
That is the kind of international approach Justine Currell wants to see happen more.
She helped draft the Modern Slavery Act at the Home Office.Now, she is the executive director of Unseen - a charity helping victims of slavery.
People "either come here for a better life", she says, or they are "duped or coerced or deceived into thinking that there is a job for them in the UK".
"Many of these people are then in debt bondage," she says.
"Their travel has been paid for, the work that they thought they were going into has been paid for, they then need to pay their exploiter back."
Problems getting help
Victims can get help through the National Referral Mechanism, the government-funded support service.
But many of the foreign-born victims, who do not have the right paperwork to stay here, do not trust the system and fear it exists to send them back to their country of origin.
Image copyright
Getty Images
Image caption
The anti-slavery commissioner says this part of the system needs reform.
Mr Hyland says it focuses too much on the immigration status of the victims, rather than the crime itself.
"There is no other crime where someone has to jump through hoops to be believed," he says.
The Home Office says a review of the National Referral Mechanism (NRM) has taken place.
It expects to announce some changes later this year.
That may come too late for Kim, Maria, and another woman also recently freed from slavery in the UK.
'Living scared'
Patricia made the decision some time ago not to apply to the NRM, and has now joined the ranks of the perhaps one million people in the UK living here without permission.
"It's like living in the dark," she says.
"I'm living scared every time I'm in the train, in the bus.I'm thinking I will be caught and sent to the Philippines."
Why stay, then?
"It's financial - I can support my family, my daughter and also my siblings, some of my nephews and nieces so they can go to school."
She adds, trembling:"Even if my situation is like this, I stay here because I can help them."
So she remains vulnerable, and in the shadows.
You can download a podcast of Matthew Price's reports, on the BBC Radio 4 Today programme website[1]....
Read more http://www.bbc.co.uk/news/uk-41323363
By Profs Harold Clarke, Matt Goodwin, Paul Whiteley and Marianne Stewart US and UK election experts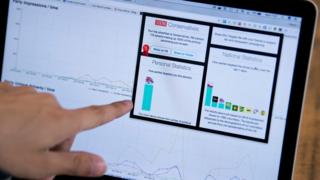 Image copyright
Getty Images
The 2017 general election was the moment when the internet finally delivered on its long-awaited promise of having a big effect, both on how individual people voted and the overall outcome of the election.
A flood of young voters, many of whom had relatively low levels of political knowledge, used the internet to get news about the general election.This was crucial for boosting support for Labour and Jeremy Corbyn, according to new research on the dynamics of the 2017 vote.
In recent years, there has been talk about the power of the internet to affect elections.Ahead of the 2017 general election, some pointed to a growth of pro-Labour websites and online forums as a potentially powerful weapon in Labour's arsenal.
Our study is one of the first to document how this online activity really did help Jeremy Corbyn and his party.
We've found that those who used the internet to get news about the general election were far more likely to have voted Labour.And we observed that those who used the internet less often to gather political news and information were much more likely to vote Conservative.
This relationship is true for the entire electorate and across all age groups.
And it continues to have a strong and positive effect on how people voted, even after we take into account a whole range of factors including age, gender, social class, party identification, how people voted in the referendum and levels of education.
Overall, among all respondents, our research suggests that 16% used the internet "a great deal" to get information about the election, 23% used it "a fair amount", 23% "not very much" and 38% "not at all" or said they did not know.
However, those who use the internet more often were significantly more likely to vote Labour.Sixty-one per cent of those who used the internet "a great deal" to gather news about the general election opted for Labour, compared with only 21% who voted Conservative.
Conversely, 56% who said they used the internet "not at all" voted Conservative, while 30% opted for Labour.
How much people use the internet also correlates with voting patterns among older people.Again, those who said they use the internet a great deal were strongly pro-Labour and pro-Jeremy Corbyn.
Image copyright
Getty Images
Image caption
These effects involve a combination of two factors:"mobilisation" (things that influence people to turn out and vote) and "persuasion" (things that influence their choice of party).Turnout among people aged 18-29 was up by an estimated 19% on the previous general election in 2015.
Our data shows that both the decision to vote and the choices these young people made at the polls were associated with the volume of news about the election that they consumed online.
Another effect that we find relates to how knowledgeable people are about politics.In our surveys, we tested people's political knowledge by asking if eight randomly selected statements were true or false and then counted the number of correct answers.
The statements included assertions like:"The minimum voting age for UK general elections is now 16 years of age," and "The chancellor of the Exchequer is responsible for setting interest rates in the UK."
Though internet usage and political knowledge are only slightly linked, it is clear that, after rigorous statistical tests, how knowledgeable people are about politics had significant effects on how they voted.
If survey respondents were frequent internet users but did not know much about politics they tended to vote Labour.In contrast, if they weren't internet savvy but knew a fair bit about politics, they tended to vote Conservative.
These effects held across all age groups for both Labour and the Conservatives, with the exception of pensioners in the case of the Tories.This means that those effects weren't caused by the age of the respondent, which at first sight is the obvious explanation for differences in internet usage among the voters.
Put simply, political knowledge continues to have a strong effect on Labour and Conservative voting even after we take statistical account of all of "the usual suspects" that are used to explain voting - such as social class, age, gender income, people's "left-right" placement and how they voted in the 2016 referendum.
The effects of internet usage and political knowledge work strongly through voters' images of the party leaders.Even after we take account of a whole host of other things, like age and income, people with low political knowledge who used the internet to get their election news tended to like Jeremy Corbyn and dislike Theresa May.
Image copyright
Getty Images
Image caption
For example, among those who said they used the internet "a great deal", the average score for Jeremy Corbyn on a 0 ("really dislike") to 10 ("really like") scale is 6.4, whereas among those who said they did not use the internet at all, his average score is much lower, only 3.4.
The pattern for Theresa May is the opposite:her average score among those who used the internet a great deal is 2.9, whereas among those who did not use the net, her average is considerably higher, at 5.3.
For Jeremy Corbyn, political knowledge, the survey suggests, has a negative effect on feelings about the Labour leader while internet usage has a positive effect.For Theresa May, political knowledge has a positive effect on feelings about the Conservative Party leader while internet usage has a negative effect.
In contrast, people with high political knowledge who did not use the internet for general election news liked Mrs May and disliked Mr Corbyn.
About this piece
This analysis piece was commissioned by the BBC from experts working for outside organisations.
Harold Clarke is Ashbel Smith professor at the University of Texas, Dallas.Matthew Goodwin is professor of political science at the University of Kent, Canterbury, Paul Whiteley is a professor of government at the University of Essex and Marianne Stewart is a professor at the University of Texas, Dallas.
Discover more about the methodology they used here[1]....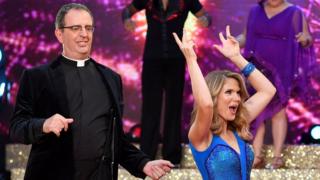 Image copyright

Getty Images

Image caption

After two weeks of rehearsals, this year's Strictly Come Dancing stars are preparing to return to the dance floor this weekend for the first live show of the series.

Here's what they had to say when we caught up with them earlier this month....
The Reverend Richard Coles
"There's a dog collar being pimped apparently, we're quite excited about that." "I was preaching quite a fierce sermon recently and a piece of glitter fell out of my hair." "I'm going to need a miracle.It's 'let us spray' at the moment." "I'm going to have to launch myself across a dancefloor, which I haven't done since Ibiza in 1990.And it wasn't pretty then, believe me." "I'm very happy to volunteer to dance with Aljaz anywhere, any place, any time." "I jumped at the chance [to do Strictly].It was a no-brainer for me.It's afterwards when people go 'it's really full on, it's going to be scary.'" "You've just got to throw yourself into it and love every minute." On Good Morning Britain co-host Piers Morgan:"He's very excited.Piers said we're going to have fun with this - but that sounded more of a threat." "I'm looking forward to the ones [where] you've got a bit of performance and attitude - it's amazing to have that opportunity where you give it some." On being one of this year's favourites to win:"I don't know how they work out the odds because they haven't seen us dance!" "I am very nervous - it makes me want to throw up because my anxiety shoots through the roof when I think about live shows.I know this is a really funny thing to say coming from someone who won a TV show nine years ago but I hate cameras." "The moment that I found out that I was going to take part in Strictly, I cancelled everything.I cancelled my album, my single, recording, everything.My mum always said to me, 'be great at one thing, and the rest will follow.'" "Because I was a nun for a year [for Sister Act:The Musical] wearing flat shoes, I've been trying to wear heels a lot more just to try and give my ankles a bit more strength." On how far she'll go in the contest:"I want to get as far as my body and my partner can take!" "Everything has this Strictly excitement about it, which is very glamorous - things you don't get to do every day." Asked if she would wear skimpy outfits:"I'll only be getting my kit off privately in the spray tan booth." On the show's costumes:"It's amazing, they gave me a waist - I hadn't seen that waist for a long time." On keeping her appearance in the show a secret:"I quite enjoyed the whole rumour mill.Contrary to popular belief, I've not been asked to do Strictly before - because not in a million years would I have turned it down." What her husband Eamonn Holmes said (with tongue in cheek) when asked about the "Strictly curse":"One man's curse could be another man's blessing." "There's always something to look forward to [on Strictly].It seems like a non-stop rollercoaster where you're looking to the next thing." On the outfits:"We've tried the skimpy, rhinestone-laden clothes and frankly they're very comfortable and fun to wear." Asked if he would be showing off his chest:"If the dance calls for it, maybe later on in the competition… if it's standard in week three, four or five we'll do it." On how his on-screen mum reacted to him being on the show:"Bonnie Langford couldn't help herself.As soon as she found out, she threw herself at me and we had a little dance." "We're all going to look back in years to come and say 'we were part of that'." On whether being pop stars gives her and Aston Merrygold an advantage:"I think we're used to being disciplined to a certain degree.But there's an expectation that people have and I think, Aston and I, we feel we're both terrified, it's a whole new world for both of us." "We don't want to look like complete wallies.There's so much for us to learn." "Obviously we're lucky that we have performance experience but it's a whole new world of dance, which is just madness." On the sparkly outfits:"You go into a fitting and it's the most sequinned glittery dress you've ever seen, and they go to you:'Obviously it's not glittery enough so we'll be adding more'.And you're like, 'what?'" On the chances of winning:"Everybody who's taking part, obviously it's their dream to lift the glitterball trophy - but I just want to learn as many dances as possible, that's my aim.And get a few spray tans." "I'm actually just excited to try a whole new form of performance.You forget it's a competition." "You want to see everyone pull through." On preparing to be a new dad:"I'm trying to get the daddy stuff done in the morning and the rehearsals in the afternoons." On training to get in shape for the skimpy outfits:"I'm not as nimble as I used to be.There's a lot of glitter - I've been Strictly-fied." "I personally would just love to get to the final, to do all the weeks and learn everything on the way and learn all the different styles.But it doesn't feel like a competition." On doing ballet dancing in the past:"Strictly has changed over the years.At the beginning it really was that you didn't have any training.Lots of people have done it now who have.I did train as a ballet dancer over 30 years ago.But it's like if you were at school and really good at high jump, and 35 years later you're asked to enter a competition and you've got to do long jump." On late husband Paul Daniels, who previously took part in the show:"He would love it.He always wanted me to do it.He'd be smiling down on me, that's for sure." On having a moment with professional Gorka:"When I walked into the dressing rooms, one of the male dancers, I'm not going to say who - Gorka - had his top off.And I've actively avoided any contact with the male species for my entire life.And I went....'he's beautiful!'" "I went home and my wife was like, 'how's it going?' And there aren't words to process what's happening." On her fellow contestants:"We're all in the same boat - we're all going to learn how to dance." "I feel I've made 14 new friends, whatever else happens.I know more about Joe and Davood than I do about people I've known 10 years." "It's like a holiday romance.The minute you meet each other, you have to bond quickly because you're all in the same terrifying situation." "There's two WhatsApp groups.There's the official one which everyone involved in Strictly gets to see.Then there's the private one we have with the dancers which they don't get to see, which is the proper fun one." On his family's reaction to him taking part:"My wife rolled her eyes and shook her head." On the whole Strictly experience:"We're all thrown together and going through this crazy thing together." On appearing in Holby at the same time as Strictly:"They've assured me they're going to give me some light storylines.It's filmed across the road - I always wanted to see what goes on over here and now I can." "We're all getting rhinestone envy a bit.Jonnie had one the other day that was all different colours - it was really nice - and we had plain ones." "It sounds really cheesy but we're in a nice bubble and we're all in it together.It's all good." "My worst fear is - you know when you run up the stairs after you dance?Falling off the stairs - that for me is more nerve-wracking.You're going to be wobbly and out of breath." "My family have all been saying 'You've done so well, it's amazing… but it would be good if you could do Strictly.' So they're all going to come down.Everything's happened at the right time." "Forgetting the dance is the biggest fear.And falling down the stairs - but if we fall, we just pose and get up again." On advice from previous contestants:

Read more http://www.bbc.co.uk/news/entertainment-arts-41164038
Tammy worries that her baby's allergy to milk protein damaged their bond.

...