The new White House communications director tells Emily Maitlis there will "100%" be a trade deal with the UK.

...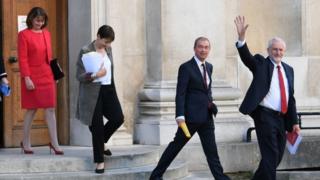 Image copyright
PA
Left-leaning parties worked together to cut Theresa May's majority at the general election - was it a one-off or is the "progressive alliance" here to stay?
One of the many surprises on 8 June was how Britain appeared to have turned the clock back to the era of two party politics, with 82% of voters casting their ballot for Labour or the Conservatives.
Some of the surge in Labour's support may have been down to tactical voting, with left-leaning voters spooked by the prospect of a huge Conservative majority deciding to back whichever party they believed stood the best chance of beating the Conservatives in their constituency.Which, in most cases, was Labour.
But in some parts of the country the choice was made easier for them.
Local electoral deals saw some would-be election candidates stand aside to avoid splitting the "anti-Tory" vote.
But despite warm words from some Labour and Lib Dem MPs, one party ended up doing most of the heavy lifting.
Of the 41 seats listed by the Progressive Alliance[1], one of the organisations promoting tactical voting and cross-party cooperation, where "progressive candidates have stood aside to help another progressive candidate defeat the Tories", 38 of them were Greens, two were Lib Dems and one represented the Women's Equality Party.
Not one Labour candidate stood aside, even though it was the Labour Party that got most of the benefit, in terms of extra votes and seats.
Image copyright
Green Party
The Green Party's co-leaders Caroline Lucas and Jonathan Bartley got behind the idea of electoral alliances as a way of forcing proportional representation on to the political agenda, having spent years getting nowhere with efforts to get candidates that back electoral reform elected through first-past-the-post.
Last year's Richmond Park by-election, which saw the Greens stand aside to help Lib Dem Sarah Olney defeat the then (and future) Tory MP Zac Goldsmith, had shown them what was possible and they had the backing of Green party members.
But the Labour and Lib Dem leaderships refused to play ball, rejecting their offer of a formal deal at June's snap election out of hand.
Labour's shadow chancellor John McDonnell told the BBC:"I just think the electorate would be concerned if they thought parties were stitching up elections privately.I don't think that's the way forward.The way forward is to support and vote for the Labour Party."
Lib Dem leader Tim Farron was equally dismissive, despite support for the idea among some in his party, saying the "only plausible route of any kind towards the Conservatives not winning a majority" was having a sizable Liberal Democrat group of MPs.
It was left to local Green parties to strike their own deals, if they could.
It worked in some places, most notably Brighton Pavilion, where Caroline Lucas doubled her majority, after the Lib Dem candidate stood aside, as payback for Green support in Richmond Park.
Image copyright
Getty Images
Image caption
But her result was a rare bright spot in a dismal night for the Greens, who failed to gain any of their other target seats, and saw their vote drop from 1.1 million in 2015 to just over 500,000.
It was a bad night for smaller parties in general.UKIP saw an even more dramatic collapse in its share of the vote than the Greens.
The Lib Dems also saw their vote share squeezed - but only the Greens stood aside in significant numbers to aid other parties.
On the day after the election, the Green Party's co-leader Jonathan Bartlett hailed the "brave" decision by 24 Green candidates in marginal seats to stand aside, which he said had made a "big difference to the election result".
But that's not how some of the candidates-that-never-were felt.
'Heavy heart'
Green Party activist Jill Perry, who opted not to stand in Workington, said she now has "regrets" about doing so because she does not think it made any difference to the result, which saw the Labour candidate Sue Hayman retain the seat with a slightly reduced majority.
It also deprived local Green members and supporters - including herself - of the opportunity to vote for their party, which on nuclear power, nuclear weapons and airport expansion, to name just a few issues, is diametrically opposed to the official Labour position.
"I voted with a heavy heart because, obviously, I could not vote Green," she says.
"It was a very difficult decision.It wasn't a personal decision, it was a group decision, but the group was very divided with strong feelings on both sides.
"Really, I don't think it made any difference where candidates stood down" because a lot of people voted tactically to prevent the Conservatives getting a "massive majority" and, as a result, "everybody went back into the Conservative and Labour silos".
The local Labour Party appreciated their gesture but Greens had been "put under an awful lot of pressure" by Labour activists in areas where they refused to stand aside, she added, and some Labour activists had been "very aggressive towards them".
"In solidarity with those groups, I think we should stand next time," said Ms Perry.
Andy D'Agorne, leader of the Green group on York City Council, told the BBC he does not regret standing aside for Labour at the general election but he would not do it again, unless Labour was committed to proportional representation.
Image caption
The Greens have strong support in York, gaining 10% of the vote at the 2015 general election in York Central, but Mr D'Agorne said the unexpected surge in the Labour vote has made it a safe seat for Jeremy Corbyn's party, rendering any future gestures of solidarity unnecessary.
Nicole Haydock, co-ordinator of Bury Green Party, which opted not to run candidates in June, said the "backlash in the party after the election" was because "most people thought the progressive alliance meant we are standing down where Labour has a chance of winning" when it was actually about getting an agreement to back proportional representation.
Green activist John Coyne refused to stand aside in Wirral West, despite pressure from local Labour activists and members of Momentum, to help Labour's Margaret Greenwood hang on to the seat she had won from Tory Esther McVey by 417 votes in 2015.
The 429 votes Mr Coyne received in June might have made all the difference in another close contest, but Ms Greenwood was returned as Wirral West's MP with a majority of 5,365.
'New politics'
Mr Coyne said:"If Labour said, 'yes we want PR' then that would make a big difference but all that's happened in discussions about alliances is that there has been an attempt to get people switching from Green to Labour, there has been no element of reciprocity at all, in this relationship.
"And for that reason, if no other, I think there is no real future for it."
The BBC understands Liverpool Green Party plans to table a motion at the party's annual conference in October to rule out future alliances unless there is a PR deal on offer.
There is also the practical concern that the electoral pacts have hit the Green Party in the wallet, as Short Money is handed out by Parliament in line with the number of votes parties get.
In 2016/17 the Green Party of England and Wales got £216,994 in Short Money.It will be a lot less this year.
Image copyright
Getty Images
Image caption
Caroline Lucas said it was time for "reflection and planning" in the Green Party and has promised to listen to the membership about future electoral deals.
She said it was "clear" that the local Green activists who stood aside in June "helped cut down the Conservative majority".
But she added:"The commitment to forming alliances was always about advancing significant electoral reform to give every voter a voice.
"We want to forge a new kind of politics, and simply tactical voting under first past the post does not even begin to rise to that challenge.
"Sadly there was no leadership from either Labour or the Liberal Democrats to put the urgent need for a fairer voting system at the heart of this election nationally."
Frances Foley, campaign co-ordinator of Compass, the cross-party pressure group that set up the Progressive Alliance website and used tactics and personnel borrowed from Bernie Sanders in the US to promote it around the country, said she could understand how some Greens felt "chastened" by the drop in their party's vote share.
But, she added, "despite that there is still a really strong appetite for the progressive alliance in the Green Party".
'Regressive alliance'
There was also far more enthusiasm for cross-party cooperation, and proportional representation, among Labour activists than the party leadership, she claimed, and that change would eventually come "from the ground up".
According to Compass's own research, "progressive" candidates performed 5.7% better where there was an electoral deal in place.
She said the Labour leadership should view their success on 8 June as a "shared victory," as a handful of Labour MPs, such as Clive Lewis, in Norwich South, and Tulip Siddiq, in Hampstead and Kilburn, had done - and it would be a mistake for them to believe they could win a general election on their own.
To supporters like Ms Foley, the progressive alliance holds out the prospect of an end to petty tribal politics, as parties with similar world views - pro-European, anti-austerity, greenish - work together for what they see as the "common good".
The combined forces of the SNP, Plaid Cymru, the Lib Dems, Labour and the Green Party, as well as smaller outfits like the Women's Equality Party and the NHS party, add up to a "progressive" majority, they argue.More than enough to beat what they call the "regressive alliance" of the Tories, UKIP and the Ulster Unionists.
But to have any future it is going to take a major change in attitude at the top of the Labour Party to convince the Greens and other smaller parties it is worth the sacrifice....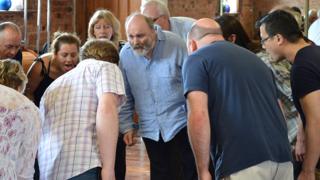 Image caption

Jim Cartwright (centre) leading an exercise with one of his drama groups

From Dame Julie Walters to David Morrissey, many top show business names have voiced concerns about a lack of working class actors.Now leading playwright Jim Cartwright is doing something to fix the problem. There is a "quiet revolution" taking place in acting, Cartwright says.And it is happening in a fitness studio above a charity shop on Chorley High Street in Lancashire. This is where Cartwright, whose plays include The Rise and Fall of Little Voice and Road, holds three drama classes every Sunday.On Saturdays, he takes over a room in a Methodist church in Manchester. He started the classes in 2015 after reading comments from Dame Julie[1], who said she would not be able to afford to become an actress if she was starting out again. "It made me really cross because I'm from a working class background," he says.

Image copyright

Getty Images

Image caption

L to R:Tom Hiddleston (Eton), Eddie Redmayne (Eton), Benedict Cumberbatch (Harrow)

Reading articles about shrinking opportunities for those without money and connections made him "like a bull with a sore head", he says.So his wife told him:"Don't get angry.Do something." He took her advice and set up the drama studio with the aim of bringing through more working class talent, advertising his services in his local fish and chip shop. "I got a little card saying 'drama studio' and stuck it on a chippy wall.And I waited.And they came, and they came, and they keep coming." Two years later, he has five classes in the two locations and has set up a talent agency to represent the budding stars.There is also a youth group.

Image copyright

Ian Kay

Image caption

Jolene Rathmill has found it hard to progress in the acting profession

The adult class members range from people who have never set foot on stage to jobbing actors who are honing their skills.There are students, retired people, a few teachers, a former policeman, a fireplace salesman. Jolene Rathmill, 38, from Oldham, works for financial advisers and runs confidence and self-esteem workshops in schools. She says:"When I first started, Jim got me an agent and wrote something about me, saying he's worked with some of the top actresses in the world and that I have the potential to be that.He sees that in me.That's my ambition, 100%." However, she thinks she is at a disadvantage because she hasn't been to a prestigious drama school.

Image caption

Cartwright's groups are rehearsing for their next showcase in Manchester

"I grew up on a council estate.We had chicken wire between our gardens and a tyre swinging in our back garden," she says. "I feel that having not attended a professional, recognised drama school, initially you're right at the bottom of the hierarchy.There's a hierarchy of agents, and the top agents get the top castings, and further down the line if they want a real working class actor they might call people in. "But it's very rare, so you're climbing, climbing, climbing" - she mimes climbing a ladder - "trying to get there.And it just doesn't happen." Cartwright's efforts come as privately educated actors like Eddie Redmayne, Benedict Cumberbatch, Tom Hiddleston and Damian Lewis seem to have taken over the TV, film and theatre landscape.

Image caption

Cartwright made his name writing Road, which was filmed for the BBC in 1987

Last year, The Sutton Trust found[2] that 42% of the winners in three main Bafta award categories had gone to people from private schools, while Sky News recently calculated that 45% of the BBC's best-paid stars[3] were also privately educated. Also in 2016, researchers found that[4] 16% of actors came from working class backgrounds - half the level of the population as a whole - and that the British acting profession was "heavily skewed towards the privileged." The Labour Party is now conducting its own investigation[5] into opportunities for working class actors, with a report due to be published soon. Cartwright has turned drama teacher after more than 30 years as one of the most vital voices in British theatre[6].His debut play Road is currently back at the Royal Court[7] in London, where it launched his career in 1986. He has also acted in TV shows like The Village, From Darkness and Coronation Street.

Image caption

Cartwright is an acclaimed writer, actor, director - and now drama teacher

With the Cartwright Drama Studio, he hopes to replicate the "explosion of energy and talent" that came with the Kitchen Sink movement[8] of the 1950s.That was fading by the 1980s, he says, when he noticed "the floppy fringe coming back". He says:"I'd never say it's been an even playing field, but when I started out it was more even.But I've seen it change.I've seen it tilt." His students come from all sections of society.Some would identify as working class, some wouldn't.But he believes the mindset is what sets his studio apart. 'We're a quiet revolution - and we're coming' "The working class thing is an attitude.It's a burning, it's a feeling inside," Cartwright says."That's what came in the '50s.It wasn't just that they were from a particular area or a particular economic strata. "They carried with them a certain fire.That's what we're building in the classes.We're not just classes - we're a bit of a movement really and we're a quiet revolution. "And we're coming.If you won't let us through the doors, we're coming over the walls and through the stalls.We're coming in, it's time and anyone out there who feels the same as I do, join us, because it's time for change in theatre.It really is time for change. "Not that there's not great work that goes on.There's fantastic work and fantastic people working in this business.But something's died that we're reviving." Cartwright brings casting directors and agents to see his students perform at regular showcases.Some have won small film and TV roles and are working on their own theatre shows and short films.There are no stars yet - but he is sure some have the talent to go all the way. "Some of the people who come to these classes are just amazing, and it's criminal that they're not working in the highest levels of this industry," he says. The class members include Darren Scott, 55, who worked as an actor for seven years before the work dried up.(He has spent the past 20 years as a primary school teacher.) For him, attending the Cartwright Drama Studio has rekindled his performing career. "I was in the very first showcase that Jim directed, and through that I got an agent, and I had an audition with Mike Leigh for his new feature film.And after three recalls, I was lucky enough to be offered a part.That's a direct result of coming here and working with Jim." At the age of 19, Emma Heyes has studied acting at college and is attending the classes in preparation for auditioning for drama school.In the meantime, she's working on the checkouts at Tesco. She has already had enough acting experience to know her accent puts her at a disadvantage. "I have to learn accents;otherwise I won't get work," she explains."I think I've only ever done one play where I've used my actual accent, and I've done a lot of plays. "I've been into the top drama schools in the UK and they look at you as the novelty northerner in the corner." As part of the training, Cartwright tasks the group members with writing and performing monologues.He recommends one by 38-year-old Scott Brerton. Brerton reads it and it is a bitter-sweet tale of trying to remember what happened on a big night out.It is exactly the sharp, funny, full-of-life voice that Cartwright is trying to encourage. Brerton had not acted before he started coming to the classes six months ago.He has now been for his first audition and won his first role, performing in a three-night play in Liverpool last month. "I don't think I would have been able to do it or have had the confidence to do it without coming here and having that weekly inspiration and driving motivation by Jim," he says. It is early days for all concerned, and the "quiet revolution" may end with a whimper or a roar. At any rate, Cartwright is on a mission to make it happen.In fact.he's throwing the kitchen sink at it. The next Cartwright Drama Studio showcase is at the Palace Theatre, Manchester, on 31 July.Road runs at the Royal Court in London until 9 September. Follow us on Facebook, on Twitter @BBCNewsEnts, or on Instagram at bbcnewsents.If you have a story suggestion email

This email address is being protected from spambots. You need JavaScript enabled to view it.

.[9][10][11][12]

...

Read more http://www.bbc.co.uk/news/entertainment-arts-40705516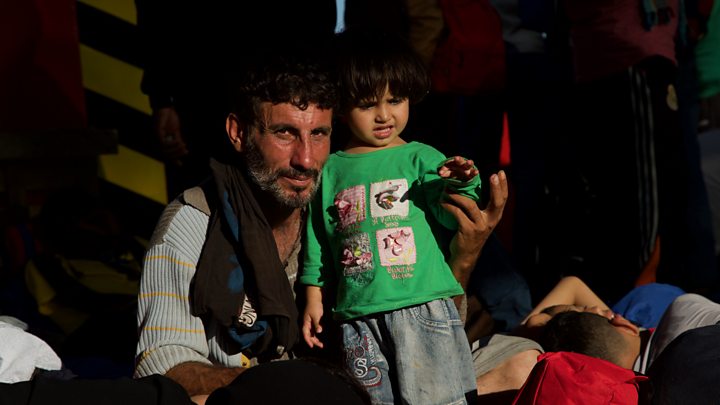 Media playback is unsupported on your device
Media caption
The UNHCR calls for $420m to stop people risking their lives crossing the Mediterranean
There was a serene, enchanting glow to the view from the Vos Prudence search-and-rescue ship as it slowed to a standstill off the Libyan coast a few hours after sunset.
Three bright orange flames from an oil-rig were visible on the horizon.Closer to the ship, a seagull appeared over a moonlit strip of sea, flying so low it almost brushed against the waves.
We were on a ship run by the charity Médecins Sans Frontières on a mission to rescue migrants in distress at sea.
Days and nights passed with nothing in view but the open sea, until suddenly, out of the blue, the people start coming.
They are pushed out to sea from the Libyan coast, on unseaworthy boats packed with as many people as they could carry.They come from across North and sub-Saharan Africa, the Horn of Africa, Bangladesh, and Syria.
How EU tries to stop the smugglers
The EU wants to seal off the Central Mediterranean migration route, much as it did with the Aegean route between Turkey and Greece last year.
The EU strategy rests on two pillars.In Libya, it is funding and training the Libyan coastguard to stop the migrants before they cross into international waters, and send them back to Libya.
Image caption
Outside Libyan waters, it has deployed military vessels to disrupt the smugglers' business, mainly by burning their boats so they cannot be reused.
But increasingly the strategy has come in for criticism.
Successive reports have suggested a link between the burning of the boats and the rising death rate on the Central Mediterranean.As the smugglers adapted by using cheaper boats that were more unseaworthy, the crossing became more dangerous for the migrants.
And testimony from the migrants themselves suggests the Libyan coast guard could be playing a double game:taking money from the EU to intercept migrants, and money from smugglers to let them pass.
4,576 Deaths on same route to Italy in 2016

14,120 Nigerians make up biggest nationality crossing Mediterranean
"The sea looks peaceful, and that's always a scary thought," said Sarah, from Nigeria, a member of MSF's team on the Vos Prudence.
A few hours after we arrive in the search and rescue (SAR) zone, the Italian Navy's Maritime Rescue and Co-ordination Centre in Rome calls with news that several boats have set off from Libya.
By the time we arrive, the action has already started.
Image caption
From one side of the deck, there is a plume of thick smoke polluting the clear blue horizon;a smugglers' boat set on fire by an Irish military vessel following a rescue operation.
On the other side of the deck, much closer to the ship, an empty wooden boat is being towed away by two men on another boat, presumably to Libya for reuse.
Since late 2015, the EU has stepped up the destruction of migrant boats after the rescues, aiming to disrupt the business model of smugglers.
But there are indications that it is the migrants, not the smugglers, who are paying the price.
Image caption
The EU's own data has shown that the smugglers quickly adapted by using more rubber boats, as the costlier wooden boats became a "less economic" option.
And as the EU stepped up its efforts, the death rate was rising.
A string of reports, including by Amnesty International and the UK House of Lords[1], began drawing links between the anti-smuggling operation, the smugglers' deteriorating offer for migrants, and a steadily rising death rate at sea.
An unintended consequence of...destruction of smugglers' boats has been that they have adapted, sending migrants to sea in unseaworthy vessels, resulting in more deaths at sea"
UK House of Lords report
Soon enough, the lower deck of the Vos Prudence becomes packed with people - 727 men, 53 children, and 97 women - and heads for the Sicilian port of Palermo.
Crammed uncomfortably on the lower deck with barely enough space to stretch, they begin to describe the medieval horrors accompanying Libya's descent into lawlessness.
Image caption
Time and again on board the Vos Prudence, we heard of torture in underground prisons, kidnapping for ransom, slavery, and killings on a whim.
What is the role of Libya's coast guard?
For many, being forced back to Libya is the worst thing that could happen to them.They give a confusing picture of the coast guard.
Abdullah, a Sudanese from Khartoum, told me a friend of his, also from Sudan, got on a boat that was intercepted by the Libyan coastguard and forced back to Libya.He was sold into forced labour on a farm, until he managed to leave again.
Image caption
But Abu Yasser, from the Syrian city of Aleppo, said the coast guard escorted the boat he was on all the way into international waters, then directed it towards an NGO vessel, and away from a military one.
"The real smugglers," he told me, "are the Libyan coast guard."
Husam, from Libya, said smugglers who pay get past."There's no coast guard.It's all militias."
But Italy and the EU appear more focused on the search-and-rescue charities than the Libyan coast guard.
Why Italy wants to board NGO ships
The Italian government has drafted a code of conduct and has warned NGOs that if they fail to sign it they will be shut out of Italian ports.
One of its demands is for charities to co-operate more actively with the anti-smuggling operation, by collecting when possible "the makeshift boats and the outboard engines used" by smugglers, and notifying Frontex, the EU's border and coast guard agency.
Image caption
Another of the 12 points of the code is for NGOs to increase co-operation with Italian police, allowing them on board upon request to "conduct preliminary inquiries and investigations".
Both Frontex and MSF have become increasingly aware that the Central Mediterranean route is being used for trafficking in Nigerian girls and women.
"It is of utmost importance to protect them, to identify them early, to separate them from their traffickers before they disappear in the world of abuse," Frontex told the BBC in an email, before the code of conduct was delivered to the charities."We can do it only if all actors actively cooperate with the police."
Stefan van Diest of MSF told us it was "not MSF's role to police international waters or to investigate trafficking and smuggling networks".
"We are doctors, not police and we are present on the Mediterranean to save lives."
Image caption
But Mr Van Diest added that MSF was "acutely aware of the use of this route by traffickers".
"Potential victims of trafficking are systematically referred to the authorities and appropriate protection agencies during disembarkation."
The code of conduct will make these differences more pressing to resolve.MSF must now consider whether and to what extent to change the way it operates at sea.
For now, though, the work continues.
After filling up with fuel on the island of Malta, the ship heads back into the search and rescue zone....