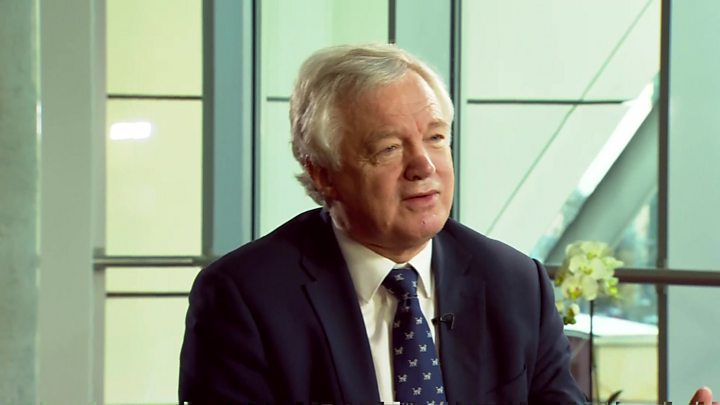 Media playback is unsupported on your device
Media caption
David Davis:"Nothing comes for nothing" in negotiations
David Davis has said the EU must be willing to give ground too if further progress in Brexit talks is to be made.
He told the BBC the UK has "been offering some creative compromises and not always got them back", insisting that "nothing comes for nothing".
Many EU countries want to move on in the talks because they can see how it important it is to their economies, he told political editor Laura Kuenssberg.
But he said this needed support from 27 nations, including Germany and France.
The EU says negotiations cannot move on to trade until questions about the UK "divorce bill", citizens' rights and Northern Ireland are resolved.
Theresa May is set to discuss Brexit with EU Council president Donald Tusk later on the margins of a jobs summit in Sweden amid growing pressure for a breakthrough before the end of the year.
Downing Street has insisted an earlier meeting with Irish prime minister Leo Varadkar had been "constructive" despite the two countries appearing to be no closer to bridging the differences between them.
Dublin wants binding guarantees there will be no return to a hard border with Northern Ireland after the UK's exit and Mr Varadkar has indicated he is prepared to "wait for further concessions".
Arriving for the event in Gothenburg, he said the UK's verbal assurances that there would be no physical infrastructure at the border were not sufficient.
Image copyright
AFP
Image caption
"I think it would be in all of our interests that we proceed to phase two in December," he said."But...sometimes it doesn't seem like they've thought all of this through."
UK Brexit secretary David Davis said he had already made concessions in areas such as the right of EU citizens to vote in local elections in the UK among other things.
In a speech in Berlin on Thursday, he warned against "putting politics above prosperity" in Britain's post-Brexit relationship with the EU.
BBC political editor Laura Kuenssberg said Mr Davis's speech was delivered politely but implied "pretty significant frustrations on the UK side with the EU's attitude".
The Brexit Secretary, she added, had not offered anything specific - including on what the EU regards as the vital issue of money - in his speech to "move things on".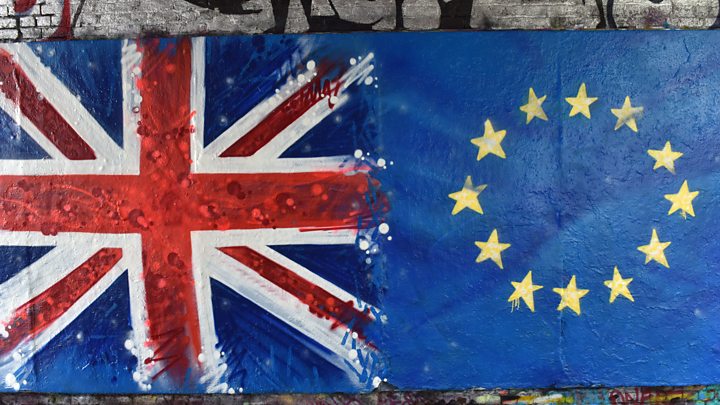 Media playback is unsupported on your device
Media caption
Davis:Other countries see the "big benefit" in future Brexit deal.
Asked about reports Germany and France were standing in the way of the next phase of talks, Mr Davis said they clearly had the most influence but it was a decision for all 27 and "many of them do want to move on".
"It is very important to them, countries like Denmark, countries Holland, like Italy and Spain, countries like Poland can see there are big benefits in the future deal we are talking about."
Brexit date
He suggested there needed to be more give-and-take from the other side."I want them to compromise, surprise surprise, nothing comes for nothing in this world," he said."But so far, in this negotiation, we have made a lot of compromises.On the citizens' rights front, we have made all the running."
As he met his British counterpart Boris Johnson in Dublin, Irish foreign minister Simon Coveney said the two sides were "not in place right now" to begin talking about future relations.
Image copyright
AFP
Image caption
Mr Coveney has floated the idea of a post-Brexit transition period of four or five years to allow both sides to adjust to the changes required.
This would be twice as long as that envisaged by the UK government - which wants an implementation phase of around two years.
Mr Johnson said while he understood the need to give maximum reassurance to businesses, he thought "it was possible to do this within a much shorter timescale", adding that "we want to get on as fast as possible with the meat of the negotiations".
After a week dominated by talk of a potential Tory rebellion against attempts to fix the precise time of Brexit in the EU Withdrawal Bill, Mr Davis has suggested he will listen to concerns before it is voted on next month.
Up to 20 Tory MPs are reported to be opposed to the move as they fear it could tie the hands of British negotiators if talks drag on to the last minute.
Mr Davis told the BBC that setting the exact moment of Brexit - 23.00 GMT on 29th March 2019 - in law was a "good idea" but he would not pre-empt what "form" this would take.
"The whole of this bill is going to be debated through the House," he said."And there are parts which will change as we go through, undoubtedly.We'll debate it, we'll see where we go."
But No 10 suggested it would not back down, urging all MPs to support a move which it said would "provide certainty over our position that we are leaving the EU"....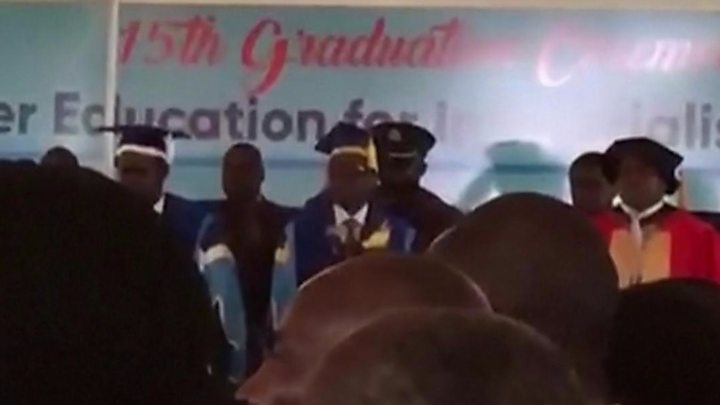 Media playback is unsupported on your device
Media caption
Mr Mugabe wore blue and yellow robes and a mortarboard hat
Zimbabwe's President Robert Mugabe has made his first public appearance since the country's army took over on Wednesday.
He attended a graduation ceremony in the capital, Harare.
Mr Mugabe had been under house arrest for days.The army made its move after a power struggle over his successor.
The military said on Friday it was "engaging" with Mr Mugabe and would advise the public on the outcome of talks "as soon as possible".
Mr Mugabe's attendance at the graduation is an annual tradition but few expected to see him there, the BBC's Andrew Harding reports from Zimbabwe.
Mr Mugabe walked slowly up a red carpet and joined the crowd in singing the national anthem, then opened the graduation ceremony at Zimbabwe's Open University, where he is chancellor.
One of the people he conferred a degree upon was Marry Chiwenga, the wife of the general who detained him on Wednesday, the state broadcaster reports.
Image copyright
EPA
Image caption
Neither the 93-year-old president's wife, Grace Mugabe, nor Education Minister Jonathan Moyo - an ally of hers whose house was reportedly raided by the military - were present.
The army acted after Mr Mugabe sacked Vice-President Emmerson Mnangagwa last week.
Mr Mnangagwa was seen as a potential successor and his sacking paved the way for Grace Mugabe - who is four decades younger than him - to take over the presidency instead.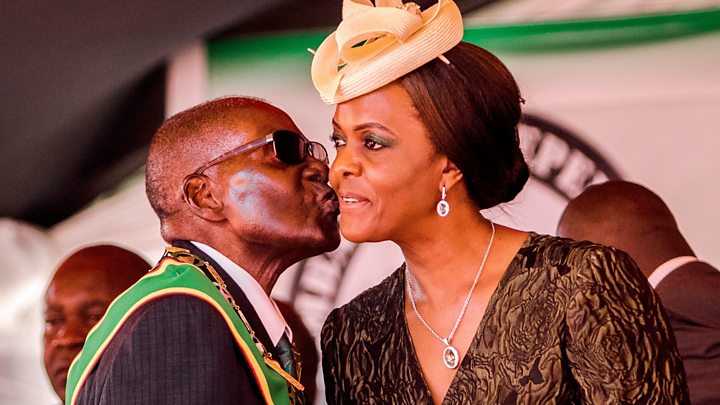 Media playback is unsupported on your device
Media caption
Who is Grace Mugabe?
It was thought she had left the country but it emerged on Thursday that she was at home with Mr Mugabe.
---
Bonds are hard to break
Analysis by Joseph Winter, BBC Online Africa editor
Although the army is obviously calling the shots in Zimbabwe, in public they still refer to Robert Mugabe as "his excellency, the president" and even "commander-in-chief".
This is why he has been allowed to attend the graduation ceremony.This is partly to keep up the pretence that they have not staged a coup but they also have a genuine, deeply felt respect for him going back more than 40 years.
All of Zimbabwe's security chiefs have worked with Mr Mugabe since they fought together in the 1970s war of independence - and the bonds forged in that struggle are difficult to break.
In many ways, Zimbabwe's military remains the armed wing of Zanu-PF, as it was when they were all rebels fighting white-minority rule in the then Rhodesia.
Furthermore, in Zimbabwean culture, the elderly are treated with respect and no-one wants to be seen to be treating a 93-year-old in an undignified manner, especially a man even opposition figures refer to as the "father of the nation".
---
How did we get here?
Military vehicles were spotted on roads leading to the Zimbabwean capital Harare on Tuesday, sparking rumours that something was afoot.
Later, soldiers seized the headquarters of Zimbabwe's national broadcaster ZBC and loud explosions and gunfire were heard.
Major General Sibusiso Moyo then read out a statement on national television, assuring the nation that President Mugabe and his family were safe.
The military was only targeting what he called "criminals" around the president, he said, denying that there had been a coup.
On Thursday Mr Mugabe was pictured smiling as he took part in talks with an army general and South African government ministers at State House but sources suggested he might be resisting pressure to resign.
---
What's the reaction in the country?
Zimbabweans have been posting on Facebook and Twitter that there has been no dramatic effect on normal life.
People say that shops have opened as normal but there are few people on the streets of the capital.
Some Zimbabweans spoken to by the BBC have welcomed the news, with one man expressing his thanks to the army for "taking out the tyrant".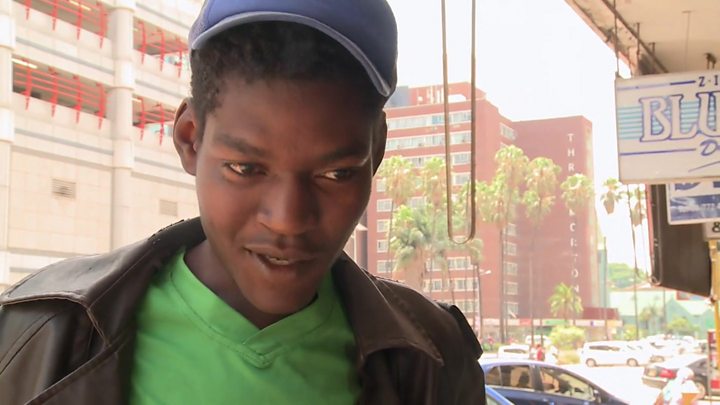 Media playback is unsupported on your device...
Media caption
Zimbabweans react to the news that troops had taken control
---
What has the reaction been across Africa?
Botswana's President Ian Khama told Reuters news agency that regional leaders did not support Mr Mugabe staying in power, adding:"We are presidents, we are not monarchs"
Nigeria's President Muhammadu Buhari called for calm and "respect for the constitution", and said that every attempt should be made to save the country from "political instability"
The African Union, a key regional bloc, said the takeover "seems like a coup" and demanded a return to constitutional order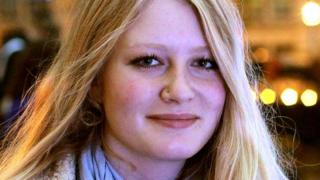 Image copyright
PA
Image caption
Police are continuing to question a 49-year-old man on suspicion of murder following the disappearance of teenager Gaia Pope.
Paul Elsey, confirmed as the suspect to the BBC by his father, is from Swanage, Dorset.
Murder detectives are focussing their forensic investigations on homes, cars and an area near a coastal path where women's clothing was found.
Mr Elsey is the third person to be held in the inquiry.
He is believed to be known to 19-year-old Miss Pope, who went missing from Swanage on 7 November.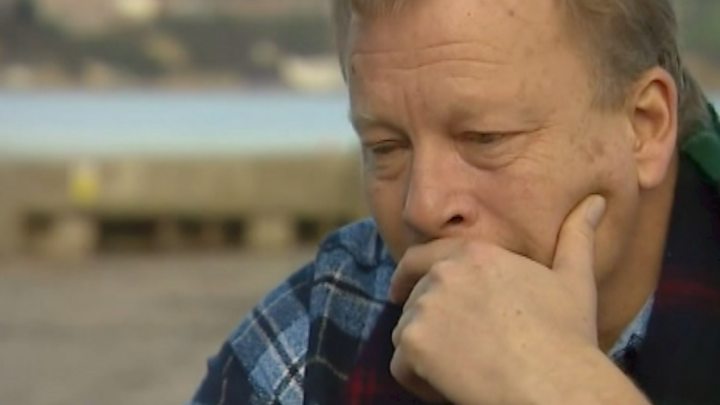 Media playback is unsupported on your device
Media caption
Missing Gaia Pope search:"She's worth every bit of it"
Mr Elsey lives with his mother Rosemary Dinch, 71, who, along with her 19-year-old grandson, Nathan Elsey, was arrested on suspicion of murder on Monday.
The pair were released on Tuesday while inquiries continue.
Forensic investigations are continuing at two properties in Manor Gardens, where those arrested are believed to live.Police have also seized three vehicles.
A black jacket Miss Pope was wearing in CCTV images taken at St Michael's Garage, Swanage, on the last day she was seen was recovered from an address in Manor Gardens.
Image caption
Det Supt Paul Kessell said it was not clear who the clothes found on land near the Dorset coastal path belonged to, but they were "similar" to those Miss Pope was wearing.
Search activity involving coastguard teams and Dorset and Wiltshire Fire and Rescue's Technical Rescue Unit is focused on several fields nearby.
Miss Pope's cousin, Marienna Pope-Weidemann said the family were "desperate for answers" and urged people to "get out there looking for her".
"It's been a profoundly shocking 24 hours.Obviously the discovery of those clothes was incredibly distressing for the whole family," she said.
Image caption
Search volunteer Ian Messenger, who works at Swanage Dairy, said people were "pulling together".
"It's just been surreal," he said."The town seems sort of subdued at the moment, it's usually quite vibrant.
"Everyone's out searching at night, early in the mornings.We at the dairy, we've handed out over 1,000 leaflets to all of our customers with our milk."
Image caption
Nico Johnson, editor of the local Purbeck Gazette, said the search effort was "phenomenal".
"We're got people walking for miles and miles in teams, they've covered towns, rural areas, gone door-to-door in coordination with police.A lot of information has been brought forward," she said.
"Purbeck is a really strong community, when something happens they are fully behind each other.People are getting to the point of exhaustion - they just want to find Gaia now."
Miss Pope, who is from Langton Matravers, has severe epilepsy and is thought to have gone missing without her medication.
Earlier this week, her mother, Natasha Pope, urged people to look in vans, garages and houses in case she was being kept against her will.
---
The search for Gaia
7 November:Miss Pope is driven by a family member from Langton Matravers to Swanage.At 14:55, she is seen on CCTV inside St Michael's Garage buying ice cream and at 16:00 her last confirmed sighting is at an address in Manor Gardens on Morrison Road
8 November:Her family make a personal plea through the police for her to get in contact.Ch Insp Steve White, of Dorset Police, says the force is "becoming increasingly concerned"
9 November:Dorset Police renews its appeal to find the 19-year-old.Searches have been carried out in the Swanage area, with support from the coastguard and police helicopter.Miss Pope's family release a statement saying they are "frantic with worry"
10 November:CCTV footage is released of Gaia on Morrison Road, Manor Gardens, at 15:39 on 7 November.
13 November:Search warrants issued at two addresses in Swanage.Rosemary Dinch and Nathan Elsey are arrested on suspicion of murder and later released under investigation
14 November:Searches continue with the coastguard and volunteers from Dorset Search and Rescue and Wessex 4x4
15 November:CCTV images of Miss Pope at St Michael's Garage are released.Searches continue to concentrate inland, supported by neighbouring police forces
16 November:Paul Elsey is arrested on suspicion of murder.Women's clothing is discovered in a field near Swanage and a police cordon is set up...
---
Read more http://www.bbc.co.uk/news/uk-england-dorset-42025046