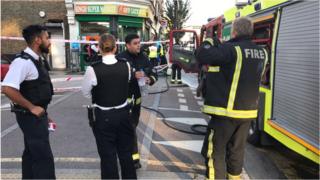 Image caption
Two men have been targeted in a suspected acid attack in east London, with police, fire and ambulance services at the scene.
The Met Police said the men, thought to be in their late teens, flagged down officers in Bethnal Green.
Both men were taken to hospital.Police said it was still not known what liquid was thrown at them in Roman Road.
Witnesses said at least three fire engines, two ambulances and police responded.
No arrests have been made.
A Met Police spokesman said officers awaited an update on the condition of the two men and inquiries were ongoing.
He said a crime scene remained in place in the area.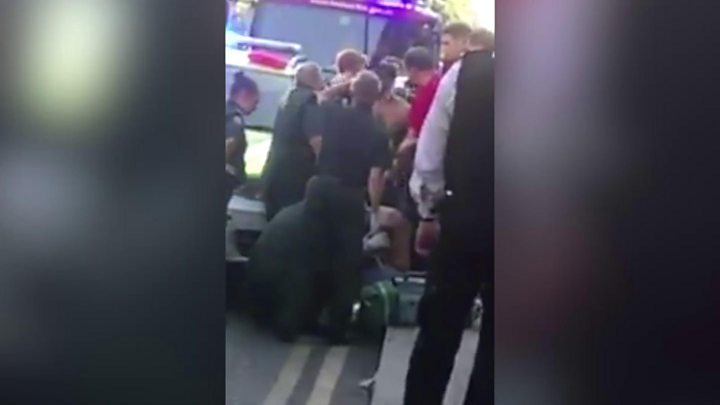 Media playback is unsupported on your device
Media caption
Two men are looked after by emergency services after an acid attack
Bottles of water
Tower Hamlets police tweeted[1] a "suspected acid attack" had taken place.
A video posted on Twitter by Chris Lennon appeared to show a man not wearing a top pouring water over his face and torso while being helped by paramedics.
In the footage, another man is seen sitting on the pavement, also receiving medical assistance.
BBC journalist Neil Brennan, who lives in the area, said the attack happened outside a corner shop, about two minutes from the Tube station and near police and fire stations.
He said people nearby told him two Asian men had been attacked.
Image caption
"I saw firemen filling two large bottles with water from the fire truck and ferrying it back and forth to the victims," he said.
A blue tarpaulin was put in place, which he assumed was to shield the victims, he said....
Image caption
Read more http://www.bbc.co.uk/news/uk-england-london-40720437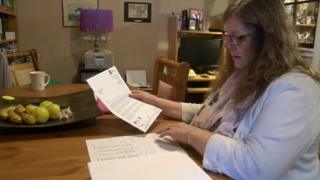 Image caption
Up to 57 families were not given the ashes of babies who were cremated, an investigation has found.
A report into Hull City Council's handling of infant cremations[1] said families had been given "incorrect or incomplete information" by its staff.
Tina and Mike Trowhill, whose son's ashes were scattered without their knowledge, said they were disappointed and called for an independent inquiry.
The council apologised and admitted "inconsistencies" in its records.
More on this and other stories across Hull, East Yorkshire, North and North-East Lincolnshire[2]
Hull City Council started the internal investigation after a campaign by the Trowhills and complaints from bereaved families.
In its report, the council said its bereavement services had received requests from 57 parents asking for "information relating to their babies' cremations" between November 2014 and January 2017.
Image caption
The authority said:"These historic cases relate specifically to instances whereby parents were told that a baby cremation could be arranged through the Children's Hospital but there would be no ashes as a result of the cremation.
"In almost all of these cases a record has now been obtained and it has been established that, unlike in other investigations nationally, ashes were always produced."
There was "a number of historical inconsistencies regarding the checking of instructions and record keeping, in the past", the report said.
'Independent inquiry'
It also highlighted "a lack of clarity of appropriate consent for the cremation to take place" during the "cremation application process".
In a statement, the council said it had "put a number of measures in place" to prevent further cases including a training programme for staff, clear forms and instructions.
It also said "a bereavement midwife" had been appointed at the Women and Children's Hospital.
Mrs Trowhill welcomed the changes but said:"It's striking there are still no answers in there.
"Parents are still not being told [what happened and] where the ashes were and where they've been scattered.
"I'm still not happy.There needs to be an independent inquiry."
Trish Dalby, deputy chief executive of the council, said:"Our priority is to ensure that families do not have to go through similar experiences in the future following the death of a baby, and we will continue to work with all parties to ensure the necessary changes are comprehensively implemented."...
Read more http://www.bbc.co.uk/news/uk-england-south-yorkshire-40719010

Clubs are creating 'strange and out of control' market - Mourinho
Manchester United are "better equipped" to win the Premier League this season but have to be "much, much better" to challenge for the Champions League, says manager Jose Mourinho.
United won the League Cup and Europa League and finished sixth in the league in Mourinho's first season in charge.
Asked if he was targeting the domestic title this season, he told BBC Sport:"We are better prepared for that."
United have signed Romelu Lukaku[1] and Victor Lindelof so far this summer.
"This season is going to be more difficult but I think we have better conditions to fight for the Premier League," Mourinho told BBC Sport.
"I think this season we are a little bit better equipped.We are against fantastic teams, against amazing investments.
"But I believe in our group, in our spirit, in our empathy, in our togetherness.I trust my boys and we are going to try."
As Europa League holders, United qualified directly for the Champions League group stage.
"We went to the Europa League as one of the top teams, we go to the Champions League and we are not one of the top teams," Mourinho added.
"We have to be better, much better, for that objective.The base of everything is to find what I call a happy dressing room."
Mourinho wants midfielder and winger
Jose Mourinho won the Premier League title three times with Chelsea
Mourinho has confirmed for the first time that he is still looking to sign a midfield player and a wide attacker.
Speaking at a news conference before his side's friendly against Barcelona in Washington at 19:30 on Wednesday (00:30 BST Thursday), Mourinho said no progress had been made.
The Portuguese has been linked most heavily with midfielders Nemanja Matic and Eric Dier, of Chelsea and Tottenham respectively, and Inter Milan winger Ivan Perisic.
Mourinho said:"I am happy with my squad but I would like to have two more players.One midfield player would give me more options.
"The other is an attacking player through the wings to give me more attacking options."
He added he was "calm" about the situation and was "waiting for good news" from United executive vice-chairman Ed Woodward.
Mourinho has previously told Woodward he would understand if he only managed to secure one more signing this summer.
Can new leaders replace Rooney?
Paul Pogba (left) reportedly helped convince Romelu Lukaku to join Manchester United
United sold record goalscorer[2] and club captain Wayne Rooney to Everton earlier this month - and Mourinho says other players must now step up.
"Wayne was a very positive influence," he said."We cannot say we are going to improve the group because Wayne left.No way.Or the other way around.
"He was such an important guy and good guy for us.I just think it is a new period without that face, without that leader.
"And now it is time for other people to come up."
Midfielder Michael Carrick, 35, has succeeded Rooney as club captain.[3]
Mourinho said:"Knowing that probably it is Michael Carrick's last year, the people that are behind him, they have to prepare themselves for that."
So can that new leader be 24-year-old France midfielder Paul Pogba?
"I would say he is the leader of the young guys," said Mourinho."He is probably the oldest of the young guys.
"He has big experience at such a young age, at the same time he's still the kid that come from the academy, the way he is in the club, the way he is in the group, in the training ground.
"He is still that kid from the academy but with his experience, with his status and with his quality on the pitch, where he is also a key player for us, I think Paul has conditions to be in a couple of years such an important guy in the club."
Pogba, who rejoined United for a world record £89m in 2016, added:"I came here to hopefully be a leader.That is how it should be.
"I want to grow up as a leader and a player as well.I can learn from the older players and become a leader."
Jesse Lingard:Kids are always 'dabbing' at me
'Amazing' money being spent on transfers
United have spent £106m this summer to sign Everton striker Lukaku (£75m) and Benfica central defender Lindelof (£31m).
Manchester City took their spending beyond the £200m mark by signing Monaco left-back Benjamin Mendy on Monday, while Chelsea have also spent more than £100m.
Mourinho says the fees being spent are "amazing".
"This season we spent a lot of money on a striker.If we don't do that, we have no striker," he said.
"It is obvious that nowadays, especially for the strikers, the amount of money is amazing.
"Next season we are not going to spend a lot of money on a striker.This season we had to do it.Investment is overall and it is every team."
Another 13 years as a manager?
It is 13 years since Mourinho won the Champions League for the first time while managing Porto - and he says he is "ready for 13 more".
"When time flies it is because you enjoy that time.When time looks very slow it is because you are not enjoying," said the former Chelsea, Inter Milan and Real Madrid boss.
"Thirteen years was like a finger click.
"I would like the next manager to arrive and to find a much, much, much better club and team than the one I found at every level.
"I found an amazing club with an amazing history but not one ready for me to win.I want the next one to win too."
'Chicharito could be a Man Utd striker'
Javier Hernandez scored 37 league goals for Manchester United between 2010 and 2015
West Ham spent £16m on Monday to sign former Manchester United striker Javier Hernandez from Bayer Leverkusen.[4]
Mourinho said:"Every team has fantastic players.When I look to West Ham, just as an example, Chicharito, could he be a Man Utd striker?Of course he could.
"Yes, still.And he is playing for West Ham, which is not normally a candidate for the title.Every club is getting good players."
United's Premier League campaign begins at home to the Hammers on Sunday, 13 August....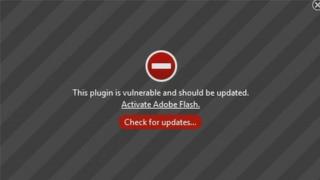 Image caption
Adobe Systems has said that it plans to phase out its Flash Player plug-in by the end of 2020.
The technology was once one of the most widely used ways for people to watch video clips and play games online.
But it also attracted much criticism, particularly as flaws in its code meant it became a popular way for hackers to infect computers.
In recent years, much of its functionality[1] has been offered by the rival HTML5 technology.
One of HTML5's benefits is that it can be used to make multimedia content available within webpages without requiring users to install and update a dedicated plug-in.
Decline and fall
Apple was one of Flash's most vocal critics.The late Steve Jobs once wrote a public letter[2] about its shortcomings, highlighting concerns about its reliability, security and performance.
The plug-in was never supported by Apple's iOS mobile devices.
Adobe's vice president of product development, Govind Balakrishnan, said the firm had chosen to end Flash because other technologies, such as HTML5, had "matured enough and are capable enough to provide viable alternatives to the Flash player."
He added:"Few technologies have had such a profound and positive impact in the internet era."
Apps developer Malcolm Barclay, who had worked on Flash in its early days, told the BBC:"It fulfilled its promise for a while but it never saw the mobile device revolution coming and ultimately that's what killed it."
Media playback is unsupported on your device
Media caption
WATCH:BBC's Chris Foxx asked how long Flash would survive in 2015
When Adobe acquired Flash in its 2005 purchase of Macromedia, the technology was on more than 98% of personal computers.
But on Chrome, now the most popular web browser, Flash's usage has fallen off dramatically.
In 2014 it was used each day by 80% of desktop users, according to Google[3].The current figure is just 17%.
"This trend reveals that sites are migrating to open-web technologies, which are faster and more power-efficient than Flash," Google added."They're also more secure."
Google phased out full support for Flash software at the end of last year.
Mr Balakrishnan said it did not expect the demise of Flash to affect profits at Adobe.
"We think the opportunity for Adobe is greater in a post-Flash world," he said.
But the firm added that it remained committed to support Flash up until the end of 2020 "as customers and partners put their migration plans into place".
There was immediate reaction to the news on Twitter....
Image copyright
Twitter