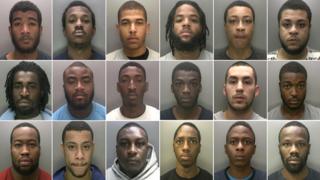 Image copyright
West Midlands Police
Image caption
Eighteen men from two rival criminal groups have been targeted in what police describe as the largest ever gang injunction.
The men, aged between 19 and 29 and some in prison, are banned from parts of Birmingham and must register phones and vehicles with police.
The two-year orders aim to disrupt gang-related violence between the Burger Bar Boys and Johnson Crew.
West Midlands Police said it was "a landmark ruling".
The orders follow a spate of firearms offences in the city in 2015 and 2016, but the gangs have struck fear across parts of Birmingham for many years.
They gained notoriety in 2003 when their violent feud claimed the lives of two girls - Letisha Shakespeare and Charlene Ellis - outside a late-night new year party in the city.Four men were later jailed for life for their murders.[1]
The gangs have also been behind countless drive-by shootings,[2] drug dealing, intimidation, robberies and kidnappings.
Image copyright
West Midlands Police
Image caption
After more recent incidents of gun crime in the city, West Midlands Police and the council sought to secure the injunctions in a civil case heard at Birmingham Crown Court earlier this year.
The force secured interim injunctions in 2016 and said at the time it did not want to identify anyone until they were permanent. The BBC revealed their names after obtaining the county court documents.[3]
More than 80 people from the Home Office and police gave evidence between February and June ahead of the orders being granted in July, which the force has revealed for the first time now.
Two have already been issued, three men are being sought by police and three properties were visited by officers on Wednesday.
The men are forbidden from associating with each other and entering the city centre, Handsworth, Newtown, Winson Green and Lozells.
Image caption
Ten other men will receive the orders in jail where restrictions will be imposed on certain visitors to limit any gang associations, police said.
Among those be given the injunctions in prison are two men believed to have been the "armed response" faction of the Burger Bar Boys.
Reial Phillips, 21, from Winson Green was jailed for 27 years last year after seven people were injured in a series of shootings during a feud with members of the Johnson Crew.
His co-defendant 23-year-old Ashai Gray, from Walsall, was jailed for nine years after admitting conspiracy to supply cocaine and heroin.
Police said their actions "brought fear" to people in the West Midlands.[4]
Gang injunctions came into force in England and Wales in 2011.Home Office figures show[5] that between January 2011 and January 2014, 88 had been put in place.
The first one issued in the West Midlands was in 2012.
'Cosmetic gesture'
But solicitor Errol Robinson, who represented two of the four men jailed for the new year murders, criticised the move.
"They don't change behaviour or address underlying issues," he said.
"Injunctions become a bit of a trophy and encourage rebellion.Gang members like to show that they're not listening to orders so will breach orders.
"It's a cheap way of trying to solve crime but there is no evidence to suggest that they work.
"They're just a cosmetic gesture to show people that something is being done about gangs - but actually the results are minimum to none."
The city has seen another spike in gun and knife crime in 2017, with nine fatal stabbings this year.None of the men named in the injunctions are involved, police said.
---
Analysis:BBC Midlands correspondent Sima Kotecha
In principle, gang injunctions are arguably a good idea:they attempt to control movement and accessibility to certain areas and groups of people.
They rely on civil laws and that means at their core is a desire to protect the community.The orders are straightforward to issue because they can depend on a single police officer's evidence and that can mean that a person posing a threat is put under some sort of restrictions fairly quickly.
But a flaw expressed by critics of the order is that they're difficult to monitor.How do you know if the injunction is breached as individuals are not tagged or followed?
From the former gang members that we've spoken to, there is little support for the mechanism, with many saying it's not rocket science to work out that if a person is banned from going to a certain part of a city, they will just go somewhere else, and find others who have the same goal:to cause violence and disruption.
---
The men made subject to the injunctions ...
Naasir Francis, 19, from Nechells
Baboucar Huma, 19, from Handsworth
Akeen Ivy-Foster, 20, from Springhill
Ravelle Hutchinson, 20, from Winson Green
Tesfa Bernard-Wheeler, 21, from Hockley
Rayani Sutherland, 21, from Aston
Omarni Bernard-Sewell, 21, from Selly Oak
Lawrence Morgan, 21, from Nechells
Jerome Jones, 21, from Erdington
Jerome Christie, 21, from Nechells
Reial Phillips, 21, from Winson Green
Ushane Jeffers, 23, from Newtown
Kayne Robinson, 23, from Springhill
Ashai Grey, 23, from Walsall
Jacob Brown, 24, from Handsworth
Cash Wallace, 24, from Winson Green
Ishmail Lee, 29, from Wolverhampton
Isaac Duffus, 28, from Erdington
Read more http://www.bbc.co.uk/news/uk-england-birmingham-41001169