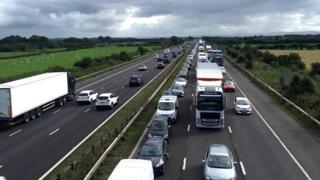 Image caption
The worst traffic jams in the UK left drivers facing up to 15 hours of disruption and tailbacks.
A fuel spill, broken down vehicles and an emergency viaduct repair were behind the most severe delays.
Traffic analysts Inrix said drivers and businesses lost millions of pounds in wasted fuel and time.
They looked at disruption on motorways and A roads between September 2016 and August 2017.
The M5 in Somerset saw the longest disruption and biggest tailbacks while three of the top five were on the M6.
On 4 August 2017, drivers faced up to 15 hours of traffic jams after two lorries collided and there was a fuel spill, which resulted in the carriageway of the M5 needing to be resurfaced.
Inrix said it caused problems for drivers up to 36 miles away.
It estimated the cost to the economy of this Somerset disruption as nearly £2.4m based on average fuel consumption, the number of people typically in cars and "assumptions" about the purpose of people's trips.
At the time travel company First Bus said it faced "unprecedented delays"[1] to services in North Somerset.
While the M5 saw the worst individual incident, it was the M6 motorway in Cheshire and Lancashire that featured most in the top five.
Bank holiday getaway
The second worst traffic jam of the year was on the M6 near Warrington on 7 April 2017.
Emergency work to repair Thelwall Viadict caused disruption and delays from junction 21 back to junction 16 of the M6.
Later in the year, the August bank holiday getaway saw drivers caught in long delays, again on the M6.
However, this time it was between Sandbach in Cheshire and Haydock after a "number of vehicles" including a lorry broke down.
In November 2016, lane closures on the A406W North Circular Road near Wembley in London, led to more than 14 miles of disruption;while a lorry fire near Preston[2] in December that same year closed three lanes of the M6 overnight 12/13 December.
Image copyright
@LancsRoadPolice
Image caption
Even when the fire was out there were still delays because the road needed to be re-surfaced.
Graham Cookson, chief economist at Inrix, said:"While queuing is considered a national pastime for many Brits, nothing is more frustrating than sitting in traffic and it's a costly activity.
"Jams can be caused by all kinds of incidents but fuel spillages, emergency repairs and broken down lorries contributed to the biggest pile-ups this year."
Highways England, which is responsible for motorways and major trunk roads, said 85% of incidents were cleared within an hour.
"We will continue to ensure roads are reopened safely, but as quickly as possible," customer service director Mel Clarke said.
The list was compiled by taking the duration of the jam and multiplying it by the length of the queue.Delays caused by scheduled roadworks were excluded....