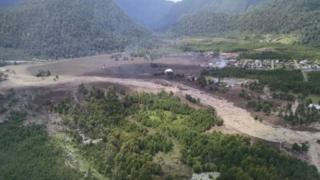 Image copyright
Reuters
Image caption
A landslide caused by torrential rain has killed at least five people in southern Chile and has destroyed dozens of houses.
Fifteen people are missing in the remote village of Villa Santa Lucía in the country's lake region, popular with tourists.
President Michelle Bachelet has declared a state of emergency in the area.
Thousands remain without electricity and cut off from the rest of Chile.
"I have ordered rescue workers to put all the resources necessary towards protecting the people of Villa Santa Lucia," said Ms Bachelet.
Image copyright
AFP
Image caption
Part of the valley where the village lies, some 1,100km (690 miles) south of the capital, Santiago, was engulfed by a huge amount of mud from surrounding mountains.
Local media reported that the region had experienced unusually heavy rain for the previous 24 hours.
Dozens of people have been airlifted and taken to the neighbouring town of Chaitén.
Rescue teams are searching for survivors.
The village is near Corcovado National Park, popular with tourists for its volcanoes, fjords and forests.
Image copyright
Reuters
Image caption
The mudslide happened on Saturday morning, on the eve of the run-off election to choose Chile's next president[1].
The authorities say the vote is going ahead as planned.
Some 14 million Chileans are eligible choose between the centre-right candidate, Sebastián Piñera, and Alejandro Guillier, who is endorsed by Ms Bachelet....
Read more http://www.bbc.co.uk/news/world-latin-america-42382413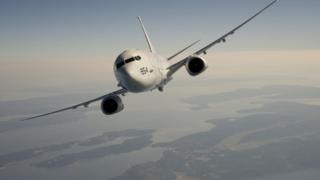 Image copyright
Boeing
Plans to buy new military equipment - including warships and jets - could be under threat, as MPs expressed "serious doubts" over whether the Ministry of Defence (MoD) could afford them.
The Commons Defence Select Committee said the MoD will struggle to find the £7.3bn in savings required.
In its report[1], it said the MoD had proved "incapable" of making such savings in the past.
The MoD said it was making "good progress" on its efficiency target.
This latest report echoes a warning from January[2] of this year from government spending watchdog, the National Audit Office.
'Greater delays'
The cross-party committee backed the findings of the NAO that the defence equipment plan was at "greater risk" than at any time since 2012.
In 2016, the government pledged to spend £178bn on new military equipment over the next 10 years.
But that is on the assumption it can also find £7.3bn of efficiency savings - on top of £7.1bn previously announced - by selling off property and other efficiencies.
The committee chairman, Conservative MP Julian Lewis, said this was now "extremely doubtful" from an "already stretched budget".
"This will inevitably lead either to a reduction in the numbers of ships, aircraft and vehicles or to even greater delays in their acquisition," he added.
But the Mod said that in the face of "intensifying threats", its £178bn equipment plan "continues to deliver the cutting-edge kit to keep the UK safe".
The new equipment covered by the plan includes eight Type 26 frigates for the Royal Navy, new mechanised infantry vehicles and nine Boeing P-8A maritime patrol aircraft.
The committee also called for clarity on the "difference between genuine improvements and efficiency" and cuts to "personnel, equipment and capability".
Defence Secretary Gavin Williamson has already been warned of a Tory revolt[3] over cuts to army numbers and naval capability, and suggested he will be asking the chancellor for more money.
The Cabinet Office is currently carrying out a defence and security review which is due to report by the end of the year....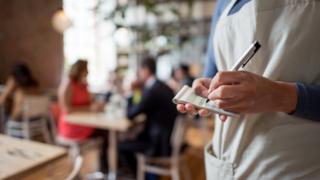 Image copyright
Getty Images
Image caption
Every worker aged 18 or over will begin saving into a workplace pension unless they opt out, under government plans to extend its automatic enrolment scheme.
At present, the scheme means employers must enrol staff aged 22 and over and earning above £10,000 into a pension.
Ministers hope to reduce the minimum age to 18 in the mid 2020s and say it will affect about 900,000 young people.
The system has been credited with ensuring more prepare for older age but it brings extra costs for employers.
It has been introduced gradually since October 2012.
"For an entire generation of people, workplace pension saving is the new normal.My mission now is to make sure the next generation of younger workers have the same opportunities," said Work and Pensions Secretary David Gauke.
What is automatic enrolment?
A slice of a worker's pay packet is automatically diverted to a pension savings pot, which is invested until retirement.Their employer also makes a contribution, as does the government.
Individuals have the option to opt out if they wish to, although that will mean losing the employers' contribution.
At present UK workers aged 22 and above are automatically enrolled, assuming they earn more than £10,000 a year and are not already signed up to a workplace pension.
Anyone on a short-term contract, working where an agency pays their wages, or who is on maternity, adoption or carer's leave should still be eligible.
The total minimum contribution is currently set at 2% of earnings (0.8% from the worker, 1% from an employer, and 0.2% as tax relief from the government).
From April 2018, it will increase to 5% of earnings (2.4% from the worker, 2% from the employer, and 0.6% as tax relief).From April 2019 onwards, it will rise to 8% of earnings (4% from the individual, 3% from the employer, and 1% as tax relief).
Changes
In light of a review of the automatic enrolment system, the Department for Work and Pensions plans to extend the system to workers aged 18 and over who are earning £10,000 a year or more.Those earning less can ask their employer to enrol them.
Iona Bain, founder of the Young Money blog, said that the move was still inadequate in solving a long-term pension crisis for the young.
"A lot of young people still do not know what a pension is.There is a danger of people sleepwalking into pensions and not having control of it.In the past this has been a recipe for dashed expectations," she said.
She said that school leavers, facing a "storm of financial pressures" should have the same National Living Wage as those aged 25 and over, if they were expected to contribute into a pension.
The move will require legislation, as will the proposed other changes to the system including:
Contributions calculated as a proportion of all earnings up to £45,000 (the threshold of the higher rate of tax) rather than the current system which calculates it as a proportion of earnings between £5,876 and £45,000.This will help those with multiple jobs
Annual reviews of the trigger point for automatic enrolment (at present, when a worker earns £10,000 or more).Contribution levels will also be reviewed
Exploring the use of technology to encourage the UK's 4.8 million self-employed people to save for retirement
The proposals will cost employers an extra £1.4bn a year, and the government an extra £600m in tax relief a year.
"Requiring employers to contribute from the first pound of earnings, will mean that, by 2019, hundreds of thousands of small employers will have to pay up to £180 more per employee each year," said Mike Cherry, national chairman at the Federation of Small Businesses.
"For employers in certain sectors, such as care and hospitality, where margins are tight this will really add up."
Image copyright
Getty Images
More than nine million people in the UK have been automatically enrolled into a pension so far, adding to the 10.8 million already contributing to a workplace pension.
However, the proportion of earnings being set aside is much lower now than before 2012.
The average proportion of earnings put into an investment-based defined contribution pension has fallen from about 9% of earnings before auto-enrolment to 4% now.
The DWP's review, led by industry representatives, estimated that 12 million people are not saving enough for their retirement, representing 38% of the working age population....
Image copyright
Getty Images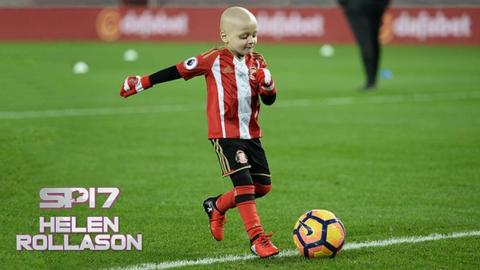 BBC Sports Personality of the Year 2017
Date:Sunday, 17 December Time:18:45 GMT Venue: Echo Arena, Liverpool Coverage: BBC One, Radio 5 live, BBC Sport website
Bradley Lowery, the boy whose bravery touched the hearts of many people, will be honoured at Sunday's BBC Sports Personality of the Year show.
The Sunderland fan and club mascot, who died aged six from a rare form of cancer, has been named the winner of the Helen Rollason Award.
The award, for achievement in the face of adversity, is in memory of the BBC presenter who died of cancer in 1999.
It will be presented to Bradley's parents, Gemma and Carl, in Liverpool.
Bradley was my best friend - Defoe
Bradley was diagnosed with neuroblastoma - a rare type of cancer - when he was 18 months old.
But his positive attitude and cheery smile won him admirers across the world and he became "best mates" with Sunderland's former striker Jermain Defoe.
Well-wishers raised more than £700,000 last year to pay for him to be given antibody treatment in New York, but medics then found his cancer had grown and his family was informed his illness was terminal.
After his death in July 2017, Bradley's parents, who are from Blackhall Colliery, County Durham, said:"He was our little superhero and put the biggest fight up but he was needed elsewhere."
Bournemouth striker Defoe said:"Every time I saw him was a special feeling.He was my best friend."
Bradley was a special guest and walked down the red carpet at the BBC's Sports Personality of the Year in 2016
Bradley became known worldwide following an appeal that led to him receiving 250,000 Christmas cards[1] from countries as far away as Australia and New Zealand.
In December 2016, he met England manager Gareth Southgate and Match of the Day pundit Gary Lineker at the BBC Sports Personality of the Year event in Birmingham.
Bradley then won the programme's December goal of the month[2] award after he took a penalty before Sunderland's game against Chelsea.
He also appeared as a mascot for Everton, with the club donating £200,000 to the Bradley Lowery Foundation set up in his honour, and was visited in hospital by a number of Sunderland players.
A dream came true in March when he was mascot for the England team[3] at Wembley Stadium before a World Cup qualifier where Defoe scored in a 2-0 win over Lithuania.
He was also given honorary 41st place in the racecard for the Grand National[4] at Aintree in April....
Recent Helen Rollason Award winners
2016: Ben Smith (charity runner)
2013: Anne Williams (Hillsborough campaigner)
2015: Bailey Matthews (triathlon)
2012: Martine Wright (sitting volleyball)
2014: Invictus Games competitors
2011: Bob Champion (horse racing)
Read more http://www.bbc.co.uk/sport/sports-personality/42336969