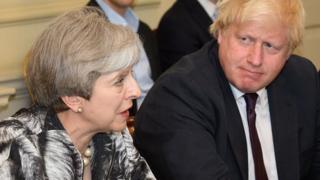 Image copyright
PA
Boris Johnson has become the latest senior cabinet minister to put pressure on the chancellor and the PM to end the public sector pay cap.
Sources close to the foreign secretary made it clear that he wants better pay for public service workers.
He joins those, including Michael Gove, who have suggested the government's 1% pay cap should be lifted.
But former chancellor Lord Lamont said ministers were wrong to "gang up" on Chancellor Philip Hammond.
Downing Street has said that any decisions on pay will be taken on a "case by case" basis.
A Whitehall source said Mr Johnson "strongly" believed pay rises could be achieved in "a responsible way", without putting undue pressure on the public finances.
In the Queen's Speech debate last month, Mr Hammond made clear his aversion to higher borrowing.
Tax question
However, on Sunday Mr Gove, the environment secretary, appeared to reject suggestions that taxes would need to go up to meet the cost of any pay rises.
Pay rises for five million public sector workers are set by independent pay review bodies, but have effectively been capped at 1% since 2013.
Before that, there was a two-year freeze on pay for all but the lowest-paid workers.
The Conservatives went into the election planning to maintain the cap until 2020, but there are growing Tory calls for a rethink after the party lost its majority in the general election.
The pay review bodies cover a wide range of professions, from prison officers and nurses, to judges and senior NHS managers.
Those covering police and teachers' pay are due to report this month.
---
Analysis
Image copyright
EPA
Image caption
BBC political correspondent Iain Watson
Boris Johnson's intervention is significant because the BBC understands that some of the independent pay bodies are likely to call for pay increases above 1%.
So, if ministers choose to accept those recommendations, the pay cap would in effect be breached.
Mr Johnson's intervention also places more pressure on the principle of collective cabinet responsibility.
Allies of both Health Secretary Jeremy Hunt and Education Secretary Justine Greening have made no secret of their wish to see pay policy relaxed.
The debate within cabinet is now likely to focus on whether taxes should be raised or spending cut to fund any pay increases.
---
Former Conservative chancellor Lord Lamont told BBC Radio 4's Today programme public sector pay was on average higher than in the private sector and controlling it was "extremely important".
He said cases could be looked at where there were specific issues around recruitment but objected to the "general pressure that's being applied, the idea that we should abandon restraint of public expenditure".
He said people should not criticise austerity in the same way they might discuss "too many repeats on television" and said it was not right for cabinet ministers to "gang up" on Mr Hammond, saying they were making the chancellor's position "very awkward".
"This is not a choice," he added.
"It is unavoidable that we have restraint on public spending."
NHS Confederation chairman and former Tory minister Stephen Dorrell said the pay review bodies should not be "artificially constrained" by the 1% policy, saying health service staff needed to be "properly looked after".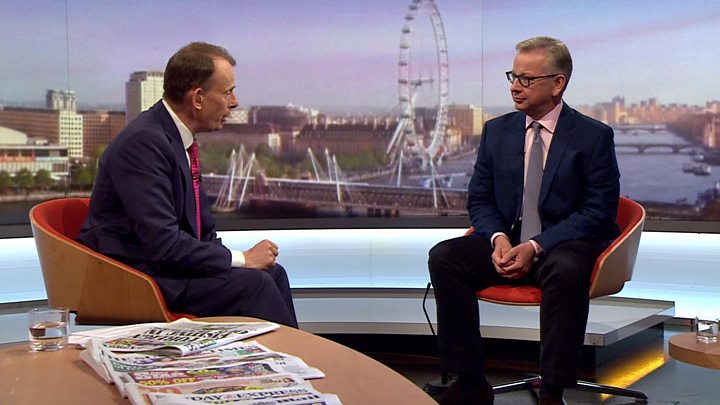 Media playback is unsupported on your device
Media caption
Gove's quick-fire answers on the Andrew Marr show - Brexit and his return to the cabinet
Speaking on Sunday on BBC One's Andrew Marr Show, Mr Gove did not call directly for the 1% cap to be lifted, but said ministers should respect the "integrity" of the pay review process.
"I think that we should listen to the pay review bodies who govern each individual area of public sector pay," Mr Gove said.
Last week Labour attempted to scrap the 1% cap but was defeated in Parliament.
Shadow health secretary Jonathan Ashworth said reports on the divisions within government over public sector pay revealed there was "turmoil" in the Conservative Party.
"They're saying 'Wait for the pay review bodies', even though they're the ones insisting on a 1% cap," the Labour frontbencher told Andrew Marr.
"We're saying to the pay review bodies:'Get rid of the 1% cap and give a fair pay rise.'"
Asked what level of pay rise Labour thought was fair, Mr Ashworth said the pay review bodies should consider one in line with the rise in average earnings across the economy.
The pressure to ease austerity has intensified since June's general election, with a number of backbench Tory MPs arguing that it cost the party votes and contributed to the loss of its majority.
On Saturday, thousands of people gathered in central London[3] for a demonstration against austerity that was addressed by Labour leader Jeremy Corbyn.
Get news from the BBC in your inbox, each weekday morning[4]...