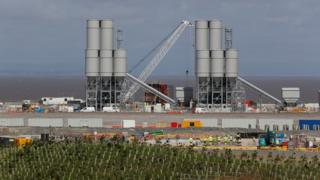 Image copyright
Reuters
Image caption
French energy supplier EDF has estimated that the cost of completing the new Hinkley Point nuclear plant will be nearly 10% more than expected.
The company, which is the project's main backer, said the total cost of the power station was likely to rise by £1.5bn to £19.6bn.
Hinkley Point C would be the UK's first new nuclear plant for decades, but has been beset with budget problems.
An EDF review found the project could also be delayed by up to 15 months.
However, the firm said it still hoped to finish the first phase by the end of 2025 as planned.
The extra costs result from a better understanding of the design, supplier contracts and the volume of work, the company said.
A government spokeswoman said "the cost of construction, including any overruns, sits with the contractor" in the Hinkley Point deal.
"Consumers won't pay a penny until Hinkley is built;it will provide clean, reliable electricity powering six million homes," she said.
France's state-controlled energy firm is funding two-thirds of the project, which is expected to create more than 25,000 jobs, with China investing the rest.
Construction is underway after Prime Minister Theresa May approved the project in September last year.
EDF said it remained on track to meet its first major milestone in 2019 but that delays could come later in the project.
Critics of the deal have warned of escalating costs and the implications of allowing nuclear power plants to be built in the UK by foreign governments.
Last month, public auditors called it "a risky and expensive project".
The National Audit Office said the government had "increasingly emphasised Hinkley Point C's unquantified strategic benefits, but it has little control over these and no plan yet in place to realise them"....