New software animates still photos so that subjects can be made to smile and pull expressions.

...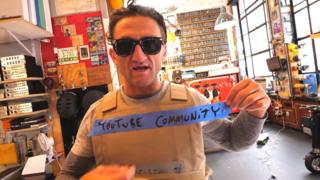 Image copyright
YouTube
Image caption
One of YouTube's most influential vloggers has attacked the service's leaders, claiming they are failing many of their most popular video creators.
Specifically, Casey Neistat criticised the way the platform[1] had made it impossible for some videos to generate advertising revenue, without clearly explaining the rules to its community.
One of his own videos - an interview with Indonesia's president - was temporarily "demonetised" last week.
YouTube has said it is listening.
"We watched Casey's video and appreciate him and the wider community voicing their concerns," a spokeswoman told the BBC.
"We know this has been a difficult few months, and we're working hard to improve our systems.We're making progress, but we know there is a lot more to do."
'Existential threat'
Mr Neistat has more than eight million subscribers on YouTube, who have signed up to be alerted when he posts.He has also struck a multi-million-dollar deal to create content for CNN on the platform.
He is normally viewed as being one of the leading champions of the site.
But in a video posted on Tuesday, he said he felt compelled to speak out because the level of upset among creators posed an "existential threat to YouTube's entire business".
Image copyright
YouTube
Image caption
The Google division began stripping some videos of adverts earlier in the year after several major brands suspended YouTube campaigns because their marketing clips had been attached to extremist content.
To address the problem, YouTube introduced an algorithm that determines which clips are "family friendly" and thus allowed to continue making money for their creators.
But Mr Neistat said the decision-making process had been badly communicated.
"There are no answers anywhere, and there's no-one telling you what's going on," he said.
"The thing that was most troubling for me...was the lack of communication, the lack of transparency on the part of YouTube."
"People are...putting the same amount of work, the same amount of energy and the same amount of expense into the content they're creating, but now they're getting paid only a fraction of what they did."
A recent decision to demonetise creators' videos about the Las Vegas shootings had caused particular ire, Mr Neistat said, since a video featuring the chat-show host Jimmy Kimmel discussing the same incident had been allowed to continue featuring ads.
"It sort of reeks of hypocrisy, and again the community felt like a second-class citizen," he said.
As a rule, YouTube prevents adverts from running on videos about tragedies.
But this does not apply to clips posted by select partners - including Mr Kimmel's employer, ABC - who are allowed to sell ads themselves rather than relying on Google to do so.
Image copyright
Getty Images
Image caption
"In the specific case of tragedies, like the one in Las Vegas, we are working to not allow such partners to sell against such content," a YouTube spokeswoman said last week.
"We have not completed this work yet, but will soon."
Mr Neistat suggested a better alternative would be to give creators more control over whose adverts appeared alongside their clips.
The video-maker is far from being the first YouTuber to complain about the issue.But one industry-watcher said his intervention carried weight.
"People look to Casey to be not just an inspiration but also a voice for the community - he's very well respected and people do listen to what he says and follow his lead," said Alex Brinnand, editor of TenEighty magazine.
"The fact that he has put out this video...will help ensure his audience is aware of the issue and becomes as equally unhappy as he is."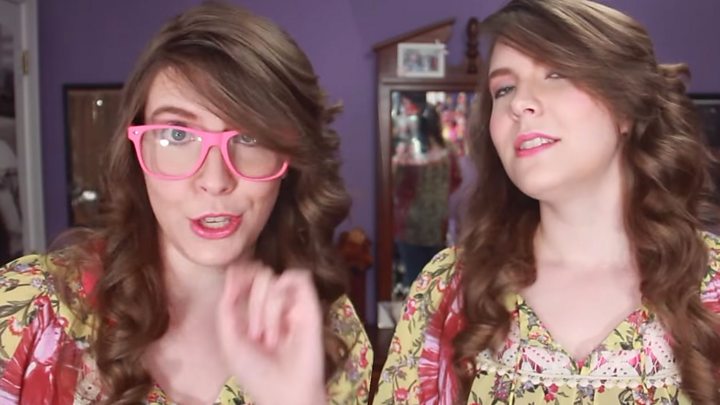 Media playback is unsupported on your device
Media caption
WATCH:Other YouTubers told the BBC about their frustrations last month
Switch to Twitch
Mr Neistat highlighted that Twitter's rival video-based social network, Vine, had collapsed after its managers had disappointed several of its leading clip creators and suggested YouTube could face a similar exodus.
"When you think about Netflix or Amazon or Hulu or any of these other digital distribution platforms right now, they've all got money, they're all willing to spend money, and they're trying to figure out how to diversify their audience," he said.
He added that Amazon's Twitch service - which currently focuses on video-games-related live feeds - had already tempted some.
Twitch began allowing users to upload pre-recorded videos a year ago and may unveil new features at its annual TwitchCon event, which begins on Friday.
Image copyright
Amazon
Image caption
However, Mr Brinnand questioned whether the service had done enough to lure away YouTube's biggest names yet.
"For creators like Casey, I don't think at the moment that Twitch is a viable option," he said.
"It's a lot more geared to live or as-live content, so doesn't cater to the same audience the vloggers have with their more packaged, produced videos.
"But Twitch has laid the foundations for the future - it already offers very appealing revenue streams - and could be a contender if it develops a stronger platform for standard video."...
The human-piloted machines fired weapons at one another.

...
The social media app teams up with NBC to create a new studio where they plan to make original shows.

...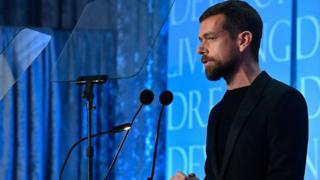 Image copyright
Getty Images
Image caption
Twitter is planning to impose new restrictions on pornographic and hateful imagery as part of a renewed effort to tackle abuse on its social network.
The US company has also said it intends to review user complaints more quickly.
The efforts are outlined in a leaked email from the company's head of safety, which was published by Wired[1].
But one UK charity has already said the company needs to go further than "tinkering" with its existing rules.
Twitter's chief executive, Jack Dorsey, had said on Friday that he planned to announce a "more aggressive stance" against online abuse this week[2], after Twitter was criticised for temporarily blocking the account of Rose McGowan - an actress who had accused Hollywood producer Harvey Weinstein of rape.
Harvey Weinstein denies all allegations of non-consensual sex.
The UK government had also recently urged[3] social-media leaders to do more to tackle the problem, and suggested Twitter and others would have to pay a levy to fund anti-abuse campaigns in the future.
Twitter has confirmed that Wired's report is accurate.
"Although we planned on sharing these updates later this week, we hope our approach and upcoming changes, as well as our collaboration with the Trust and Safety Council, show how seriously we are rethinking our rules and how quickly we're moving to update our policies and how we enforce them," a spokesman told the BBC.
The council referred to is a new body of 50 independent organisations[4] that Twitter intends to consult to ensure its users can "express themselves with confidence".
Its members include the Internet Watch Foundation, EU Kids Online and the UK Safer Internet Centre.
Upskirt photos
The leaked email had been addressed to members of the newly formed council.
Image copyright
Reuters
Image caption
Among the new steps detailed are:
the immediate and permanent suspension of accounts identified as the original source of nude imagery taken and shared without the subject's permission.In the past, perpetrators faced only a temporary lockout if it was the first time they had committed the offence
the definition of non-consensual nudity has been expanded to include hidden-camera content and "upskirt" imagery that might have been captured without the victim being aware
hate symbols and other hateful imagery will now be treated as sensitive media and should be marked as such by the poster, allowing the content to be initially hidden behind warning alerts
action may be taken against unwanted sexual advances even if the complaint was made by someone that was not a participant in the conversation
Twitter adds that unspecified "enforcement action" is planned against account-holding groups that have historically used violence to advance their causes.
Furthermore, it promises to start taking steps against those who post messages that glorify or condone violence, even if the users do not issue threats of their own.
In both these and others cases, "more details to come" are promised.
Likewise, the email says Twitter will be "investing heavily" in shortening the time it takes to handle complaints, but is not specific about what its new targets will be.
The proposals have been welcomed by the Fawcett Society - a UK-based gender-rights campaign group that previously accused Twitter[5] of "failing women".
But the charity - which is not a member of the new council - said Twitter's managers should go further.
"These are positive changes that do more to recognise the impact of abusive behaviour online," said Jemima Olchawski, the society's head of policy.
"However, [our] research shows that it takes Twitter far, far too long to respond to abusive tweets - if they do at all.
"As a minimum, abusive content should be removed within 24 hours of being reported.Twitter must genuinely commit the resources to make this policy meaningful - tinkering will not be enough."...