UK and EU laws should be monitored says justice minster

...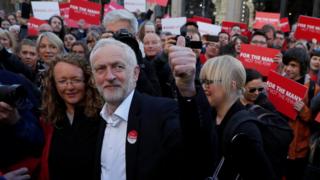 Image copyright
Reuters
Image caption
Labour leader Jeremy Corbyn is to begin a tour of Scottish constituencies with a visit to the Western Isles.
Mr Corbyn will meet staff at Harris Tweed Hebrides before addressing a town hall rally in Stornoway, highlighting his party's policies for rural areas.
He will then tour a series of marginal seats in Scotland over the next five days, attending speeches and rallies.
The Tories say his policies lack credibility, while the SNP were critical of his position on Brexit.
Labour gained six seats north of the border in June's snap election[1], having lost 40 in the previous poll in 2015.
However, they were less than 100 votes behind the SNP in two Glasgow seats, and less than 1,000 votes behind in six Scottish seats in total.
With the election result stripping Theresa May's Conservatives of their majority in government, Mr Corbyn has pledged to remain on an election footing.His party has identified up to 18 Scottish seats[2] as potential targets.
The Labour leader is to use his visit to the Western Isles to highlight Labour plans to "rural-proof" policies in government, so that all laws are assessed on their impact on rural communities.
'Taken for granted'
Mr Corbyn said:"Rural communities have been taken for granted for too long.There has been chronic underinvestment in transport, broadband and public services, with rural infrastructure and industry neglected.
"Labour will invest in transport, broadband, public services, housing and environmental and coastal protections - vital for the economy and the rural way of life."
The SNP has a lead of just over 1,000 votes in the local constituency of Na'h-Eileanan an Iar, where Angus MacNeil held his seat[3] in June's election by a majority of 6.8%, over a Labour challenger.
A spokesman for the party said Mr Corbyn's "backing for the Tories' extreme Brexit, outside the single market and customs union, is set to hit our rural communities hardest".
He added:"Rural areas benefit massively from our membership of the EU, having access to funding, tariff-free trade and a highly-skilled labour market.
"Sadly, rather than wanting to protect these benefits for rural communities, Labour are pledging to deliver an extreme Brexit.Jeremy Corbyn and Labour simply cannot be trusted to deliver for rural Scotland."
The Scottish Conservatives, meanwhile, said it wasn't long ago that Scottish Labour "dreaded the thought of Jeremy Corbyn coming north".
MSP Miles Briggs added:"Had he won the general election, Corbyn would have sold Scotland out in a heartbeat, and that ambivalence to Scotland's place in the UK hasn't changed."...
Read more http://www.bbc.co.uk/news/uk-scotland-scotland-politics-41016875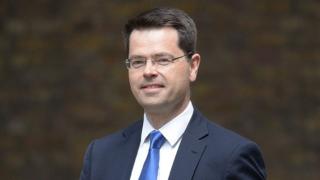 Image copyright
OLI SCARFF
Image caption
The secretary of state has refused to say when talks aimed at restoring devolution at Stormont will resume.
James Brokenshire said he "would come forward with further information in my own way in respect of the next step around the talks process".
Mr Brokenshire was speaking ahead of meeting Irish Foreign Affairs Minister Simon Coveney in Dublin.
He said discussions with the parties later this week would help inform his decision.
The secretary of state added he was going forward with "positive intent" but that "differences firmly do remain".
"My priority is to see the restoration of the devolved institutions in Northern Ireland, working on a sustainable basis to deliver good government for everyone," Mr Brokenshire said.
'Urgent progress required'
Mr Brokenshire said:"Over the summer I have kept in touch with the political parties and I will be bringing them together over the next week as we enter a new phase of talks.
"Urgent progress is required.The lack of an executive making key decisions on matters including health and education means that public services in Northern Ireland are suffering.
"We need to find a way forward that will allow an executive to be formed."
Mr Coveney said he planned to visit Belfast next week to meet politicians.
"Northern Ireland needs a voice through a government of its own," he said."We need to see a resumption to those discussions and hopefully a conclusion as soon as possible.
"We don't want talks that are ongoing for a long period of time."
Sinn Féin's northern leader has written to the UK and Irish governments[1] proposing a formal resumption of power-sharing talks.
Michelle O'Neill suggested parties should be given a tight deadline from next Monday to restore the government.
The Democratic Unionist Party's (DUP) Simon Hamilton described her proposal as a "stunt", saying his party had been ready to form an executive for months.
Northern Ireland has been without a functioning devolved government since January.
The coalition led by the two biggest parties, the DUP and Sinn Féin, collapsed over a green energy scandal[2].
Formal talks were suspended without agreement at the start of July[3]....
Read more http://www.bbc.co.uk/news/uk-northern-ireland-41016085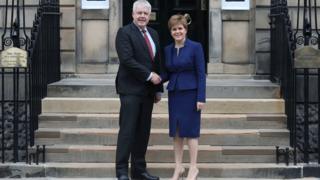 Image copyright
PA
Image caption
The Scottish and Welsh governments are to put forward amendments to the UK government's Brexit legislation.
First ministers Nicola Sturgeon and Carwyn Jones met in Edinburgh in the latest move to coordinate opposition to the EU Withdrawal Bill.
They fear the Westminster government is planning to use the bill to launch a "power grab" of devolved powers.
The two governments said they would work together on amendments "to provide a constructive way forward".
The UK government insists there are no plans for a power grab, and says Brexit will actually see more powers devolved to both nations.
The talks are the latest in a series held between senior Scottish and Welsh government figures in recent weeks as the two administrations join forces in an attempt to secure a greater say.
The two governments also recently raised a formal objection[3] to Theresa May's £1bn deal with the Democratic Unionists to keep the Tories in power.
Much of their focus has been on the EU Withdrawal Bill, which aims to ensure that EU laws still apply in the UK immediately after Brexit.
Ms Sturgeon and Mr Jones are concerned the bill will return powers in devolved policy areas, such as fishing and agriculture, to Westminster rather than Edinburgh or Cardiff.
The UK government says that this is merely a "transitional arrangement" that will allow for the further onward devolution of powers.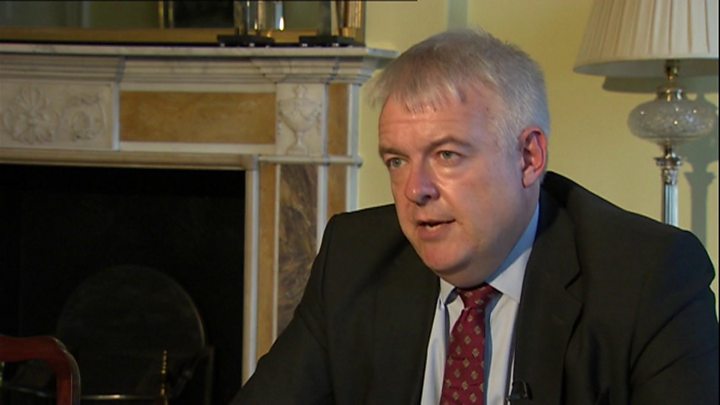 Media playback is unsupported on your device
Media caption
Carwyn Jones said the talks were not about blocking Brexit
Ahead of Tuesday's talks Mr Jones told the BBC that the UK government could not be trusted on Brexit[4] after it cancelled a planned upgrade of the railways for Swansea.
In a joint statement after the meeting, the Scottish and Welsh first ministers said they could not recommend their respective parliaments give consent to the Brexit bill as it currently stands.
However, they said they would work together on "potential amendments which would address our concerns".
The statement read:"The UK government's EU (Withdrawal) Bill is an unashamed move to centralise decision-making power in Westminster, cutting directly across current devolved powers and responsibilities.
"We believe the bill must not be allowed to progress in its current form.
"To provide a constructive way forward, the Scottish and Welsh governments are now working to agree potential amendments to the bill which would address our concerns.We are also coordinating our advice to the Parliament and Assembly to ensure they fully understand our concerns and our alternative proposals.
"It will now be for the UK government to respond positively to our suggested amendments to move negotiations forward, and ensure there is a functioning legal system on withdrawal from the EU, and agreed UK structures, - where these are required - that reflect the views and interests of all parts of the UK, and respect devolved powers and responsibilities."
'Positive and productive'
The Westminster government maintains that the UK's exit from the EU will benefit devolved administrations, with Scottish Secretary David Mundell referring to it as a "powers bonanza" for them.
Talks earlier in the month between First Secretary of State Damian Green and Scotland's Deputy First Minister John Swinney over the repatriation of powers ended in stalemate[5], although a further summit is planned.
A UK government spokesman said:"Not a single decision currently taken by the Scottish or Welsh governments will be taken away under this Bill.
"Instead, the bill is about creating certainty and continuity for people and businesses across the UK, and ensuring that we don't create new barriers to doing business.
"It is our expectation that the outcome of this process will provide greater decision-making power for each devolved administration and we are committed to positive and productive discussions going forward."...
Read more http://www.bbc.co.uk/news/uk-scotland-scotland-politics-41004738