A swipe from Nigel Farage at Theresa May, plus claims of wire-tapping when Jean-Claude Juncker was the Luxembourg PM.

...
Some MPs believe the government should help bring digital currencies into the mainstream, and say this could have advantages for public services.

...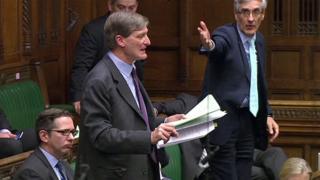 Image copyright
House of Commons
Image caption
The government looks likely to avoid another potential Commons defeat on Brexit, the BBC understands.
Tory rebels have been concerned about plans to put the Brexit date and time - 11pm on 29 March 2019 - into law.
But backbenchers have tabled an amendment to the EU Withdrawal Bill allowing some flexibility.
Ministers are highly likely to accept the amendment in a vote next week, BBC Political Editor Laura Kuenssberg said.
It comes as EU leaders agreed to move to the next phase of Brexit talks.
Theresa May suffered her first Commons defeat as prime minister on Wednesday, as Tory rebels joined forces with Labour and the SNP to vote for a plan to give MPs a bigger say in any Brexit deal.
'Exit day'
Ministers feared they might be heading for a further defeat on Wednesday, when MPs vote on a plan to enshrine the Brexit date in law.
A number of Conservative MPs had echoed Labour concerns the move could box Britain into a corner if negotiations with the EU go to the wire.
Several Conservative MPs, including former Cabinet minister Oliver Letwin, have now tabled an amendment to the bill that would give the government more flexibility over the exit day.
The new amendment seeks to allow the government to change the "exit day" through further legislation, if the negotiations are continuing.
Ministers are likely to accept their plan, which is a change that some of the potential rebels have been asking for, the BBC understands.
Senior sources are confident they can see off a defeat, after No 10 said there were no plans to take the date out of the bill.
Conservative MP Dominic Grieve, who led Wednesday's rebellion, told BBC Three Counties Radio:"I am aware that the government has, I think, this afternoon tabled a further amendment for next Wednesday, which very sensibly looks like it will resolve the issue that was troubling some of us.
"If that is the case, and I am fairly confident it is, then that issue will be satisfactorily resolved."
Bernard Jenkin, a leading Tory Brexiteer, said:"The purpose of this amendment is to avoid needless division over matters of detail when we should be supporting the PM.
"Nothing that has occurred alters the determination of the government to achieved the kind of Brexit that the PM set out in her Lancaster House speech - which takes back control of our borders, our money and our laws and our our ability to do meaningful trade deals."...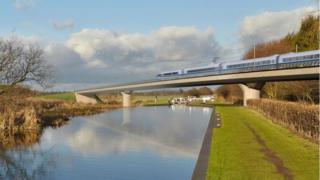 Image copyright
Other
Image caption
Unauthorised redundancy payments made by the state-owned company managing the HS2 rail project were a "shocking waste of taxpayers' money", MPs have said.
The Public Accounts Committee said the firm overseeing construction of a high-speed rail line offered staff terms "well in excess" of authorised levels.
The MPs blamed "weak internal processes" at HS2 for overpayments to 94 people totalling £1.76m.
An HS2 spokesperson acknowledged "a serious error" had been made.
The company made the payments in 2016-17 after shedding 94 staff in a move from London to Birmingham.
A combination of compulsory and voluntary redundancy schemes were offered on enhanced terms, resulting in a total bill of £2.76m, despite instructions from the Department of Transport that they should be at statutory rates, which would have incurred payments of £1m, MPs on the committee said.
The MPs' report says that HS2's chief executive at the time, Simon Kirby, had an email from the government telling him that he wasn't allowed to offer staff larger, enhanced redundancy payments when the firm relocated.
But it says Mr Kirby didn't pass that email on to anyone else.
However, Mr Kirby - who now works at Rolls Royce - said in a statement that he had not been responsible for the decision to approve more generous severance packages.
"I did not approve the payments at issue and deny any allegation of wrongdoing," he said.
"I left HS2 in December last year and the decision to make senior managers redundant, and under what terms, was not made until after I left."
MPs concluded a lack of basic financial controls at HS2 Ltd heightened the risk of fraud and financial errors, a situation it said was exacerbated by high rates of staff turnover.
"The unauthorised schemes were able to proceed because weak internal processes at HS2 Ltd prevented key decision-making and scrutiny bodies from receiving accurate information," the committee said.
The HS2 rail link being built between London, Manchester and Leeds, via Birmingham has already proved controversial for its impact on communities in the path of the new line, over its environmental impact and for its £55.7bn price tag.
The HS2 spokesperson said:"HS2 is on track and has achieved a lot in its short lifespan.It has been able to do so because of our ability to have the right people in the right jobs at the right time.
"But while that was the reason for these payments it is clear that we got the process wrong and we are now putting the right systems in place to make sure that does not happen again."
A Department for Transport spokesperson said:"We have made clear to HS2 Ltd in the strongest terms that we expect them to always meet their obligations and responsibilities to the taxpayer.
"As the NAO said this was a failure in the internal process at HS2 Ltd that resulted in these payments being made without approval in place.
"The Department has received legal advice that bringing a claim against Mr Kirby for breaching his duties and responsibilities as CEO and director of HS2 Ltd would not be justified."...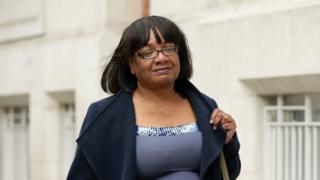 Image copyright
PA
Image caption
A new criminal offence of "intimidating parliamentary candidates and campaigners" should be created, a standards watchdog has said.
The Committee on Standards in Public Life says urgent action is needed to crack down on the rise in intimidation and abuse at elections.
It says social-media companies should tackle "persistent, vile and shocking abuse" directed at politicians.
But it also points the finger at the leaders of major political parties.
Leaders should "always call out intimidatory behaviour" even if it is perpetrated by those on the fringes of their party, the committee says in a new report[2].
Parties must also produce joint codes of conduct on abuse and intimidation during election campaigns by December 2018.
'Hostile online environment'
And they should hold regular meetings with their rivals during election campaigns to make sure the code of conduct is being enforced, the committee says.
MPs from all parties have spoken about intimidation they were subjected to during the general election, with Labour's Diane Abbott talking in graphic terms[3] about the racist abuse directed at her.
The report, which was commissioned by Prime Minister Theresa May, urges the government to legislate to shift liability for illegal content on to social media and other internet companies to tackle an "intensely hostile online environment".
It says Facebook, Twitter and Google "are not simply platforms for the content that others post" because they play a role in shaping what users see, and so "must take more responsibility for illegal material".
But Brexit might provide an opportunity for the government take action - because social-media companies are not currently liable "largely" due to a European Union directive that treats them as "hosts" of online content.
'Vigorous democracy'
Committee chairman Lord Bew said:"This level of vile and threatening behaviour, albeit by a minority of people, against those standing for public office is unacceptable in a healthy democracy.
"We cannot get to a point where people are put off standing, retreat from debate, and even fear for their lives as a result of their engagement in politics.
"This is not about protecting elites or stifling debate, it is about ensuring we have a vigorous democracy in which participants engage in a responsible way which recognises others' rights to participate and to hold different points of view."
A new criminal offence of intimidating candidates would "serve to highlight the seriousness of the issue" and act as a deterrent, the committee's report says.
The committee says it is also concerned about the impact on the diversity of a British democracy and political parties have an "important responsibility" to support female, black and minority ethnic and gay candidates.
It also calls for legislation to remove the requirement for candidates standing as local councillors to have their home addresses published on ballot papers.
And it says traditional media outlets also have to think about how their coverage "might incite intimidation through delegitimising someone's engagement in the political process, placing undue influence on their individual characteristics, or using threatening language".
Facebook said in a statement:"We want Parliamentarians and election candidates to feel safe on Facebook."
The company said it had already offered advice and training to "over 5,000 candidates on how to report abusive content and keep their accounts secure".
And it was "making significant investments in hiring more people who understand the issues around candidate safety" as well as working with anti-abuse charities....