Heidi Allen:'I couldn't be in the Conservative Party if he was my leader'

...
Three MPs who lost their seats talk about life beyond Parliament.

...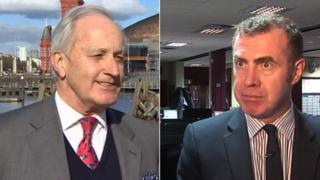 Image caption
Plaid Cymru should "come together" with UKIP to "take Wales forward", according to Neil Hamilton.
UKIP's assembly group leader accused Plaid of not being a real opposition party but "Labour's lapdog".
In last year's assembly elections, Labour won[1] 29 seats, Plaid 12, the Conservatives 11, UKIP seven and the Liberal Democrats one.
Mr Hamilton called for Plaid - which has been asked to comment - to appoint a leader willing to work with UKIP.
The AM for Mid and West Wales said he was responding to suggestions by Plaid's Rhun ap Iorwerth that it would go into coalition with Labour in the future if circumstances allowed.
Mr ap Iorwerth said on Tuesday[2] he would consider standing as Plaid leader, if Leanne Wood were to step down.
'Come together'
He blasted Mr ap Iorwerth and Ms Wood, saying:"Plaid will never progress under these faint hearts.
"They need a red-blooded leader like Adam Price or Neil McEvoy, both of whom are very effective AMs, hungry to break the cosy Cardiff Bay consensus."
Mr Hamilton added that "as a real nationalist party", UKIP would be "pleased to work with Plaid Cymru to take Wales forward".
He said Mr McEvoy recognised Labour had "failed Wales' working class".
"Real opposition means more than timid tub-thumping," he added.
"Opposition parties should come together to smash the tired and corrupt consensus which has turned Wales into the poorest part of the UK."...
Read more http://www.bbc.co.uk/news/uk-wales-politics-40918885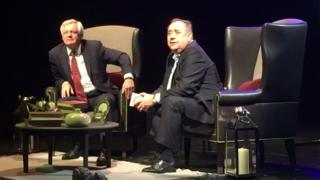 Image copyright
PA
Image caption
Alex Salmond opened his first Edinburgh Fringe chat show by welcoming to the stage his "good pal" - Brexit minister David Davis.
The former first minister surprised the crowd of 350 at Edinburgh's Assembly Rooms with his choice of guest.
He introduced Mr Davis as "the next prime minister of the United Kingdom, perhaps the last prime minister of the United Kingdom".
Mr Salmond will perform 18 sold-out shows at the Fringe.
He has promised light-hearted banter and a few behind-the-scenes-revelations from his time in office.
As he kicked off his first show, the former SNP leader jokingly warned the audience:"Remember, all the guests are my pals so watch how you treat them."
Mr Salmond said the subject of his first show was Scotland In Europe and after talking about William Wallace and the country's European history, he introduced Mr Davis.
Image copyright
PA
Image caption
In a light-hearted discussion, Mr Davis was pushed on cabinet divisions and the timescale for Brexit and replied Mr Salmond was "trying to make me lose my job".
Mr Salmond told how they had worked together to try to impeach Tony Blair over the war in Iraq but Mr Davis had to remove his name from the motion when he was appointed to Cabinet.
Questioned about his leadership ambitions should Prime Minister Theresa May step down, Mr Davis laughed and said:"I am really a very, very bad leadership candidate."
Mr Salmond said his friend was "the acceptable face of the Brexiteers and certainly the one who knows what he's talking about".
Questioned by the audience, Mr Salmond said Nelson Mandela was the most impressive politician he had seen and that the only time he was nervous was the first time he met Sir Sean Connery.
He ended the show by raising £1,000 for charity with a member of the audience paying to have lunch with Mr Salmond and Mr Davis in Edinburgh....
Read more http://www.bbc.co.uk/news/uk-scotland-edinburgh-east-fife-40918376
Labour leader Jeremy Corbyn urges Donald Trump and Kim Jong-un to "calm down" and start talking.

...