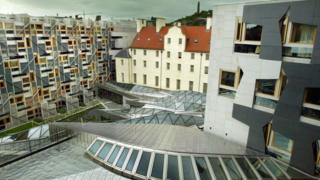 Image caption
The Scottish Parliament has been targeted by a "brute force" cyber attack, officials have said.
Chief executive Sir Paul Grice said the attack, from "external sources", was similar to that which affected Westminster in June[1].
He confirmed the attack in a message to MSPs and staff with parliamentary email addresses, urging them to be vigilant.
Mr Grice said "robust cyber security measures" identified the attack early, and systems "remain fully operational".
Scottish NHS boards were also affected by a cyber-attack in May[2], leading to several discussions of cyber security at Holyrood.
Parliamentary corporate body member David Stewart told MSPs in June that an independent review of "cyber security maturity" had been carried out, and had "offered assurance that sufficient and effective arrangements are in place to manage cyber threats and risks".
He added that parliament regularly takes advice from the police, the security services and the national cyber security centre.
'Brute force'
A "brute force" attack involves hackers repeatedly trying to access systems using a range of different passwords, in the hope of effectively guessing the correct password through trial and error.
Mr Grice's email urged MSPs and staff to make sure their passwords were as secure as possible, saying that the parliament's IT team would "force a change to weak passwords as an additional security measure".
He wrote:"The parliament's monitoring systems have identified that we are currently the subject of a brute force cyber attack from external sources.
"This attack appears to be targeting parliamentary IT accounts in a similar way to that which affected the Westminster parliament in June.Symptoms of the attack include account lockouts or failed logins.
"The parliament's robust cyber security measures identified this attack at an early stage and the additional security measures which we have in readiness for such situations have already been invoked.Our IT systems remain fully operational."...
Read more http://www.bbc.co.uk/news/uk-scotland-scotland-politics-40941722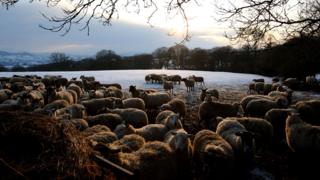 Image copyright
Stu Forster/Getty Images
Image caption
The National Farmers' Union has welcomed the idea of a temporary customs union with Europe after Brexit.
The UK government has put forward the idea[1] to avoid the damage of a "cliff-edge" departure before a final deal.
Speaking at the Pembrokeshire Show, NFU President Meurig Raymond said sheep farmers could suffer most from any return of tariffs.
The Welsh Government said it was "disappointed" a permanent post-Brexit customs union was not explored.
The UK government's position paper[2], published on Tuesday, said the UK would want to negotiate its own trade deals during the transition period, something it cannot currently do as a member of the EU customs union.
Image caption
Mr Raymond, who farms in Pembrokeshire, told BBC Wales:"We're delighted to hear the government will be arguing for a transition period post-March 2019.
"We cannot afford that cliff-edge departure - it would have a devastating effect on certain sectors, particularly sheep, if we ended up with tariffs on our exports to Europe.
"Obviously we need to be within the customs union through that transition period as I believe it would take at least two to three years to negotiate a bilateral trade deal with the European Union.
"We need to have a frictionless trade position where business can carry on as normal, at least in the short term."
Mr Raymond stressed the need for an agreement across the nations on how the financial aid to farmers promised by the UK government following Brexit would be spent.
"No farmer must be disadvantaged - whether you're in Wales, England, Scotland or Northern Ireland - because we're going to have to be competing against the rest of the world," he said.
"That money needs to be directed to farming so that it can become more efficient, more competitive, and invest for the future."
Image copyright
NFU
Image caption
Stephen James, president of NFU Cymru, agreed with the idea of a temporary customs union, for the sake of the whole rural economy.
"We've got all these businesses that are dependent on farming and agriculture - for every pound of support we have, it delivers £7.40 in the wider economy.
"That's a good message for all governments, because that keeps an economy going."
The Farmers' Union of Wales (FUW), also represented at the Pembrokeshire Show, renewed its call for an agricultural summit of the various UK governments to agree the rules on how the sector should be run when EU policies no longer apply.
'Fantasy'
The UK government proposes an "innovative and untested approach" to customs checks once any transition period is over, using measures such as number plate recognition technology for lorries.
However, Guy Verhofstadt, the European Parliament's negotiator, dismissed the idea of "invisible borders" as a "fantasy".
The Welsh Government said it welcomed "the recognition that there will need to be an interim or transitional period with as little change as possible in terms of practical customs arrangements".
But a spokeswoman added that there had been "no attempt to seek input" from devolved administrations.
She said the Welsh Government was "disappointed" that the costs and benefits of establishing an independent trade policy had not been analysed, and that the idea of a new customs union with the EU post-Brexit had not been considered.
Plaid Cymru MP Hywel Williams said the idea of the UK keeping "the perks of remaining in the EU Customs Union whilst negotiating alternative deals with third countries is at best naive and at worst deluded".
"What was meant to be a reassuring step ahead continues to cause more uncertainty for businesses all over the country," he added....
Read more http://www.bbc.co.uk/news/uk-wales-politics-40935572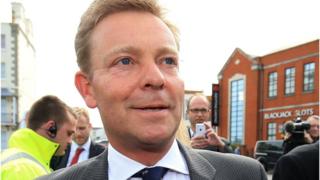 Image copyright
AFP
Image caption
A Conservative MP is to stand trial in May next year on charges relating to his 2015 General Election expenses.
South Thanet MP Craig Mackinlay, 50, of Sion Hill, Ramsgate, Kent, is accused of two counts of knowingly making a false election expenses declaration.
His campaign director Marion Little, 62, and election agent Nathan Gray, 28, also face charges.
At Southwark Crown Court, Mr Justice Edis set the trial for 14 May next year.
Mr Gray, of Red Oak, in Hawkhurst, Kent, faces one charge of knowingly making a false election expenses declaration.
Ms Little, of New Road in Ware, Hertfordshire, is accused of three counts related to aiding Mr Mackinlay and Mr Gray in making false declarations.
The judge told the three defendants their trial would start on 14 May and was estimated to last six weeks....
Read more http://www.bbc.co.uk/news/uk-england-kent-40936151