An MEP accuses the UK government of wanting to have its cake and eat it over the UK-EU border.

...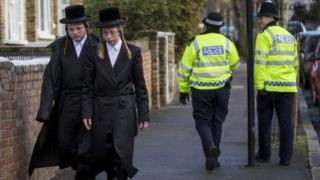 Image copyright
Getty Images
A senior Labour MP has said he is shocked at some of the anti-Semitic tweets by party members that come before its disciplinary panel.
John Cryer said some of what is written "makes your hair stand up", adding:"This stuff is redolent of the 1930s."
He was speaking at a fringe debate at the Labour conference in Brighton.
Labour says it condemns anti-Semitism in the "strongest possible terms" with "tough new rules" recently agreed by the party's ruling executive committee.
These changes to the rule book will be voted on by delegates in Brighton on Tuesday.
The fringe debate, organised by the Holocaust Educational Trust and the Anti-Semitism Policy Trust, looked at anti-Semitism on the left of politics.
Panellists agreed there had been a recent increase in people questioning the Holocaust.
Image caption
Mr Cryer, Labour MP for Leyton and Wanstead, described a "seeping poison" and warned that future generations might not realise that when it came to Nazism, "we were right and they were wrong".
As chairman of the Parliamentary Labour Party, he sits on the disputes panel of the National Executive Committee, which rules on what members have "said, written or tweeted", he told the audience.
"I have seen some of the tweets from paid up Labour Party members and I am not kidding you, it makes your hair stand up," he said.
Some Labour members dismiss reports of anti-Semitism as a myth, he said.
"But you don't have to look very far before you see it's not a myth...and there's no place in the Labour Party for stuff like that."
Another MP, Wes Streeting, said a "rump" of anti-Semites in Labour should be "driven out" of the party.
"It isn't anti-Semitic to criticise the Israeli government," he said.
"Unfortunately we see too many people examples of anti-Semitic language being used in order to do so."
'Ignorant attitudes'
Karen Pollock, chief executive of the Holocaust Educational Trust, said:"Why do people want to question the truth of the Holocaust?
"Do we question whether the earth is flat?There are certain stories that can't have two sides."
Last year, an inquiry was carried out into claims of anti-Semitism in the Labour Party following the suspension of MP Naz Shah and ex-London mayor Ken Livingstone.
It found there was evidence of "ignorant attitudes" but that the "Labour Party is not overrun by anti-Semitism, Islamophobia, or other forms of racism".
Labour leader Jeremy Corbyn was then criticised when its author, Shami Chakrabarti, was nominated to become a Labour peer.
Mr Livingstone, who denies accusations of anti-Semitism, is currently suspended from Labour over comments he made about Adolf Hitler and Zionism.
A party spokesman said:"Labour condemns anti-Semitism in the strongest possible terms and our NEC unanimously passed tough new rule changes last week.
"All groupings in the party should treat one another with respect.We will not tolerate anti-Semitism or Holocaust denial."...
John Prescott says:"I belong to the past, so does Tony Blair."

...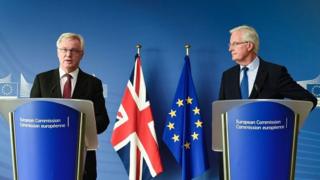 Image copyright
AFP
The EU's Brexit negotiator Michel Barnier has called for a "moment of clarity" from the UK as talks resumed.
At the start of a fourth round of talks, Mr Barnier said the process had been going six months and progress on key separation issues was essential.
For the UK, David Davis said the UK had shown "leadership and flexibility" and given reassurances on financial matters.
There was "no excuse for standing in the way of progress", he insisted.
The new round of talks is the first chance for the EU team to respond to Theresa May's speech in Florence, in which she said the UK wanted a two-year transition period and would honour its financial obligations.
The prime minister aimed to restore momentum to a process that was widely reported to be stalling.
Speaking in Brussels, Mr Barnier said he was "keen and eager" for the UK to translate the sentiments in Mrs May's speech into firm negotiating positions on issues such as citizens' rights, the Irish border and financial issues, including the UK's so-called divorce bill.
Remarking that it had been six months since the UK triggered Article 50, he said progress on these three fronts was essential to allow talks to move on to the future of the bilateral trade relationship, as the UK would like.
"We are six months into the process," he said."We are getting closer to the UK's withdrawal.I think this moment should be a moment of clarity."
Mr Davis said he hoped for progress on all fronts but said any agreement on financial matters could only be reached in the context of the UK's future partnership with the EU.
"The UK is absolutely committed to work through the detail.We are laying out concrete proposals and there are no excuses for standing in the way of progress."
Budget black hole
In her speech on Friday, Mrs May offered to continue paying into the EU for a two-year transition after the UK leaves in 2019 to ensure the bloc is not left with a budget black hole.
The prime minister sought to reassure member states that they would not lose out financially during the current EU budget period, which runs to 2020.
She also confirmed there would be no restrictions on EU citizens coming to the UK during the transition period, but after Brexit they would be registered as they arrived.
Image copyright
AFP
Image caption
Mr Davis has insisted that Mrs May's speech was not influenced by a 4,000-word article by Foreign Secretary Boris Johnson, in the run-up to the event, setting out his own vision for Brexit.
The speech "had been coming for a long time", he said.
Meanwhile, the UK and Scottish governments have held a fresh round of talks on Brexit in London.
Scotland's Deputy First Minister John Swinney and Brexit minister Mike Russell met First Secretary of State Damian Green to discuss concerns about the EU Withdrawal Bill.
And Mrs May has held talks in Downing Street with Irish premier Leo Varadkar, in her first meeting with an EU leader since the Florence speech.
Mr Varadkar said his counterpart's proposal for a post-Brexit transitional period was a step in the right direction but it was too early to say whether the UK had made sufficient progress in general....
Read more http://www.bbc.co.uk/news/uk-41382332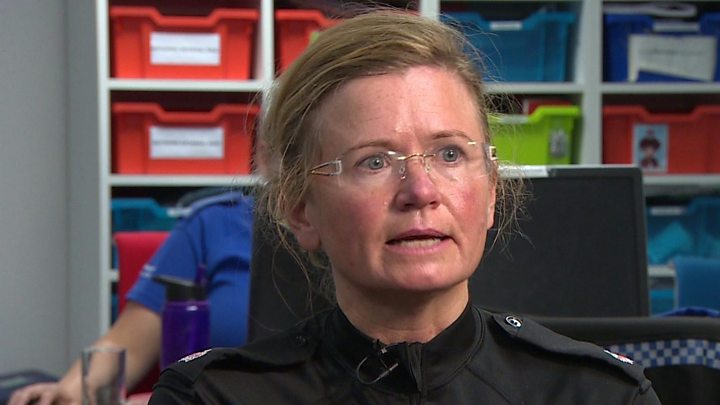 Media playback is unsupported on your device
Media caption
Police force to appoint commander in direct entry scheme
"Oh mum you look like a cop!" said Maggie Blyth's daughter, seeing her in uniform for the first time.
But unlike many new cops, Maggie is not about to begin years of grinding out beat shifts as a constable.
She is getting ready to command more than a hundred police officers and staff.
The BBC's Daily Politics was given exclusive access to a new recruit becoming part of one of the most controversial reforms in the history of policing.
After just over a year's training, Maggie Blyth is to become Portsmouth District Commander, Hampshire's first Direct Entry superintendent.[1]
She previously had a 30-year career in child protection.
"One colleague described it as a bit of a handbrake turn," Maggie tells me.
"She said, you've got retirement coming up, couldn't you just settle into those plans?But I was looking for another challenge, I think I had something to offer."
'Much to be gained'
The government's Direct Entry scheme allows talented civilians to join the police in senior roles.
It breaks a 180-year tradition of officers with "mud on their boots" gradually rising through police ranks.
Maggie addresses this head on:"Before I joined, many of the questions I asked of colleagues in policing and elsewhere, were around credibility."
"I won't have some of the specialist skills of someone who has walked the beat.What I do bring is a range of other skills and experiences that I think compliment where UK policing is going."
During her career Maggie Blyth dealt with some of the most challenging child protection issues facing authorities.
In Oxford, she chaired the safeguarding children board which made headlines after revealing that 300 children were believed to have been sexually exploited in the city over a number of years, by gangs of mostly Asian men.
Similar cases in Rotherham, Newcastle, and Rochdale showed vulnerable youngsters had been failed by the authorities.
Image caption
"Policing is really changing," Maggie says."I think there has to be a much better join up between the different NHS health organisations, between local government and policing to find a joint solution to some of these continuing issues facing our communities."
The College of Policing received more than 2,000 applications for this year's Direct Entry scheme.
Recruits have come from banking, Army, and Home Office backgrounds - to name a few.
But not all police forces are receptive.Only nine forces are looking to take on new Direct Entry recruits in 2017.
Home Secretary Amber Rudd believes there is "much to be gained" from bringing outside talent into policing.
She pointed out in a speech to the National Police Chief's Council last year that there were six people who passed the Direct Entry superintendent assessment who were not offered posts, saying:"That is policing's loss."
'Split second' decisions
Perhaps unsurprisingly from within an institution with a culture of discipline and earning one's rank, there have been concerns.
John Apter from the Hampshire Police Federation told the BBC Daily Politics Programme:"Whilst the Direct Entry recruits are highly motivated and very gifted individuals, they don't really have the concept of policing to fall back on.
"You get the knowledge, and the understanding of policing by walking in the same shoes as those police officers have done"
He believes it could even prove dangerous.
While superintendents take on a strategic, managerial role, John Apter says inspector level recruits could be left particularly exposed, because they must make critical operational decisions under pressure.
"At 3am on a Saturday morning, whether that's a firearms incident, whether it's a hostage type situation, or a large scale public order incident, you don't have a bank of experts on hand to give you advice."
"You have to make those decisions in a split second.You have to rely on your experience.I have serious concerns that that will be a problem."
"Direct Entry needs to be evaluated.It's costing a fortune.Is it good value for money?I'm not convinced it is."
Portsmouth presents a wide range of policing challenges.
From alcohol-fuelled violence, to previous problems with radicalisation and some racial tensions, the city is a busy patch.
Maggie Blyth has been completing a series of placements with front-line officers, acting as a sergeant and inspector, making arrests and attending a variety of operations such as drugs raids.
While filming we accompany her to a tower block to follow up on a neighbourhood dispute.
She has been under continuous assessment and will have to sit final exams before becoming Portsmouth's district commander for real.
Respect
I ask her whether she really thinks she has been able to cram in all the knowledge and experience she'll need, in just a year?
"One of the things said to me," Maggie explains, "is that you're already 80% a superintendent in terms of the leadership skills you've brought from elsewhere, 20% is in-depth operational policing knowledge and understanding."
"This last year has equipped me with detailed knowledge of what it's like to be policing in Portsmouth and across Hampshire from a range of specialist aspects of policing.I think in terms of the advice and support I will also have from colleagues, that equips me well."
So what about officers under her?Will she have their respect?Some may have been waiting years themselves for promotion.
"You'd have to ask them," Maggie says."I've had a very strong welcome.Peers have said to me phone any time, even if it's 4am in the morning.
"I'm sure, quite rightly, there will be questions asked about new ways of entry into policing and how effective that is.
"My own personal view is that having different routes into policing is positive.We should be diverse"
Changing long-held traditions in policing was always going to be tough.Many have doubts about Direct Entry, and Maggie Blyth knows an excellent track record from her previous career can only get her so far.She will need to prove her worth.
But an officer who accompanies us, confides in me off camera, saying:"Everyone wants her to succeed.Whatever people say about it beforehand, once someone is in there with you, you want them to succeed.That is policing.We're a team."...
Read more http://www.bbc.co.uk/news/uk-41388409