Lord Heseltine tells BBC Newsnight that the more unpopular Brexit becomes, the higher the probability of a Labour government.

...

Read more http://www.bbc.co.uk/news/41689419
The state of politics means there is no need for The Thick of It, and it would be "beyond sitcom territory" to produce Veep currently, says Armando Iannucci.

...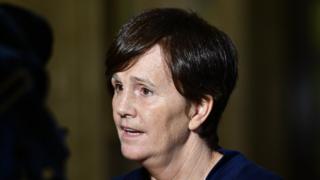 Image copyright
Pacemaker
Image caption
The deputy speaker of the assembly, Sinn Féin's Caitríona Ruane, has resigned from the role.
The former education minister did not stand in the March Assembly election.
However, she retained her role as principal deputy speaker, which attracts a salary of £55,000 - even though the assembly has not been functioning since January.
On Thursday evening, Ms Ruane said she had resigned "with immediate effect" as principal deputy speaker.
She said she had donated the salary to charities and community groups, including an Irish language group, a group for the elderly, an LGBT group and a charity for children with disabilities.
"I never anticipated that the election of a new speaker and deputy speaker would be so protracted and I have come to the conclusion that now is the time to tender my resignation," she said.
'Scandalous situation'
Earlier on Thursday, TUV leader Jim Allister described the payments as "beyond farce" and called on Ms Ruane to resign.
Mr Allister pointed out that the former UUP MLA Danny Kennedy, who lost his seat in Newry and Armagh in March, had resigned his job as deputy speaker.
Image caption
The TUV leader claimed that receiving public money for a post no longer held was a "scandalous situation".
"To think that somebody who is not even an MLA, holds the post of principal deputy speaker of an assembly that they don't belong to, is farcical.
"But if on top of that, that person is being remunerated, then it becomes outrageous," he said.
'Very cumbersome'
Under the rules, the SDLP's Alex Attwood who lost his seat in March is also entitled to £55,000 a year as he sits on the Assembly Commission.
Mr Attwood declined a TV interview request, but the BBC understands he returns the vast majority of his salary to the Department of Finance.
He gives back £49,000 - the equivalent of an MLA's salary - and keeps the remaining £5,500 payment for his role as a commission member.
SDLP leader Colum Eastwood told the BBC's The View that Mr Attwood had made "an awful lot of effort" to pay back the MLA portion of his salary.
"It isn't the easiest thing in the world, apparently, it's a very cumbersome, technocratic, bureaucratic issue, but he pays the money back to the state and he's very determined to do that," Mr Eastwood said.
Image caption
The SDLP leader added that Mr Attwood "wanted to resign" from the Assembly Commission but "couldn't" step down from the role while Stormont is not functioning.
"He's still doing the job as a commissioner, he's still goes to the meetings and represents the party.
"If we could change that situation, we'd do it tomorrow and Alex would be very glad to do it."
The executive collapsed in January[1] and Northern Ireland has been without a power-sharing government since then.
On Wednesday, the Northern Ireland Secretary James Broken shire said he "recognised public pressure" over the issue of MLAs' pay.[2]
Mr Brokenshire told Westminster's Northern Ireland Committee he would keep the issue "under examination", and would deal with it if there was no progress in talks....
Read more http://www.bbc.co.uk/news/uk-northern-ireland-41684424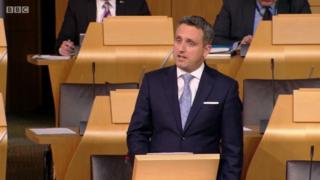 Image caption
Prosecutors have dropped a case against Lib Dem MSP Alex Cole-Hamilton over claims he had broken electoral law.
Mr Cole-Hamilton was accused of breaching the legal spending cap and filing incorrect election returns in the Holyrood vote in June 2016.
He won the seat of Edinburgh Western from the SNP in the vote, but was reported to prosecutors in June 2017.
However the Crown Office said that after "careful consideration", there would be "no proceedings at this time".
The Lib Dems maintained throughout the investigation that they were "fully satisfied that all election arrangements and spending was done in accordance with the law".
Mr Cole-Hamilton was the party's campaign director for the general election earlier this year.
He said he "always knew" that he would have no case to answer over the allegations, saying:"While this has been a long process, I have sought to fully co-operate with the investigation at every stage.
"Throughout all of this, my focus has never drifted from my efforts to represent the communities of West Edinburgh to the best of my ability.I love my job and work hard at it.
"I'm glad this matter is closed and I'm grateful to police and the fiscal service for their dedication in pursuit of the truth both in this case and in all that they do."...
Read more http://www.bbc.co.uk/news/uk-scotland-scotland-politics-41683792