Peter Mandelson says we would lose all preferential trade agreements if we switched to WTO

...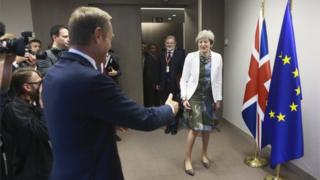 Image copyright
EPA
Image caption
Theresa May made a personal appeal to EU leaders for the Brexit talks to move on to the subject of trade at a working dinner in Brussels.
The prime minister is reported to have asked for a deal she could "defend" to the British people.
Her fellow EU leaders are expected to say there has not been enough progress in negotiations at the conclusion of a summit later.
But they may agree to begin talking among themselves about trade.
The EU leaders have gathered in Brussels for a crunch summit to assess the progress made so far in Brexit negotiations with the UK, which is due to leave the EU in March 2019, following last year's referendum result.
Mrs May attended the summit on Thursday but will leave early on Friday after holding a press conference.The other leaders will then discuss Brexit without her.
They are expected to officially conclude "insufficient progress" has been made in negotiations over citizens' rights, the UK's financial obligation and the border in Northern Ireland to allow them to move onto the second phase of talks dealing with trade discussions.
Arriving on Friday, European Commission President Jean-Claude Juncker said he did not "think that there will be a miracle" of the kind that would allow trade talks to begin immediately."We have some details but we don't have all the details we need.But work is going on."
On Thursday, German Chancellor Angela Merkel said there were "encouraging" signs of progress in Brexit negotiations and suggested trade talks could begin in December - when EU leaders are next scheduled to meet.
She said the process was progressing "step by step" despite British media reports that negotiations were not advancing.
"I have absolutely no doubt that if we are all focused - and the speech in Florence made a contribution towards that - we can achieve a good result," she said.
"From my side there are no indications at all that we won't succeed."
'Joint endeavour'
Over a working dinner of gnocchi and "pheasant supreme" on Thursday night, the prime minister told fellow EU leaders she was determined the UK would be a strong partner on issues from security, defence and climate change to trade, a senior government source told the BBC's Laura Kuenssberg.
The PM added that "we must work together to get to an outcome that we can stand behind and defend to our people".
Analysis
By BBC Europe correspondent Kevin Connolly
Theresa May issued a powerful call to the 27 EU leaders to join her in creating a Brexit deal that she will be able to stand behind and defend.
She told them she had listened both to them, and to voices in Britain, before offering money and movement on crucial issues in her Florence speech[3] last month.
Most of the leaders said little or nothing as they left - the evening ran late after a difficult debate on Turkey - but those who did, like Angela Merkel, acknowledged the progress made so far while continuing to insist on more.
The summit won't look like a disaster for the UK's negotiators - they will get a public indication that the EU is preparing for trade talks whenever they might come.
But attention now shifts to the December summit, and the British need for a breakthrough there grows greater with every passing week.
The other leaders are not expected to respond to her statement and Mrs May was not expected to offer anything new on the issue of the so-called divorce bill, a key sticking point.
BBC Europe editor Katya Adler said all EU leaders knew Mrs May was in a politically difficult situation and did not want her to go home empty handed, so had promised they would start talking about trade and transition deals among themselves, as early as Monday.
This could allow formal negotiations to begin around Christmas, if EU leaders deem sufficient progress has been made in discussions on other issues.
Meanwhile a group of pro-Brexit Tory and Labour politicians has urged Mrs May to walk away from negotiations[4] this week if the EU does not accommodate the UK's wishes.
Labour's Brexit spokesman, Sir Keir Starmer, said it would be "irresponsible" to threaten to walk away with the talks only at "phase one".Sir Keir and Labour leader Jeremy Corbyn are also in Brussels for their own talks.
Brexit:How do other EU countries see a 'no deal'?[5]
Get news from the BBC in your inbox, each weekday morning[6]...
Media playback is unsupported on your device
Media caption
Live:Plaid Cymru conference
A total of £30m should be spent protecting firms from possible damage from Brexit over the next two years, Plaid Cymru's leader has said.
Leanne Wood, who will address Plaid's annual conference in Caernarfon later, said the Brexit Preparedness Fund could help "mitigate any Brexit shock".
Mainly small to medium-sized firms (SMEs) should get specialised help and financial assistance, she said.
Plaid have already agreed a £5m scheme in a budget deal[1] with Labour ministers.
Ms Wood warned that if UK-EU trade talks failed, and Welsh ministers had "no plan" to deal with the consequences, "Welsh nationhood" was at risk.
A "range of measures" were needed to help protect Welsh businesses from any negative impact from leaving the European Union, she said.
"One such measure is a Brexit Preparedness Fund designed to help businesses evaluate their exposure to Brexit and then receive specialist advice and financial assistance," she said.
"Such a fund should be targeted mainly at SMEs and should be approached proactively and engaged with on an all-Wales basis."
Image copyright
Getty Images
Image caption
Ms Wood said Plaid Cymru would suggest "constructive proposals the Welsh Government should adopt to protect our economy and constitution" as well as applying "relentless scrutiny of the UK government's actions and their impact on Wales".
In an interview with BBC Radio Wales, Ms Wood said the final outcome of the negotiations should be ratified by either a referendum or a vote of AMs.
She told the Good Morning Wales programme:"Whatever deal is finally agreed, whether it is a deal or it isn't a deal, I think it should be ratified either by people in a referendum or by people's representatives in the Welsh Parliament.
"If there is a deal that is going to be damaging and risky then people deserve to have a say and endorse or not that deal."
The Rhondda AM has insisted she will lead the party at the next assembly election[2] in 2021 and that she has the backing of the membership.
It follows reports of disquiet among some Plaid Cymru AMs over whether she should lead the party for another four years.
Plaid lost 14 deposits and its vote share fell in June's general election, but it won an extra parliamentary seat meaning it now has four MPs at Westminster....
Read more http://www.bbc.co.uk/news/uk-wales-politics-41679247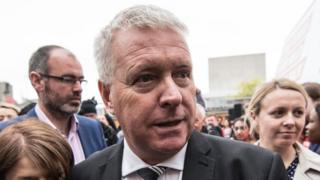 Image copyright
Getty Images
Ian Lavery MP received £165,000 from the 10-member trade union he ran.
We have learned this from the trade union regulator which has now released a report into Mr Lavery's actions as general secretary of the NUM Northumberland Area.
He will now face questions on his record over a number of disputed payments by the union he ran.
Mr Lavery, who is the chairman of the Labour Party, denies any wrongdoing.
Ian Lavery is a coming power in the land, Jeremy Corbyn's general election joint co-ordinator and chairman of the Labour Party.If the Conservatives fall, he's most likely destined for high office.But, perhaps, for one thing:his refusal to answer a simple question asked by BBC Newsnight last year:"Did you pay off the mortgage?" BBC Newsnight asked him nine times without getting a reply.
The answer, it turns out, is no.He didn't pay off his mortgage.The union of which he was general secretary for 18 years, the NUM Northumberland Area, paid it off and paid him much more besides.
Last year, both Jeremy Corbyn and the parliamentary watchdog cleared Mr Lavery.He denies any wrongdoing.
The reason we know more about Mr Lavery's peculiar mortgage arrangements is because the trade union regulator, the Certification Officer, Gerard Walker, examined the books after investigations by BBC Newsnight and the Sunday Times.Mr Lavery ran the NUM Northumberland Area for 18 years until he stepped down in 2010 to become the MP for Wansbeck.
The regulator's findings are available online[1].
The regulator found that that the Northumberland Provident and Benevolent fund had lent Mr Lavery £72,500 to buy a house in 1994.13 years on, the union Mr Lavery was then running forgave the loan to Mr Lavery.So he was £72,500 the richer.
But there's more.He'd been paying into an endowment fund to pay back the capital cost of the house.It had underperformed, but it still paid out £18,000.The regulator found Mr Lavery kept that too.
And that's not all.
The regulator found that in 2005, Mr Lavery sold a 15% stake in his house to the Union for £36,000.In 2013 the house was worth less, so he bought it back from the union for £27,500 - a notional profit of £8,500.
And then there's Mr Lavery's "termination payments", totalling £89,887.83.However, that total is a matter of some dispute between him and the union.
The regulator says that neither Mr Lavery nor the union could provide documentary evidence of the process or the decision by which Mr Lavery was made redundant - or why, given he was leaving for a job as an MP, he needed any redundancy payments at all.
Adding £89,887 he received for his undocumented redundancy package to the £72,500 for the forgiven house loan to the £18,000 he was gifted from his endowment, that totals £180,387.
But, then, it seems Mr Lavery and his old union fell out.The union recently realised it had overpaid Mr Lavery's redundancy by £30,600.The regulator's report shows that the union asked for it back.Mr Lavery disputed £10,600 of it - and said he'd only give them £15,000.When the regulator asked the union why they settled for this, they simply replied that they were mindful of Mr Lavery disputing it and the potential legal costs:
"Mr.Lavery was adamant that £15,000 was his final offer, we were left with little choice but to accept."
So our running total of dosh from the union to its one-time general secretary is reduced by £15,000 to £165,387.That's a bob or two in anyone's language.
A year ago, when we started questioning Mr Lavery on this matter, Jeremy Corbyn gave him the benefit of the doubt and the Parliamentary commissioner cleared him of wrongdoing, which he has always denied.Since then, Mr Lavery has risen in Labour's ranks to be one of the Labour leader's closest and most trusted lieutenants.
Image copyright
Getty Images
Now that we know just how much money he got from the trade union he used to run, it's fair to ask whether this man is a fit and proper person to be chairman of the Labour Party.
Ian Lavery told BBC Newsnight in a statement tonight:
"Under my stewardship, the union always complied with the rules and the Certification Officer signed off every year's transactions.As the Certification Officer's report makes clear, no member of the union, past or present, has made a complaint about the financial affairs of the union.I am pleased that the Certification Officer has decided to not appoint an inspector or take further action.
"This report should draw a line under almost two years of allegations and innuendo directed at me and my former colleagues.Our legacy is helping miners and their families when others abandoned them, bringing millions of pounds of compensation into the Northumberland Coalfield.I remain immensely proud of our record."...
Read more http://www.bbc.co.uk/news/uk-41688280