Theresa May says countries must work together to confront terrorism.

...
Labour leader Jeremy Corbyn says he is "shocked and appalled" by the attacks in Barcelona.

...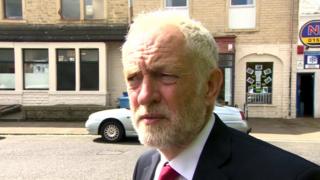 Jeremy Corbyn has hit back at a report in the Sun newspaper claiming Labour mayors Andy Burnham and Sadiq Khan will be "frozen out" of Labour's conference.
The story - which originally appeared in the Huffington Post[1] - says the mayors will be left off the speakers list at the event in September.
It says the Labour leader and four shadow cabinet members will be given prime speaking slots in Brighton.
Mr Corbyn said the conference agenda had not been drawn up yet.
Asked about the story on a campaigning visit to Morecambe, the Labour leader said he had "no idea" why The Sun was reporting it.
He said:"The Sun seem to be trying to run the Labour Party.Well I have news for The Sun - they don't."
Apologised
On Wednesday, Labour's shadow equalities minister Sarah Champion quit her role[2] over an article she wrote for the Sun about grooming gangs.
The Rotherham MP told the newspaper a week ago that "Britain has a problem with British Pakistani men raping and exploiting white girls".
She apologised for her "extremely poor choice of words," after earlier suggesting the Sun had altered what she had written, something denied by the newspaper.
According to Huffington Post political editor Paul Waugh, Mr Corbyn and four shadow cabinet members - John McDonnell, Emily Thornberry, Diane Abbott and Keir Starmer - will be pushed as the face of the party and given prime speaking slots at the conference.
This means there will be less time for other leading figures, suggests Waugh, adding that some in the party fear the leadership want "revenge" on Mr Burnham and Mr Khan for being critical of Mr Corbyn in the past....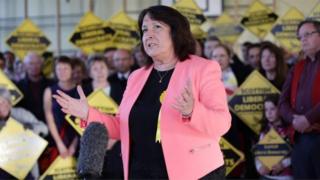 Image caption
A second Liberal Democrat MP has denied wrongdoing over claims about the party's spending during the general election campaign.
Christine Jardine, who took Edinburgh West from the SNP in June's election, described the claims as a "smear".
It follows questions about the expenses of Liberal Democrat deputy leader Jo Swinson in East Dunbartonshire.
The Electoral Commission strictly limits the amount a candidate can spend to be elected to a Westminster seat.
This is to ensure that elections are fair and candidates subject to a level playing field.
'National expenditure'
Sir Vince Cable, the UK party leader, is due to face questions on the claims when he meets activists in Edinburgh later.
Christine Jardine won the Edinburgh West seat by 2,988 votes over the SNP's Toni Giugliano.
According to The Herald newspaper, Ms Jardine failed to include £3,000 in her total campaign costs[1] submitted to the Electoral Commission.The paper said that if the costs had been included, it would have taken her over the spending limit.
She told the BBC's Good Morning Scotland[2] programme that the money was not included because it promoted her party at a national level and was not used to highlight her as the local candidate.
She said:"If it had been local expenditure, it would have been included as local expenditure.It was national expenditure and therefore it was counted as national expenditure."
'Reputational damage'
Ms Jardine described the story as "weak" and denied playing "fast and loose" with the rule book, saying:"No, no we're not, we're following the rules to the letter.
"That is kind of like saying I spent x-number of pounds on my car and x-number of pounds on my house and then trying to say that everything was spent on your house.
"No.The money which was spent on the national campaign was spent on the national campaign and the money which was spent on the local campaign was accounted for in the local campaign.
"This is nothing more than an exercise in reputational damage by the SNP because they lost the seat."
Image caption
On Wednesday, it emerged that Ms Swinson's spending came in £210 below the legal limit.
She took the East Dunbartonshire seat from the SNP with a 5,339 majority amid questions over £7,000 of expenses, which she said were only used to promote the national party[3].
The Electoral Commission said it had not received a complaint about either candidate.
'Vanishing leaflets'
A spokeswoman said:"General election candidates or their agents must submit campaign spending returns to their local authority.
"Any investigations into alleged breaches of candidate spending rules would be a matter for the police."
Police Scotland confirmed that they had not received any complaints in relation to the matter.
Image caption
In June last year, the Lib Dems' general election campaign director Alex Cole-Hamilton was reported to prosecutors[4] over an allegation that he may have breached the legal spending cap regarding the Holyrood election campaign.The party denies any wrongdoing.
SNP MP Pete Wishart said there was an "extremely worrying pattern" emerging.
He said:"Vince Cable needs to get a grip of his party and explain just how widespread these practices are.
"The Lib Dems must start being transparent about what they spent in constituencies across Scotland or else we've got an emerging election expenses scandal on our hands."
He added:"Edinburgh West is where the Lib Dems faced a police probe into their expenditure during after last year's Holyrood election.
"They've clearly not learnt any lessons from that experience.
"But they now have the chance to come clean and provide the evidence of the vanishing leaflets and fess up to what appears to be creative allocation of local and national spending."...
Read more http://www.bbc.co.uk/news/uk-scotland-scotland-politics-40973451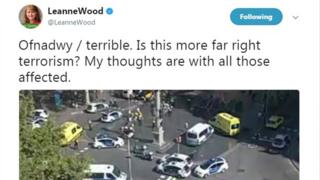 Image copyright
Twitter/@LeanneWood
Image caption
Plaid Cymru leader Leanne Wood has said she is "staggered" by the response to her suggestion that the Barcelona attack was "far right" terrorism.
Thirteen people died when a van drove into pedestrians[1] in the Spanish city, with so-called Islamic State (IS) saying it was responsible.
Welsh Conservatives called on Ms Wood to apologise or resign, while UKIP accused her of an "outrageous smear".
Ms Wood said far-right ideologies drove both IS and white supremacists.
Following the attack on Thursday, the Plaid Cymru leader posted her reaction on Twitter[2], saying:"Ofnadwy / terrible.Is this more far right terrorism?My thoughts are with all those affected."
She added[3]:"All forms of political violence are the same.USA, Barcelona, everywhere.They are ideology-driven &we have to understand that to stop it."
The comments sparked a critical response from politicians of other parties, and on social media.
Image copyright
Reuters
Image caption
Welsh Conservative leader Andrew RT Davies, who had tweeted[4] that it was "sickening" to hear of the attack in Barcelona, said it was "unbelievable" that Ms Wood had speculated that it might be linked to a far-right group.
His fellow Tory assembly member Janet Finch-Saunders said the comments were "at best poorly timed and ill-judged, at worst cynical and morally depraved".
"Politicising terror so fresh after an attack can never be acceptable, and only adds to the hysteria and toxicity of debate.
"As leader of a so-called progressive party, she should show some contrition by issuing an immediate apology and, if she doesn't, I think she should resign."
Image copyright
Twitter/@UKIPWales
A tweet from UKIP Wales[5] said:"Absolutely outrageous smear against UKIP which you have called 'far-right' countless times.How dare you associate us with murderers!"
A UKIP Wales spokesman later added:"Clearly she's becoming desperate to hold onto power in her party and is resorting to mud-slinging statements like these.Her question is a tacit attempt to link these terrorist murderers to our party;it's an absolute disgrace.
"Leanne Wood has lost all credibility both within and outside of Plaid and it's time for her to go."
'No better than each other'
Following the outcry, the Plaid Cymru leader responded on Facebook, saying:"I am staggered by the reaction to the point that Isis and white supremacism both have far right ideologies driving them.
"Both see their group as superior to others.Both see people who are not in their group fair targets for abuse, violence and even death.Both hate minorities and consider women to be less than men.Both believe in using extreme violence to repress people with different views.This is far right/ fascism ideology.How can it not be?"
She said she could he how her comments would "upset" people on the far right, saying that "the comparison links western racists and white supremacists to their number one hate target and shows them as no better than each other".
Ms Wood ended her comments by saying:"While it's important, in my view, to say and keep saying that politics and ideology lie behind these acts of violence, my thoughts are first and foremost with the victims of last night's horror."
Image copyright
AFP
Image caption
Meanwhile First Minister Carwyn Jones said:"Our thoughts today are with all of those who were affected by yesterday's terrorist attacks on Barcelona and Cambrils.
"It is truly horrifying to think that people who were simply going about their daily lives, relaxing and enjoying themselves could be targeted in such an evil way."
He added that Barcelona was "a proud and beautiful city", and that Wales shared "many historical and cultural ties" with the Catalunya region of Spain.
"I want to end by expressing my deepest sympathies on behalf of the people of Wales," Mr Jones said.
"We stand by your side at this difficult time."...
Read more http://www.bbc.co.uk/news/uk-wales-politics-40974199