Six-year-old Megan has the rare Prader-Willi syndrome, which means she never feels full.

...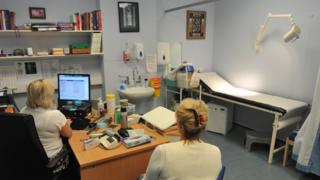 Image caption
Addressing a room full of doctors, Health Secretary Jeremy Hunt reminded the audience of his promise in 2015 that there would be 5,000 more general practitioners[1] working in the NHS in England by 2020.
We're halfway to Mr Hunt's deadline - so how is the government doing at meeting this target?
In 2015, there were about 34,500 GPs working in the NHS in England.The government wants there to be about 39,500 by 2020.
But the latest figures published by the NHS[2] show that there are actually about 350 fewer GPs now than there were in 2015, when the target was announced.
Behind target
These numbers include registrars - trainee GPs who are qualified doctors but have not yet completed their specialist training.
Once a medical school graduate picks a general practice specialism, it takes another three years to become a fully fledged GP.
So far, then, it doesn't look like they're on track.
Making up the numbers
How do you get more GPs into the NHS?
You can:
train new ones
hire from overseas
make sure those already working as GPs don't leave
The NHS is trying all three.
And the last of these appears to be proving a particular problem.
Mr Hunt told the Royal College of GPs' annual conference that the NHS was doing "pretty well" at getting more medical graduates into general practice.
Health Education England, the part of the NHS responsible for making sure enough people with the right skills are trained and recruited into the health service, said it would make sure a minimum of 3,250 trainees per year[3] were recruited to GP training programmes by 2016.
The number is up 9% since 2015 but is still slightly behind the target.
The National Audit Office[4], which scrutinises public spending , said in January that 3,019 places had been filled, or 93% of the target.
So, the number of medical graduates being recruited into the GP specialism is going up.
But it's not yet having an impact on the overall numbers because more doctors are retiring or leaving the profession.
Retiring
Between 2005 and 2014, the proportion of GPs aged 55 to 64 leaving the profession doubled, according to health think tank the King's Fund.
The NHS has launched a range of initiatives to encourage GPs to stay in the profession, for example offering more flexibility, training and financial support, but it's too soon to know how well they are working.
In July, the NHS also announced it would recruit more GPs from overseas by 2020-21 to meet its staffing targets.It's too soon to say how effective this recruitment drive has been.
And on Thursday the Health Secretary announced newly qualified GPs would receive a one-off payment of £20,000 if they started their careers in parts of the country that struggled to attract family doctors.
Efforts are clearly being made, but progress has been slow.
The King's Fund says that "the actions taken to deliver 5,000 more GPs by 2020 will need to be significantly more successful in the next few years for this pledge to be met".
---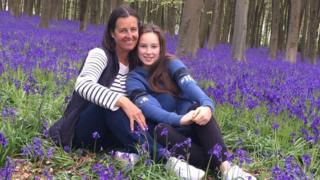 Image copyright
Own image
Image caption
Alison Farmer was diagnosed with ovarian cancer at the age of 40.Luckily, it was caught early.Here's the story of how she recovered - and went on to have her daughter.
"I'd had a little bit of mid-cycle bleeding - which isn't one of the most common symptoms.That was all I had.
"The GP said that all women get it.But it wasn't normal for me - and I think it's really important that any gynaecological symptom should be followed up if it's not normal for the woman."
She was referred for a hysteroscopy test to check her uterus and an ultrasound - and that found a cam growth.It was graded as a 1C - an early stage of cancer.
Alison, who now works as a psycho-oncology nurse specialist, says it was only because she was "a nurse and quite assertive" that she felt able to push for tests.
But she says all women should insist on having unusual symptoms checked out.
"If it's not usual for you, be assertive and ask to see a gynaecologist."
What to watch out for
persistent bloating
Feeling full quickly and/or loss of appetite
pelvic or abdominal pain
needing the toilet more urgently or more often
Other signs can include:
diarrhoea or constipation
feeling particularly tired
unexplained weight loss
These symptoms need checking, particularly if they are:
happening more than 12 times a month
persistent
not normal for you
And any bleeding after the menopause should always be investigated by a GP.
Source - Target Ovarian Cancer
Women with ovarian cancer may be advised to have their womb, cervix, ovaries, fallopian tubes and omentum (a sheet of fat that protects the abdominal organs) removed, depending on the stage and grade of their cancer.
But Alison wanted to keep her womb.
"My surgeon - who was a gynaecological oncologist - was brilliant.He said, 'I know you still hope to have a family.While we normally wouldn't recommend it, I'm going to offer you that choice.' Some surgeons would have said, 'It's all coming out.'"
Alison had surgery to remove her ovaries, fallopian tubes and omentum.
Two years later, she became pregnant with her daughter Phoebe, who is now 13.
"I was completely over the moon.
"When I was diagnosed, I didn't even think I would die.What I was most concerned about was having a baby.
"It might seem bizarre, but it was more important than my life."
Annwen Jones, chief executive of the charity Target Ovarian Cancer, which is campaigning for more research into the disease, said:"Two-thirds of women are diagnosed at a later stage, once the cancer has already spread, making it harder to treat.
"We need to see more women fully aware of the symptoms of ovarian cancer so they can be diagnosed earlier, and a boost in investment into ovarian cancer research.
"This will transform the lives of more than 25,000 women in the UK who are living with ovarian cancer, and thousands more who are yet to be diagnosed."...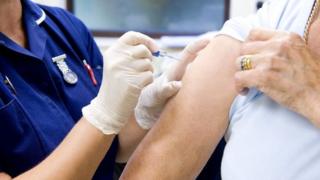 Image copyright
Science Photo Library
Image caption
NHS leaders are urging nurses, doctors and other healthcare workers to have a flu vaccination to protect their patients this winter.
Vulnerable groups, such as children, pregnant women and older people are also reminded to have their free jab.
Sir Bruce Keogh, NHS England's medical director, told the BBC he was worried about how staff would cope with a major flu outbreak.
He said the NHS was under "severe and unrelenting" pressure.
His comments come following reports of a much higher incidence of flu in the Australian winter[1] and the possibility that the same strain of the virus will be seen in Europe.
NHS bosses said many people with flu showed no symptoms so healthcare workers could be unintentionally infecting vulnerable patients.
Getting vaccinated was the best way to stop the spread of flu and prevent deaths, they said.
NHS staff are offered the vaccine free and NHS England will also offer it free to more than one million care-home workers this winter.
It wants employers to report how many people don't get the vaccines - at some hospitals only 30% of staff have the jab while at others it is nearer to 90%.
Public Health England (PHE) says it is aiming to vaccinate around 13 million people in total this winter.
It has expanded the nasal flu vaccination programme to include children from the age of two up to and including those in school Year 4.Children in reception year can now get their vaccine in school instead of going to their GP.
Sir Bruce said:"Many people are very worried that this winter will be particularly difficult - the thing that I worry about most is that we have an outbreak of flu or an outbreak of norovirus which puts an added strain on the NHS service."...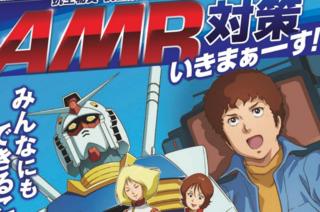 Image copyright
Japan Health Ministry
Image caption
Japan's health ministry has enlisted characters from cult anime series Mobile Suit Gundam in its campaign against the overuse of antibiotics.
The new campaign twists Gundam hero Amuro Ray's catchphrase "Amuro ikimasu!" ("Amuro launching!") into "AMR taisaku ikimasu!" ("AMR countermeasures are launching!") to raise awareness of antimicrobial resistance, the Japan Times reports[1].
Antimicrobial resistance, or AMR, is when micro-organisms develop the ability to prevent antibiotics and other drugs from working.
The global rise of AMR means that some scientists fear an "antibiotic apocaplypse"[2], where drugs that have previously been used as standard treatments become useless.
The World Health Organisation[3] says that AMR is "a serious worldwide threat to public health".
Kick the habit
Hiroshi Naruse, who devised the nationwide Gundam campaign, told Japan Times that AMR is can be partially blamed on doctors overprescribing antibiotics for minor illnesses.
He says it has become a habit that both medical professionals and patients need to kick, and that the public campaign explains to patients why they're not getting the powerful drugs they might have been expecting.
"If only doctors are educated, patients will not understand why they are being denied access to antibiotics and will leave the clinic feeling unsatisfied," he said.
It's not the first time Mr Naruse has used the twin weapons of anime and puns to get a health message across.
Earlier his year, he used a robot from anime series "Mazinger Z" for a measles vaccination campaign, and promoted the slogan "Mashinga Zero" (Measles Zero").
Superheroes, he tells Japan Times, are perfect metaphors for conquering mankind's greatest problems.
Image copyright
AFP
Image caption
Reporting by Alistair Coleman
Next story:Voting flap hits New Zealand Bird of the Year poll[4]
Use #NewsfromElsewhere to stay up-to-date with our reports via Twitter[5]....
Read more http://www.bbc.co.uk/news/blogs-news-from-elsewhere-41595415