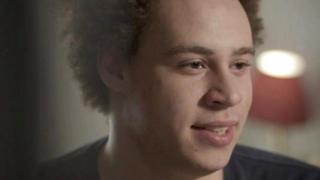 Image caption
A British cyber-security researcher has pleaded "not guilty" to charges of creating and selling malware that snooped on victims' banking logins.
Marcus Hutchins, 23, appeared in court in Milwaukee, Wisconsin.
A trial has now been scheduled for October.
He shot to fame after helping to stall the WannaCry ransomware cyber-attack that struck the NHS and affected many other organisations around the world in May.
Mr Hutchins was arrested by the FBI on 2 August.
The Milwaukee court has granted the cyber-security researcher permission to work and use the internet again, though he will not be allowed access to the server he used to stop WannaCry spreading.
He must surrender his passport and will be tracked in the US via GPS during his release.
Mr Hutchins faces six charges relating to the development and distribution Kronos, a well-known piece of malware that gathered financial information from infected computers.
A second defendant, who has not yet been named, was also included in the federal indictment against Mr Hutchins.
'Brilliant young man'
"Marcus Hutchins is a brilliant young man and a hero," said Marcia Hoffman, one of his lawyers, who was speaking outside the court after the hearing.
"He is going to vigorously defend himself against these charges and when the evidence comes to light we are confident that he will be fully vindicated."
Brian Klein, a second lawyer, added:"We are very pleased today that the court modified his terms, allowing him to return to his important work."
Mr Hutchins was arrested shortly after visiting the Black Hat and Def Con cyber-security conferences in Las Vegas.
The cyber-security researcher is from Ilfracombe, Devon and works for LA-based firm Kryptos Logic.
He was granted bail on 5 August after $30,000 (£23,000) was raised by friends and family....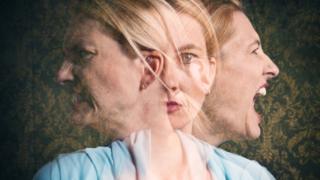 Image copyright
Getty Images
Image caption
People are happier if they are able to feel emotions they desire - even if those emotions are unpleasant, such as anger and hatred, a study suggests.
The results of the study, compiled by an international team of researchers, found happiness is "more than simply feeling pleasure and avoiding pain".
Researchers asked participants what emotions they desired and felt.
This was then compared to how they rated their overall happiness, or life satisfaction.
The researchers found that while people overall wanted to experience more pleasant emotions, they had the greatest life satisfaction if the emotions they experienced matched those they desired.
The cross-cultural study included some 2,300 university students from the United States, Brazil, China, Germany, Ghana, Israel, Poland and Singapore.
Negative emotions
"If you feel emotions you want to feel, even if they're unpleasant, then you're better off," lead researcher Dr Maya Tamir from The Hebrew University of Jerusalem told the BBC News website.
Surprisingly, the study also found 11% of people wanted to feel less of positive emotions, such as love and empathy, while 10% of people wanted to feel more negative emotions, such as hatred and anger.
Dr Tamir explained:"Someone who feels no anger when reading about child abuse might think they should be angrier about the plight of abused children, so want to feel more anger than they actually do in that moment."
She added that a woman who wants to leave an abusive partner but is not willing to do so may be happier if she loved him less, for example.
'Feeling bad can be good'
Dr Anna Alexandrova, from the University of Cambridge's Wellbeing Institute, said the research challenges how people think of happiness.
This study nicely calls into question a traditional measure of happiness that defines it as a ratio of positive to negative emotions, she said.
But when it came to unpleasant emotions, this study assessed only anger and hatred, which Dr Alexandrova said is a limitation.
"Anger and hatred may be compatible with happiness, but there is no indication that other unpleasant feelings, such as fear, guilt, sadness and anxiety, are," she said.
Prof Tamir said the research does not apply to those with clinical depression:"People who are clinically depressed want to be more sad and less happy than other people.That only exacerbates the problem."
She said the study sheds light on the downsides of expecting to always feel happy.
"People want to feel very good all the time in Western cultures.Even if they feel good most of the time, they may still think that they should feel even better, which might make them less happy overall." ...
Image caption
A teacher who was flown back to Scotland after contracting E.coli in Turkey has died in hospital.
Caroline Hope, who was 37 and from Clydebank, had been undergoing cancer treatment at a Turkish hospital when she became infected.
She arrived back in Glasgow by private plane last month after campaigners raised funds for a medical evacuation.
A relative confirmed that she passed away at the Queen Elizabeth University Hospital in the city on Sunday.
Ms Hope had been working as a teacher at an international school when she was diagnosed with late-stage colon cancer in January.
Image caption
She had planned to return to Scotland and her employer had taken out medical insurance to cover her stay at the Medical Park Hospital in Izmir until the end of July.
However, she became critically ill after contracting E.coli during an operation to remove a tumour.
Her family had feared she would not survive and launched a JustGiving page to raise money for her return to Scotland.
That appeal raised more than £31,000 to pay for a private medical evacuation.
Her mother Catherine thanked those who had contributed to the fundraising campaign and all the staff on the high dependency units at the hospital who cared for her daughter.
"I would just like to thank all the people who put money in towards bringing Caroline home.She was so grateful to be back in Scotland," she said....
Image caption
Read more http://www.bbc.co.uk/news/uk-scotland-glasgow-west-40917435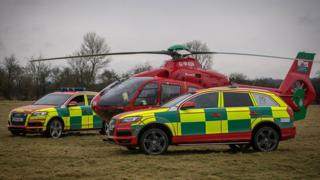 Image copyright
Getty Images
Image caption
Specialist doctors are to join Wales Air Ambulance crews in north Wales for the first time in a bid to treat seriously injured patients faster.
The "flying medics" will be based at Caernarfon Airport, along with a new helicopter and rapid response vehicle.
South and mid Wales have had the Emergency Medical Retrieval and Transfer Service Cymru[1] since 2015 and it will launch in the north on Monday.
The health secretary said it would bring critical care closer to people.
Vaughan Gething added that enhancing the existing service from Caernarfon would ensure the region had the same emergency cover as the rest of Wales.
'Innovative equipment'
The Wales Air Ambulance (WAA) helicopters were originally staffed by paramedics.
But two years ago, emergency department consultants were recruited[2] to be on board.
It meant they were able to give casualties blood transfusions, administer anaesthetics, offer strong painkillers and conduct a range of medical procedures not normally performed outside of a hospital - all at the scene of an incident.
Two "flying medics" helicopters are already based at Dafen in Carmarthenshire and in Welshpool, Powys.
Dr Ami Jones, EMRTS Cymru interim national director, said the new service would improve cover for north Wales, as well as Powys and parts of Ceredigion.
"Wales can pride itself on having established platinum-standard critical care across all of the country, via the WAA's bases in north, mid and south Wales," she said.
Image copyright
Wales Air Ambulance
An independent evaluation by the Farr Institute at Swansea University revealed the Welsh flying medics service has already had a positive impact on critical care in Wales.
Results indicated:...
The time taken for somebody who is critically ill to receive consultant-led treatment has shortened.
More people in Wales now have equal access to consultant-led treatment during an emergency incident.
The service has relieved some pressure on frontline NHS emergency services.
It has improved the time it takes for certain patients to be taken for a CT scan or emergency surgery.