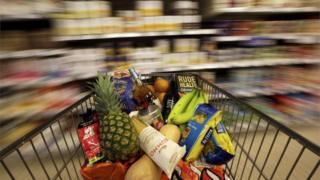 Image copyright
Reuters
Retail sales suffered an unexpectedly sharp fall of 0.8% in September, reversing a jump in August, according to the Office for National Statistics.
It meant that third-quarter retail growth slowed to a year-on-year rate of 1.5%, its lowest since the second quarter of 2013.
The figures come at the Bank of England contemplates its first interest rate rise in a decade.
A fall in the value of sterling has pushed up the price of imported goods.
Kate Davies, ONS statistician, said:"There is a continuation of the underlying trend of steady growth in sales volumes following a weak start to the year, and a background of generally rising prices."
The ONS said retail prices continued to rise across all store types and were up 3.3% from a year earlier, the highest year-on-year increase since March 2012.
The biggest downward pressure on sales volume and value in September was in non-food stores.Food stores also reported falls in both measures, but to a lesser degree than non-food outlets, the ONS said.
Online sales values increased year-on-year by 14%, accounting for approximately 17% of all retail spending.
Neil Jones, Mizuho's head of hedge fund currency sales in London, said the retail data was "not encouraging".
The value of pound fell immediately after the figures were released, with sterling down almost half a cent to $1.3126, as traders bet that the data reduced the chances of an imminent interest rate rise....