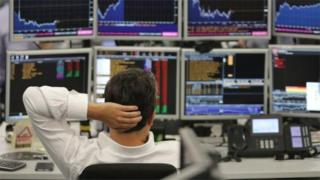 Image copyright
AFP
Mining giant BHP Billiton was the FTSE 100's star performer as investors awaited the company's annual results due on Tuesday.
BHP added 1.4% in early Monday trading, heading a top five winners' list entirely made up of miners.
Rio Tinto, Anglo American, Glencore and Antofagasta also notched up share price gains.
However, the sector failed to lift the benchmark 100-share index[1], which fell 10.39 points or 0.14% to 7,313.59.
Banks RBS and Barclays were among the biggest losers, dropping 1.4% and 1.2% respectively.
On the currency markets, the pound was down 0.09% against the dollar at $1.2863, but up 0.06% against the euro at 1.0956 euros....