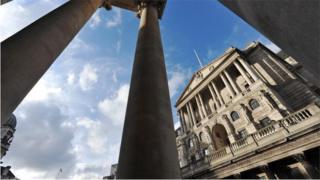 The Bank of England has said that higher inflation and a pick up in growth could lead to a rate hike in "the coming months".
Members of the Bank's nine-strong Monetary Policy Committee voted 7-2 to keep interest rates on hold at 0.25%.
But the committee was talking in much stronger terms about an increase, analysts said.
The pound climbed nearly 1% against the dollar to $1.3314 after the Bank's announcement.
It said the growth outlook was slightly stronger than it had predicted last month.
The nine policymakers on the panel believed "some withdrawal of monetary stimulus was likely to be appropriate over the coming months".
Rhetoric 'ratcheted up'
The Bank reiterated that rates may need to rise by more than expected in financial markets.
In minutes of its latest rates decision[1], the Monetary Policy Committee (MPC) said there was a "slightly stronger picture" for the economy since its forecasts last month thanks to signs of a firmer housing market, stronger employment and a rebound in retail and new car sales.
Samuel Tombs, chief UK economist at Pantheon Macroeconomics, said the MPC had "ratcheted up" its rhetoric surrounding a rate rose.
Paul Hollingsworth, UK economist at Capital Economics, said the MPC could increase interest rates in November.
"If the economy continues to hold up, and there are clearer signs that wage growth is building, then the first hike could some somewhat earlier than we had previously envisaged, possibly as soon as the next meeting in November alongside the Inflation Report," he said.
Inflation bump
Meanwhile, the inflation rate is rising faster than the Bank's policymakers had expected just a month ago.
The inflation rate hit 2.9% last month, and the Bank expects it to rise above 3% in October, well above its 2% target level.
Two members of the Bank's rate setting committee, Ian McCafferty and Michael Saunders, voted for the third meeting in a row to increase rates, arguing that inflation would continue to overshoot the target and a move now would prevent a sharper rise.
The rest of the nine-strong committee, including the Bank's governor, Mark Carney, voted to keep rates on hold, saying that business investment, consumer confidence and consumption remained weak.
The Bank pinned the blame for the rise in inflation on the fall in sterling since the Brexit referendum, which has made imports more expensive.
In the past month, the pound has fallen by 1% against the currencies of its main trading partners.
The Bank also said the rising price of oil was adding to inflationary pressures....